The name Casino Win Spin is maybe the least original title I've ever seen, while also telling you exactly what to expect from this slot. If you're a fan of classic fruit slots but you're looking for something with a modern taste, this is the slot game for you: All the original symbols we recognise combined with modern taste-makers like Stacked Wilds and Sticky Re-Spins. I definitely enjoyed my time with this game.
Casino Win Spin came out in 2018, published by No Limit City. It's a standard 5 reel, 20 payline fruit slot with a maximum possible payout of $250,000. As is normal with most No Limit City slots, you can choose bets between $0,20 and $100.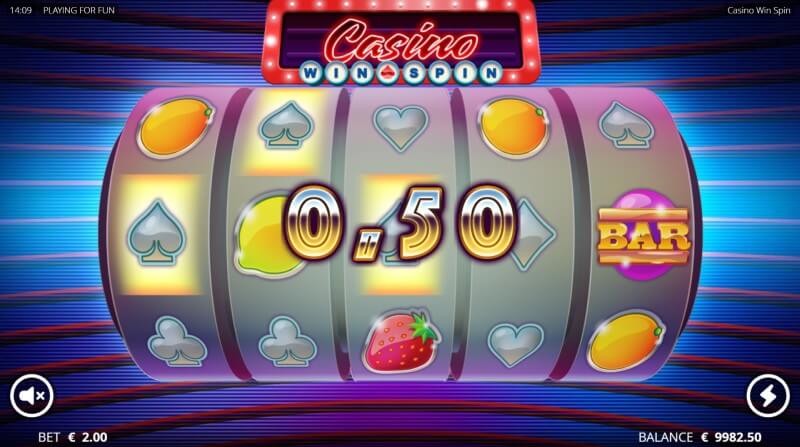 Graphics
As always, I'll start with a quick look at the graphics. Honestly, I don't have too much to say about this slot. The graphics are decent and all the traditional symbols are there with the usual sheen that most of the modern slots have now. The background has a laser-show feel to it but it does nothing special.
When you get a Spin 'Til You Win, it'll activate a quick splash screen, and any big win also results in a splash screen that'll tell you exactly how much you've won in big bold letters. All in all, the graphics are definitely not the selling point of this slot but luckily they don't have to.
Sound
Just as how the graphics are pretty basic, so are the sounds and music. You'll hear an upbeat 80s soundtrack that fits the style of the slot but not much more. A lot of bells play when you score a win, and any of the specials activate a little jingle to let you know what happened. Don't expect anything out of the ordinary though.
Symbols and Features
Now that I've discussed the look and feel of the Casino Win Spin slot, let's focus on what's really important: how it plays. It's clear to me that the creators of this slot game decided not to reinvent the wheel but instead to try and improve it.
That means this slot is filled with all the classic symbols that we know from fruit slots: card suits, fruit symbols, bells and sevens. They all behave as you'd expect. Obviously this is not the part that's improved. What No Limit City has decided to do however is add some modern flavour to it.
The pay table looks as followed, from highest value to lowest:
Wilds: These pay out 500x your bet if you get a five-of-a-kind combination.
7: This one pays out 300x your bet.
Bells: These payout 250x your bet.
Bars: Get five-of-a-kind and this symbol pays out 200x.
Fruits: Each fruit pays out 150x your bet.
Card suits: The lowest paying symbols, these payout 100x your bet if you get three-of-a-kind.
Let's take a quick look at the features in the Casino Win Spin slot before we dive into how it affects gameplay:
Hot Zones. In the middle of reel 2 and 4 are the Hot Zones. Get a green Wild in one of the boxes and it'll expand to fill the reel. Get a Wild in each of these and it'll expand to fill three reels with Wilds.
Wilds and Expanding Wilds. The green Wilds in the game are shaped as green clovers and act like regular Wilds. The golden clovers are Expanding Wilds that will cover the entire reel they're on.
Spin 'Til You Win. Land any two matching symbols in the two Hot Zones at the same time, and you'll trigger the Spin 'Til You Win feature. More about this below, but the summary is that you will keep spinning for free until you get any winning combination!
Each of these features spices up the gameplay in a way that I believe updates it for the modern player. You get to enjoy the classic fruit slot experience while also having the opportunity to win big with the special features.
The one special feature I haven't really discussed in detail yet, is the Spin 'Til You Win function so let's take a look at that now. It's not overly complicated but it is good to know how it works since they're the opportunity to get a big payout.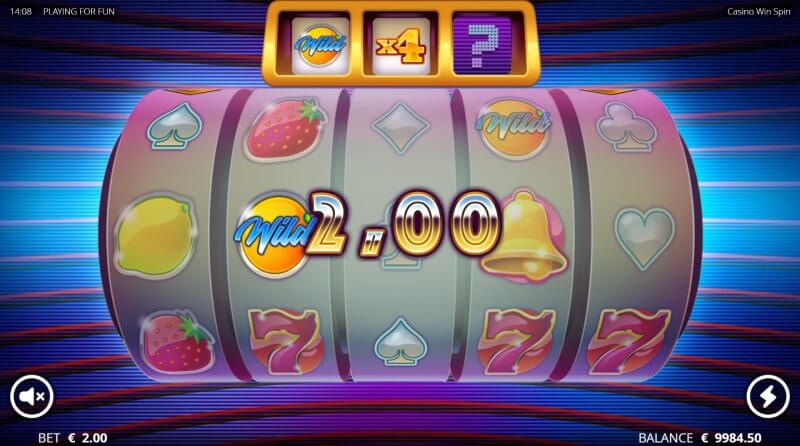 When you get two matching symbols in the Hot Zones at the same time, this feature is activated. The idea is that you'll keep getting spins until you have a win, no matter how big or small. They facilitate this by adding a bonus with every spin. I think this is a nice little extra that feels like it fits the slot well.
The first spin once Spin 'Til You Win activates gives you extra Wilds on the screen. If that doesn't give you a win, you get a multiplier. It chooses one randomly between x2 and x5. If that spin still doesn't give you a win either, the last addition is expanding Wilds, where any normal Wild expands itself outward to include the spots next to them.
In my time playing, I haven't had a time where I didn't get a win after those three extras activated. I guess the game will just keep these same bonuses active until you do get a winning combination.
I found this feature to be the most fun, although it does happen that you get a minimal card suit combination for the lowest amount. However, Spin 'Til You Win activates regularly enough that it doesn't get annoying.
Conclusion
If you're tired of always seeing more wacky and unique concepts for slots and you just want to play a fruit slot, Casino Win Spin is definitely for you. It doesn't do anything new. If anything, it evokes a sense of nostalgia. The graphics have been modernised but still has that classic slot feel to it.
It hits home when it comes to the additions to the game. Even though there are not too many, they create a continuous stream of things happening. In my experience, a classic slot can get pretty boring since there's only a limited amount of times you get a win. With the Hot Zones and Spin 'Til You Win the core gameplay stays the same but you'll be engaged more frequently.
All in all, I can see why this slot is a favourite for many players. It combines the simple playstyle of classic slots with the exhilarating features a lot of modern slots have. Even if you're on the fence, definitely give it a try!