Bushido Ways xNudge is a slot that is set in ancient Japan where the way of the warrior was something that defined the lives of many samurai. This slot not only features some amazing graphics but also nudging wilds, stacked wilds, and free spins.
Developed and released by Nolimit City in 2021, this slot is one of their latest releases. The game absolutely looks like one of the most modern games in their library. The graphics are crisp and detailed with a lot of movement with every spin. The playing field is slightly larger than normal 5-reel, 4-row size. Meanwhile, players can get wins on 1,024 paylines.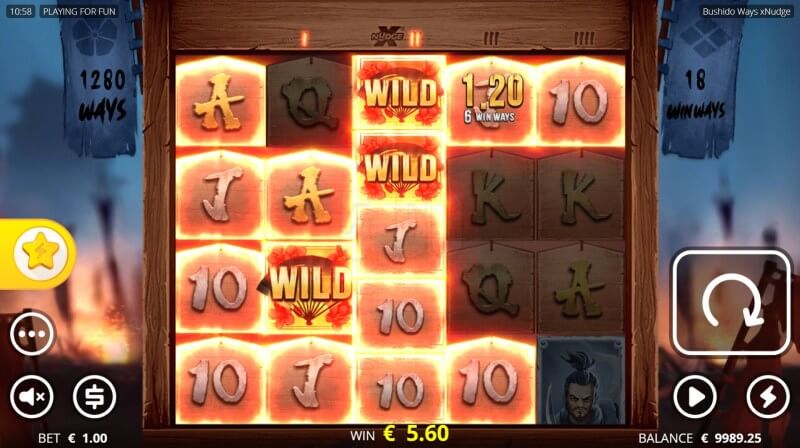 The background in this game shows us a battlefield that has seemingly seen a lot of action. There are fires burning in the distance, as well as a collection of ravaged banners hanging solemnly in the wind. The symbols on the screen are only slightly animated but they do help the eye look at some interesting things. They're subtle details such as a blade or helmet shining in the sunlight.
When it comes to the music, we're treated to the expected Japanese music. It sounds good with a collection of authentic instruments playing a song during the base game. As is common with slots the music picks up when the free spins mode is activated. The other sound effects include soft drumming as the reels spin and the jingle of coins whenever there's a win. Overall, the sound design gives the game a solemn vibe which fits the theme well.
Symbols
Bushido Ways xNudge is firmly set in ancient Japan and draws a lot of inspiration from this time period as a result. The high-paying symbols show us different stacked symbols of brave warriors armed in different ways. Some are wielding swords while others use a bow and arrow. The low-paying symbols are unfortunately only simple card letters. Although they are slightly stylized they still don't really fit the Japanese setting and kind of broke immersion for me. Even card suits might have been a better fit.
The game has High Volatility which means players will likely have to play for quite a while to get a big win. During my time playing, I did get smaller wins semi-regularly but those were often not enough to compensate for any losses. This resulted in my being quite far down from the starting point after a few hours of playing. To compensate a little, players can pick a bet between $0.20 and $100 per spin.
Playing the slot will see the free spins mode activate now and then. This was for me the best moment to get some bigger wins, although triggering the mode wasn't easy. I think that the free spins mode is the only time a player can get the maximum win of 30,000x your bet. This is obviously a massive number, but won't be easy to get by.
The symbols in the game include:
Shogun Spins: Get 3 Shogun Spins symbols on the screen to trigger the free spins mode.
Wild: Wilds substitute all regular symbols in the game.
Red Samurai: Max. 2x your bet with five-of-a-kind on a winning bet line.
Blue Samurai: Max. 1.5x your bet with five-of-a-kind on a winning bet line.
Green Samurai: Max. 1x your bet with five-of-a-kind on a winning bet line.
Ace: Max. 0.75x your bet with five-of-a-kind on a winning bet line.
King: Max. 0.65x your bet with five-of-a-kind on a winning bet line.
Queen: Max. 0.5x your bet with five-of-a-kind on a winning bet line.
Jack: Max. 0.5x your bet with five-of-a-kind on a winning bet line.
10: Max. 0.5x your bet with five-of-a-kind on a winning bet line.
Features
Bushido Ways xNudge has a few simple features included in the game that help keep it interesting. Most features will be very familiar to the majority of players with only some slight adjustments.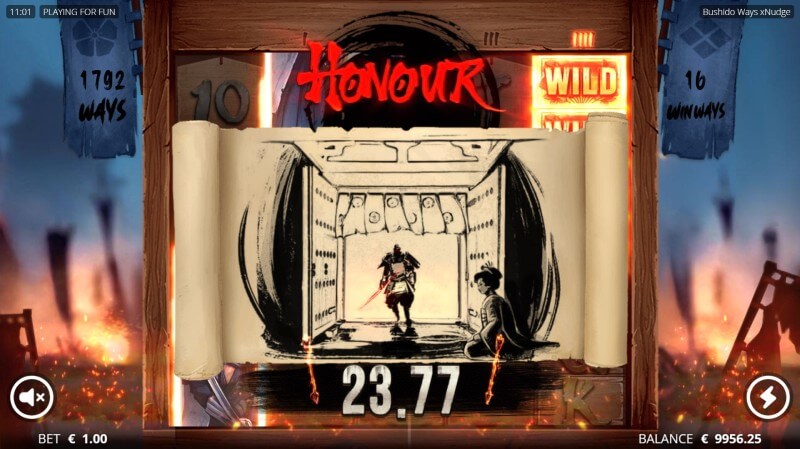 The features includes are:
Wilds: Wilds substitute all regular symbols in the game.
Stacked Wilds: The Wild Geisha is stacked, filling an entire reel.
Nudged Wilds: The Wild Geisha will always be nudged to fill the reel.
Multiplier Wilds: Whenever a Wild Geisha is nudged, it will get a 1x multiplier for every row it gets nudged.
Sliced Wilds: Regular Wilds that appear on a reel can split into more Wilds on the subsequent reels.
Oni Transform: If a Bonus symbol appears at the same time as Samurai symbols, it will transform into the highest-paying symbol.
Free Spins: Get 3 Bonus symbols on the screen to activate the free spins mode.
Sticky Wilds: If a Wild Geisha symbol appears on the reels at the same time as 3 Bonus symbols, the free spins mode will activate. The Wild Geisha will turn into a sticky wild that stays in place the rest of the free spins mode.
Since the game relies so heavily on Wilds, it explains why the payouts for a regular win is so low. It does mean that players will not see a very high return on their wins if they only get a regular win. The game estimates you will sometimes get a big win when the screen is filled with wilds.
The free spins mode isn't especially common but when it does activate, players are likely to walk away with a nice sum. In my experience, this was often not enough to compensate for my losses but it kept them somewhat manageable.
Conclusion
Bushido Ways xNudge will be a very enjoyable slot for people that enjoy games in a Japanese setting. Even though it misses the ball with the low-paying symbols, the rest of the slot is entirely devoted to the theme and does this very well. The game also has a lot of small animations that keep the player interested.
The mechanics and features are interesting but are clearly mostly focused on the wilds. These appear basically every spin but they don't always actually impact the gameplay. In fact, a lot of times I found them to be rather useless. The player will depend greatly on the right wilds appearing in the right place.
Since the volatility is tied closely with the wilds, it makes it a very difficult slot to get big wins with. The jackpot is obviously huge but it's likely only power players will ever be able to play for long enough to hit it. Keep that in mind when trying this game.