Rainforest Magic will transport you to the deep, thick jungles of the Amazon. Here a host of enchanting forest animals are lurking in the reels ready to conjure up some fantastic wins.
This 5-reel, 3-row slot with 25 paylines is set on an animated background depicting a waterfall and fluttering butterflies. In the foreground, the reels portray colourful jungle animals and card suits. Adding to this and pulling you deeper into the Amazon rainforest is the mystical soundtrack and FX.
All these elements display a masterful attempt by Play'n GO at creating a game which is not only outstanding to look at but so much fun to play.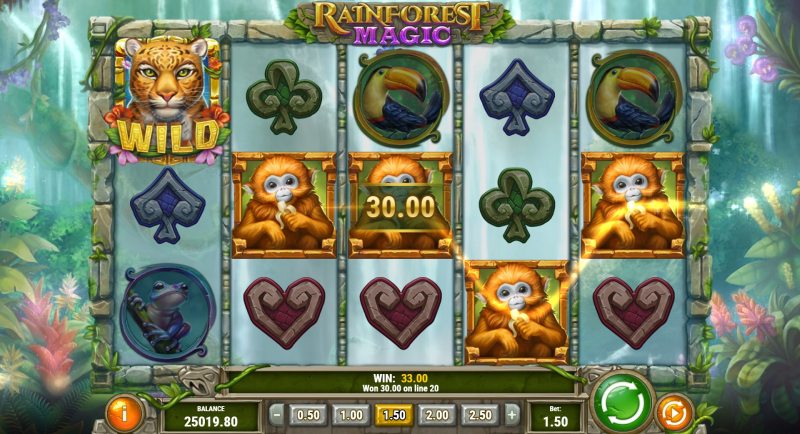 Symbols
All tiles, especially the high-paying animal ones, are intricately designed using vivid colours. The wild jaguar tile just pops out of the reels and will get your heart beating every time it makes an appearance.
The symbols, from highest to the lowest consist of:
The wild jaguar tile: five of these on a payline will yield a 40x win.
The golden monkey yields 20x with 5-of-a-kind on a payline.
The red macaw yields 16x with 5-of-a-kind on a payline.
The toucan yields 12x with 5-of-a-kind on a payline.
The green snake yields 8x with 5-of-a-kind on a payline.
The blue frog yields 4x with 5-of-a-kind on a payline.
There are also 4 low-paying symbols which include the blue spade and the red heart, both yielding 2.4x win with 5-of-a-kind on a payline. And the yellow diamond and green club which yield 1.2x with 5-of-a-kind on a payline.
Features
This game has two features of note. The mystery symbols can be triggered at random during the base game but they will also make an appearance in the bonus round. However, in the bonus rounds the full reel will be filled with the mystery tile thus generating the possibility of more wins.
At any point throughout the game, mystery symbols might make an appearance on the reels. These welcome, purple tiles, with a golden question mark on them, will transform into a matching random symbol creating some good wins. They are often accompanied by a wild tile which means there is even more scope of hitting different paylines.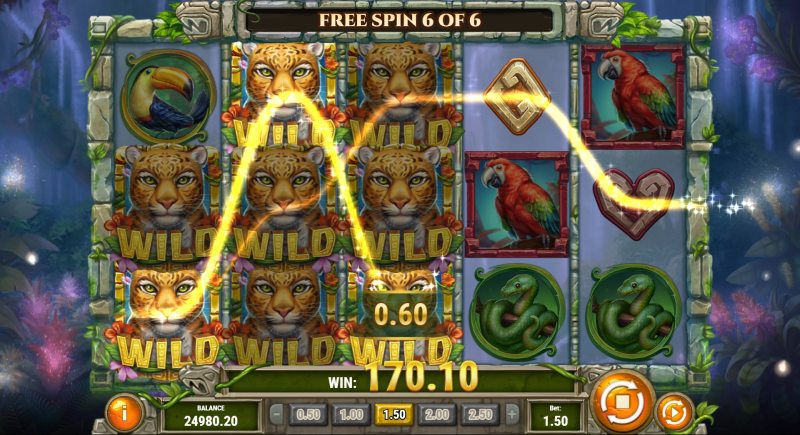 Three or more wilds will trigger the bonus round. With three wilds, 6 spins are allocated but I once managed 4 wilds on the reels receiving 8 bonus spins instead. Land on 5 wilds and you'll receive 10 spins. So on and so forth. Two extra free spins are awarded for every wild (up to 30)!
Once you enter the bonus round you will need to choose a flower which will reveal how many mystery reels will be active during the bonus spins. Up to 4 reels can host these mystery reels and these change position on every spin.
These mystery reels are similar to the ones that randomly appear in the base game but each real will have all 3 rows blocked by the mystery tile.
Conclusion
This game kept me firmly at the edge of my seat. With volatility set to high, I was expecting to wait for a while to get into the bonus round. At first, in fact, the wild tiles were nowhere to be seen. However, as the game warmed up they started making more of an appearance.
Eventually, I made it into the bonus round and was able to feel the real volatility of the game. When randomly choosing the number of mystery reels I was surprised to see the disparity between the wins on different rounds. With just 1 mystery reel active I had wins going over 50x. With 3 mystery reels active I once got a win of just 20x. So whatever the number of mystery reels you can never forecast what kind of wins you will be getting.
Then there are little touches which make this game that little bit more special. What I like most is the ascending sound when a win is registered on multiple lines. These happen in normal gameplay as well but there is more of a chance to hear the dings going up the scale in the bonus round.
With such great mechanics and beautiful designs, there is no doubt this game will appeal to both hardcore and casual players.