Cyrus the Virus follows a collection of viruses into the human body and its efforts to ward them off. The more effective the white blood cells, the more lucrative it is for us!
Developed by Yggdrasil and released in 2015, this game predates the pandemic by quite a lot. Still, I feel like I should address the elephant in the room. Cyrus the Virus is a whimsical, cartoony slot that takes a unique concept as inspiration for its gameplay. I thought it was disconnected from real-life events to a point where it's not even related at all.
With that said, I'm going to take a look at the slot itself. Based on a classic 5-reel, 3-row playing field with 10 paylines, it does have the Paylines from Both Sides feature which essentially doubles the number of paylines. Not only do they count from left to right but any matching symbols on paylines running the other way also award a win.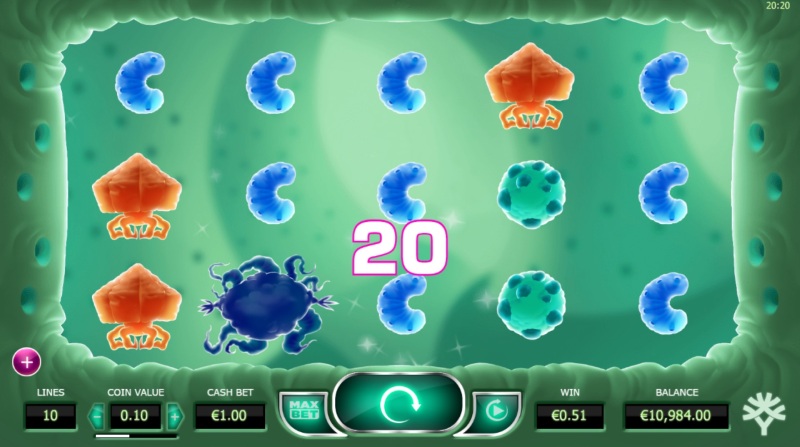 The game looks great. The background shows that we're deep inside the human body in some vaguely-defined greenish looking area. It seems the person is already quite ill! The different viruses are abstract shapes with little faces that show up when there's two or more on a winning payline but before reel 3 stops spinning. Little white blood cells show up on the edges of the screen, waiting to see if there is going to be a win.
I thought this was a clever idea to show the player they're close to a winning payline, although it wouldn't often result in a win. In that regard, I found the listed Medium Volatility to be a little optimistic in my experience. Wins seemed to be quite hard to come by.
There are a ton of animations in Cyrus the Virus. As mentioned, the different viruses have their own little face but when there is an actual winning payline, the white blood cells shoot through the reels and annihilating the winning symbols. It all looked very appealing and organic.
I felt the soundtrack was quite fitting but maybe a little too futuristic sounding. I think I would have expected more organic sounds to be used that amplify the idea of being in a body and not inside a spaceship.
Symbols
All the symbols in the game are unique and made with the virus theme in mind. Luckily their shapes and colours allow them to be easily distinguished even when it's hard to describe them.
From highest to lowest they are:
Dark Blue Oval Virus: Max. 2,000 coins with five-of-a-kind on a winning payline.
Orange Spade Virus: Max. 400 coins with five-of-a-kind on a winning payline.
Yellow Star Virus: Max. 300 coins with five-of-a-kind on a winning payline.
Green Diamond Virus: Max. 200 coins with five-of-a-kind on a winning payline.
Dark Green Club Virus: Max. 150 coins with five-of-a-kind on a winning payline.
Teal Circle Virus: Max. 120 coins with five-of-a-kind on a winning payline.
Dark Blue C-Shaped Virus: Max. 100 coins with five-of-a-kind on a winning payline.
Wild: Substitute all other symbols in the game.
As you might have been able to tell, some of the symbols are based on card suits but the shape is manipulated to the point where it's almost impossible to see.
Features
Cyrus the Virus stays light on the number of features, keeping the gameplay very simple. As a player, we don't leave the main screen or the base game. I thought that was kind of a miss since I would've liked to see what else Yggdrasil could have done with this theme. Perhaps a bonus game taking place somewhere else in the body?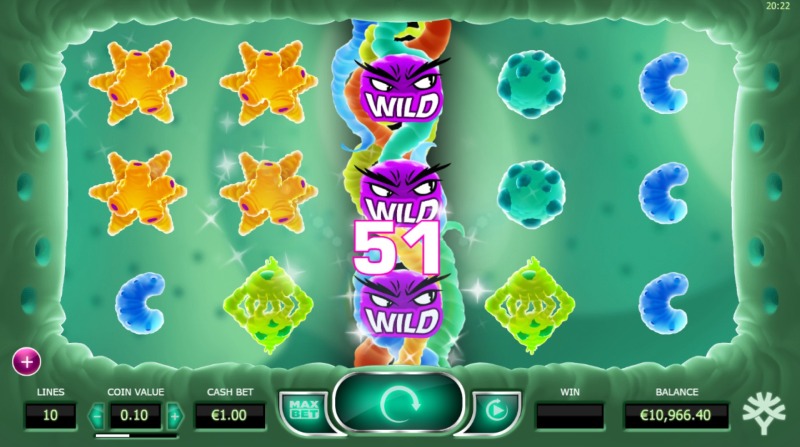 The features are:
Paylines from both sides: The game has 10 paylines that count from both ways, both left to right and vice versa.
Stacked Wilds: Wilds can appear on reel 3. When they do, they expand to fill the entire reel.
Re-Spins: When Wilds appear on reel 3, they will trigger a re-spin. The other reels spin again and might result in a new win.
The features only adjust the gameplay, they don't create anything new. The sticky wild re-spins were nice but the Wilds showed up very rarely for me. Even when they did, seeing the re-spins result in extra wins didn't happen that often either. As I mentioned before, the listed medium volatility didn't really feel like that.
Because of the low number of features, I did feel like the gameplay was very fast. The spins keep going with no real breaks in between except if you decide to stop for a while.
Conclusion
Cyrus the Virus might seem like a rather sinister slot considering everything we know today, but it really does stay away from that. Instead, it offers us a simple but beautiful game with a lot of original visuals. I really liked the number of animations present in the game, giving it a comic book vibe.
Yggdrasil has a few of these type of slots. Pumpkin Smash comes to mind, as does Spina Colada. Slots that have extraordinary graphics but keep the basic gameplay simple and are as a result perfect for classic players.
The game lets you choose a bet between $0.10 and $40 which isn't as much choice as some other games. Considering the medium volatility, it should mean a lot of play for your coin but you won't potentially win as big as other slots. Cyrus the Virus does offer a max. win of 2,000x your bet.