Yggdrasil's Avatars breaks the mould and ditches the concept of traditional reels. It's like nothing you've seen before.
Yggdrasil really wanted to make something that hasn't been done before when they designed Avatars: Gateway Guardians. It doesn't look like the slots we are used to seeing, but it sure is an interesting one. Instead of reels, we now get a big segmented wheel.
The game was released in the summer of 2020, but the release was surprisingly mild. It went under many people's radars as it just showed up one day. If you missed it when it came out, then it's about time you read about it.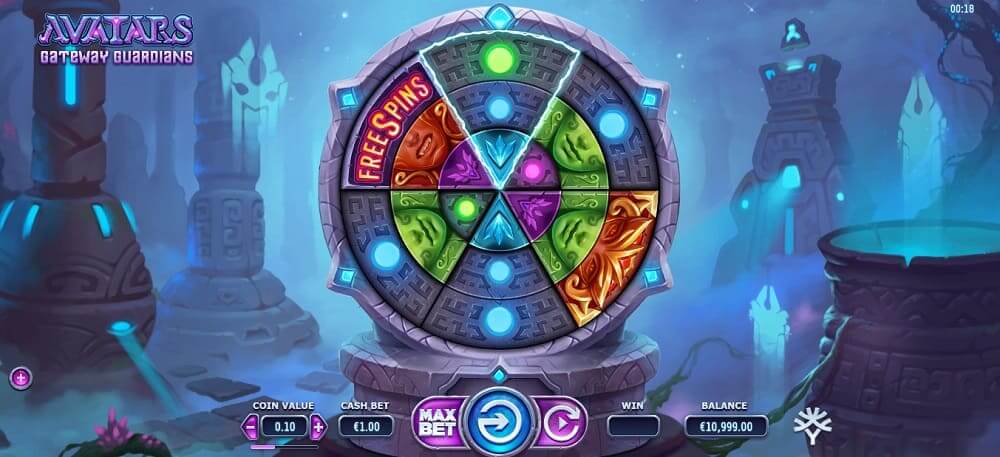 Get ready to unlock the secrets of the dimensional gateway and unleash the extra-terrestrials. This is a wild game for wild players.
Graphics and sound
If you know about Yggdrasil's games, then this part won't be much of a surprise. Like always, the game looks and sounds amazing. Visuals have always been a strong point of Yggdrasil's slots and this one is no exception.
One thing I wished Yggdrasil would have done better is the theme. Well, not the actual theme itself, but how it is presented. The only place where you can find out what's going on is on the developer's website. The game doesn't tell the story that well and it's not intuitive.
So, the story is that the Avatars' Gateway has been left on Earth, but it has been locked from earthlings since the beginning of time. You can now attempt to open it up by finding the correct combination and set the extra-terrestrials free.
Knowing all that, the game does feel a bit more complete. The visual details make more sense and the eerie music is on point. Even though there is nothing wrong with the sound and music, I think they could have put in a little more effort to really push the theme.
Symbols and wins
Avatars: Gateway Guardians is not your typical slot. Instead of reels, the game is played on a segmented wheel. To win, you need to get the same three symbols in one of the six segments. You can hit multiple wins on a single spin, or even hit a very valuable Hot Spot.
The game has seven regular symbols and their value grows fast. There are no tiny wins here, as the worst possible payout is the same as your bet. This means that you will end up spinning a lot of empty rounds, but when you win, you actually win.
The one special symbol is a Free Spin scatter. It can activate the Free Spin feature if you get all three parts of it somewhere on the wheel. It's not that difficult to actually activate the feature, which is something I love in a game like this.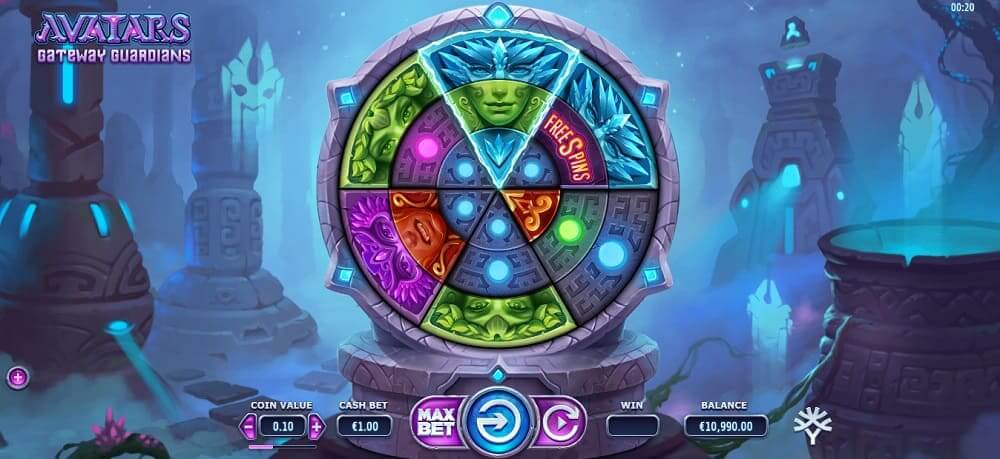 What you want to pay attention to, is the Hot Spot. There is a segment on the wheel that is lit up and it can multiply your wins. A regular win on it gets a random multiplier and if you get scatters on it, your free spins will get even more Hot Spots.
The game has high volatility, but it's not as brutal as you might think. I was able to keep my bankroll pretty level, even though the swings were a bit bigger than in a medium slot. You do need a bankroll big enough to survive dry spells, but if you can handle those, then you're in the clear.
Features
Hot Spot: Hot Spots can boost your wins manyfold
The wheel has Hot Spots, which are the best places to win. If you win on a Hot Spot, you get a random multiplier. A hatch opens up at the bottom of the wheel and a minigame starts up. You'll increase your multiplier until you hit the payout symbol.
During the base game, only one segment is a Hot Spot. In the Free Spin feature, multiple segments can light up depending on how the feature got activated.
Free Spins: Play for free with a better wheel
Free Spin symbols are scatters and they will activate the spins. You need to get all three parts, but they don't have to be in the same segment. You'll always get 10 free spins, but if some scatters are on a Hot Spot, you get an extra bonus.
First of all, the wheel is split into eight segments, giving you two more places you can win in. Then, you get more Hot Spots depending on where the scatter symbols landed.
0 scatters on a Hot Spot: 2 Hot Spots
1 scatter on a Hot Spot: 4 Hot Spots
2 scatters on a Hot Spot: 6 Hot Spots
3 scatters on a Hot Spot: 8 Hot Spots
Final Thoughts
The world of slots has stayed roughly the same for years. After we changed to five reels, we haven't seen that many changes. Sure, things like expanding reels and uneven layouts have changed the game a bit, but not by much. A slot like Avatars: Gateway Guardians is a needed breath of fresh air.
Yggdrasil did a wonderful job with the game. It just looks good, sounds good and plays well. It's simply a home run slot.
I was actually a bit surprised when I started to play it. I don't usually go for high volatility slots, but this one felt like it was properly balanced. I didn't feel like I needed to hit some rare special feature to win or anything like that. The game was wild, but I felt like I had a fighting chance.
I had fun playing it even though I didn't win anything massive. I did leave the game with a bit more than I started with, but that was after a good, long session. I'm sure to visit it again in a not too distant future.