It's finally happened – the robots are invading the world! At Wild Robo Factory, they are building an endless army of robots, each wilder than the next.
Wild Robo Factory is an action-packed and fun slot from Yggdrasil, who has yet again done a beautiful job. The game looks absolutely amazing. It has medium volatility and not too shabby RTP, so it's good for an average player looking for good wins and steadier gameplay than with games that are highly volatile.
The look of the game is very sleek, despite the occasional creaking parts, electric sparks here and there, or the steam caused by overheating. A system might overload, but hey, it's actually not a bad thing in this game!
Graphics & sound
It's not a surprise Wild Robo Factory looks as nice as it does – after all, highly polished graphics are a well-known trait of most Yggdrasil's games. When I first saw Wild Robo Factory, it made me think about an old board game from the early '90s, called RoboRally. In the board game, the robots were racing each other at a conveyor belt, and the art style of the game might very well be one of the inspirations for Wild Robo Factory.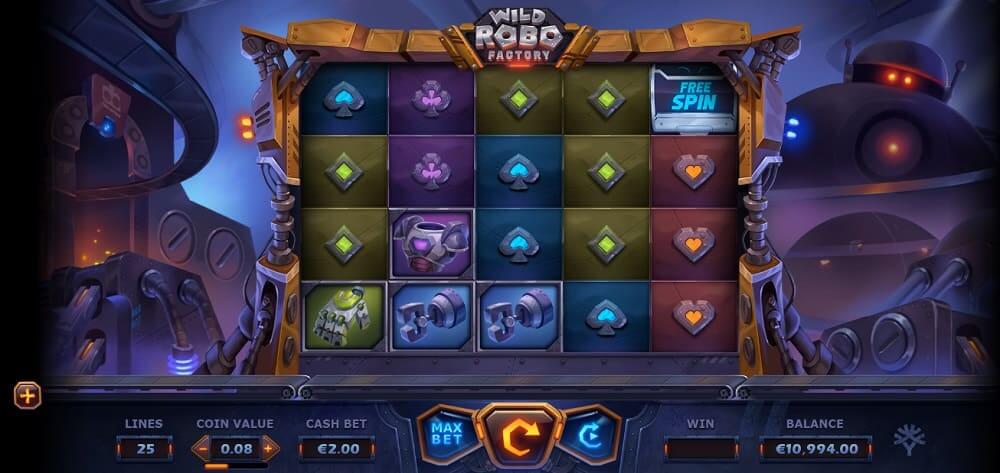 The background music is a real blast from the past since it has a huge resemblance to '80s action movies. It instantly reminded me of films like Terminator and Predator. Occasionally it also plays music that could be from any old Nintendo game.
Also, it's worth mentioning that it's possible to turn off the sound effects and leave just the ambience sound on.
Symbols & wins
Wild Robo Factory has five reels, four rows and 25 paylines going from left to right. The smallest bet for a single spin is 5p, and by adjusting the value of a coin you can bet up to $125 per spin.
The game has two kinds of basic symbols, the robot parts being the most valuable, and the suits paying less for your bet. Next to them, the game also has two kinds of robots; yellow ones are Wilds, and blue ones are Free spin symbols.
It's not hard to notice the conveyor belt going from right to left under the reels. Occasionally, it delivers a randomly selected robot on the reels. This activates the Robo respin feature, which I explain later with more details.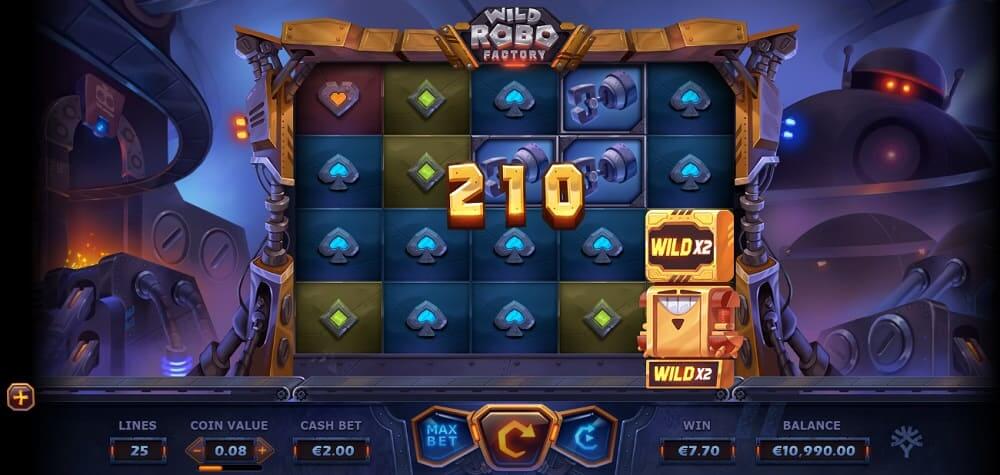 High-value symbols:
5 x robot head pay 375 coins / 15x your bet
5 x robot chest pay 180 coins / 7,2x your bet
5 x robot hand pay 150 coins / 6x your bet
5 x robot clamps pay 120 coins / 4,8x your bet
Low-value symbols:
5 x heart/club/spade/diamond pay 50 coins / 2x your bet
Special symbols:
Free spin Robo: At least three of blue Free spin Robos are required to activate free spins.
Wild Robo: In total, there are four different kinds of Wild Robos. They can be short or tall, one or two reels wide, they can be an irregular pattern, or they can multiply your wins by two.
Features
Robo respins: A randomly activated feature where a robot is delivered to the reels by the conveyor belt.
When the robots appear, they get stopped on a random spot. After this, you get as many respins as it takes before the last Wild symbol of the robot gets to the first reel.
The robots stand on the belt, so they can't get up on the higher rows unless they're tall Wilds. So, a 1×1 Wild will always cover just one of the lowest symbol spots. However, the Free spin robot has a jet pack, so it can fly to any spot on the reels.
Symbol swap: A random feature where a low-value symbol gets substituted with the high-value symbol of the same colour.
Free spins: You get five robos with three Free spin symbols. With four symbols, you get 10 robos and with five symbols you get 15 robos.
The free spins last until the last Wild symbol of the last robot gets to the first reel.
There is a robot counter visible during the free spins. It counts the robots that have passed the reels riding the conveyor belt.
It is possible to re-trigger the free spins by landing three or more Free spin robos on the reels.
System overload: Can make the conveyor belt go backwards during the free spins.
When the system overloads, the conveyor belt can rewind itself by a random number of steps. Along it takes the robots, which gives the player more free spins and more possibilities to win again.
Final Thoughts
Sometimes the game felt just a tad sluggish. So, as the slot is very heavily animated, you might experience some lagging on a slower connection.
I myself really enjoyed playing Wild Robo Factory. It has such fun features, and lighter ones like the respins and symbol swap occurred surprisingly often. Of course, like in many slots, the free spins are the hardest feature to trigger, but when they did they were very fun and pretty generous, even.
So, I will gladly return to Wild Robo Factory again and see how their plan to destroy all humanity. Luckily it seems they haven't quite figured out stairs yet.