Wild Rails looks at the golden age of trains, where they were the primary mode of transportation for long trips and it was a sign of class to be able to journey this way. Players are treated to the sight of trains as well as gameplay that includes Stacked Wilds and Free Spins.
Players can enjoy the look of the slot as it is completely made to fit the theme, giving us a view of a series of bridges crossing a gorge. The trains crossing the bridge carry behind them a series of carts that hold the different symbols. It's clear that Play 'n GO was having some fun with this slot that they released in 2019.
The game still works the same as most other slots with its 5-reel, 4-row playing field and 30 bet lines. There is a nice clear view of the background, showing the gorge and the area behind it, giving a sense of grandeur. Each spin we can see a blur of the trains that are pulling the symbols across the screen. It did take me some time to get used to the reels spinning by going left to right, instead of the usual vertical way.
The symbols on the trains are divided between low- and high-paying symbols. All of them are made to look like they're physically mounted on top of the carts. Ironically, this worked better for the card letters than the more original characters. The characters seem to be giant and projected on the side of passenger cars, while the letters are seemingly tied down and braced.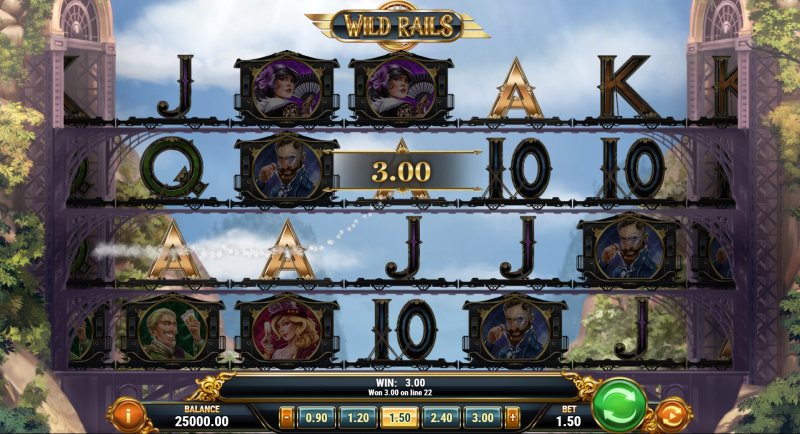 Symbols
Wild Rails has a large number of different symbols, relatively low payouts and an average number of win lines. The end result is High Volatility where players aren't expected to get any big wins during the base game but instead are counting on the special features to activate and help them get these wins. I found the game to balance out around my starting point, with only occasional hills and valleys when looking at my funds.
The symbols in the game include:
Wild: Substitute all regular symbols in the game. Max. 30x your bet with five-of-a-kind on a winning payline.
Scatter: Get 3 or more Scatters to activate the free spins mode. Max. 25x your bet with five-of-a-kind on the screen.
Purple Lady: Max. 20x your bet with five-of-a-kind on a winning payline.
Red Lady: Max. 15x your bet with five-of-a-kind on a winning payline.
Green Man: Max. 10x your bet with five-of-a-kind on a winning payline.
Blue Man: Max. 5x your bet with five-of-a-kind on a winning payline.
Ace: Max. 4x your bet with five-of-a-kind on a winning payline.
King: Max. 3x your bet with five-of-a-kind on a winning payline.
Queen: Max. 2x your bet with five-of-a-kind on a winning payline.
Jack: Max. 1x your bet with five-of-a-kind on a winning payline.
10: Max. 1x your bet with five-of-a-kind on a winning payline.
Players can pick a bet between $0.30 and $90 if they want to increase or decrease their risk, and potential wins. The max. win of 5,000x your bet will be sizeable even with the smallest possible bet.
Features
Although Wild Rails doesn't use a lot of different features, they are well integrated into the gameplay and do offer some change to the basic gameplay experience. Most players will be familiar with the features as they are implemented in the slot.
Wild: Wilds substitute all regular symbols in the game, except the Scatter symbol.
Stacked Wilds: Reels can randomly bring in an entire row of Wilds. These are guaranteed during the Free Spins mode.
Free Spins: Get up to 10 free spins by getting at least 3 Scatter symbols on the screen at the same time.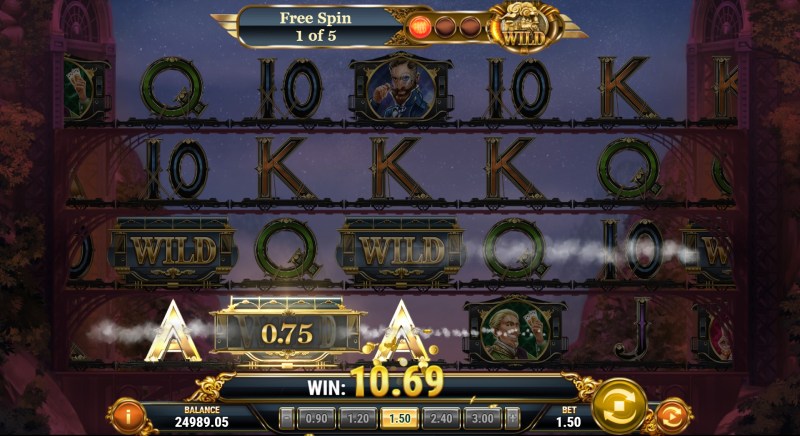 The Stacked Wilds are the real feature of the game, which can fill the screen with Wilds rather quickly as up to 4 trains can come in and bring up to 5 wilds each. This almost never happens though. Instead, you'll see one or maybe two Wild Trains roll onto the screen and helping with some bigger wins.
The Free Spins mode is exactly the same as the base game, with the only changes related to the mode itself. One thing to note is that every free spin the game will make sure at least 1 Wild train appears on the screen.
Additional free spins can be triggered by filling a special counter. This counter has 4 marks, which are filled whenever a Scatter appears on the screen. Every 3 Scatters the player gets an additional Wild Train and an extra free spin.
When 4 Wild Trains are collected, the player receives 3 free spins and you can continue earning 3 free spins with Scatters every time the tracker is filled. This is obviously easier than it sounds, as Scatters are about as rare in this mode as they are in the base game. It does help that all Scatters are counted and there is no minimum requirement.
All in all, the features might have been a bit too little considering the excellent setting. It makes the game rather dull for players that prefer some more variety, but those looking for a basic slot will probably enjoy it.
Conclusion
Wild Rails is a very nice slot when judged on its looks and creativity. I liked that the entire appearance is built around the idea of trains, including having new spins show the reels go from left to right. Having all the symbols mounted on top of train cars is another excellent detail.
As I mentioned above, the features are a bit light compared to the atmosphere. It feels like there should be a lot more possible with this concept but instead Play 'n GO chose to keep everything average.
Players that have a special place in their heart for trains, people who enjoy great-looking slots, or those that enjoy the standard slot experience all will have a good time with Wild Rails. The features aren't especially interesting, but that doesn't mean they can't net you any big wins, and the jackpot is big enough to make it appealing to keep playing.