Sushi is a favourite dish for a lot of people and even the sight of it will make a lot of them get hungry. The Endorphina slot Sushi doesn't make it easier with the screen filled with delicious-looking food as well as Wilds and a Free Spins mode.
Developed and released in 2014, Sushi is an older slot comparatively but the graphics still look good enough. Fans of sushi will be able to recognise quite a few of the different dishes as they are seemingly lifted directly from a restaurant table. If the setting wasn't obvious, the background makes it seem like we're actually sitting at a restaurant table, seeing the different sushi rolls come by.
The 5-reel, 3-row playing field gives us plenty of room to look at the different symbols, all of which are unique and created especially for this slot. The sushi can be part of one of its 5 paylines, which isn't a lot. It does make the game feel a bit more relaxed. I did like how the winning bet lines are shown with a marker type stripe instead of something more digital, as well as the little price sticker to show the total coin win.
When it comes to the sound design, Endorphina doesn't have the greatest track record in my book. Here too the sounds are absolutely minimal, with no music at all during the base game. Getting a win will play a brief Japanese-sounding jingle but that's all when it comes to the music. The reels only make a slight ticking noise while they spin and that's all I can really say about the sound.
Symbols
As mentioned before, the dishes that are shown as symbols on the reels are all based on real sushi. The game's paytable even lists each of them with their full names, which makes it a little difficult to visualise but fans will know exactly what they mean! Since the game only has a small number of paylines and quite a few different symbols the slot has High Volatility, making it difficult to get a win.
During my time playing, I noticed my funds declining almost constantly with only the very occasional boost to compensate. Considering a small max. win of 500x your bet, don't expect to walk away with anything more than you started with this slot.
Sushi features the following symbols:
Scatter: Get 3 Scatter Symbols on the screen to activate the Free Spins mode. Max. 10x your bet with three-of-a-kind on the screen. During the Free Spins mode, Scatter symbols act as Wilds.
Wasabi Shoga: Max. 100x your bet with three-of-a-kind on a winning bet line.
Ikura: Max. 50x your bet with three-of-a-kind on a winning bet line.
Tabiko Shake: Max. 20x your bet with three-of-a-kind on a winning bet line.
Maguro Tabiko: Max. 4x your bet with three-of-a-kind on a winning bet line.
Abokado Tabiko: Max. 2x your bet with three-of-a-kind on a winning bet line.
Hotatekai Tabiko: Max. 1x your bet with three-of-a-kind on a winning bet line.
I did think that the low payouts for half the symbols are rough, especially considering the high volatility already. This means that even getting a win with these symbols is only going to recover a few spins at most, and will hardly result in you getting a boost.
Features
Sushi is very light on features, making it feel more like a classic fruit machine than a video slot. The game has Wilds but only during the Free Spins mode.
The only real features to mention in this slot are:
Free Spins: When you get 3 Scatter Symbols on the screen, the Free Spins mode activates. Players get 20 free spins to play with but no possibility to get additional free spins.
Wilds: During the Free Spins mode, Wasabi Shoga Symbols substitute all other symbols in the game except the Scatter symbol.
During my time playing, I found it extremely difficult to get the free spins mode to activate, meaning I was set to play during the base game for most of my time there. This means that the only 2 features present weren't actually active for the entire time.
This made the whole experience rather dull. The game looks fine and it is fun to see the different dishes but without anything to break up the base gameplay, it did end up turning into an endurance test. After a while, I was only still playing to see the free spins mode for myself so I could write about it. There wasn't any real thrill related to my gameplay experience.
Including some more features might have helped. Even having the Scatter symbols act as Wilds during the base game too might have offered some much-needed variety. As it stands, the game feels like a waiting game where the player is tasked with getting to the free spins mode in order to recover their losses.
Once I finally got into the free spins mode, I was confronted with another disappointment. The paytable says that the Scatter Symbol acts as a Wild but instead, it's the Wasabi Shoga symbol. Normally that would be fine, but the Scatter Symbols still appear on the screen. Since they can't re-trigger additional free spins they are only there to make win lines less likely. Because the Wilds don't substitute Scatter Symbols, they are essentially only there to disrupt the opportunity of getting a win.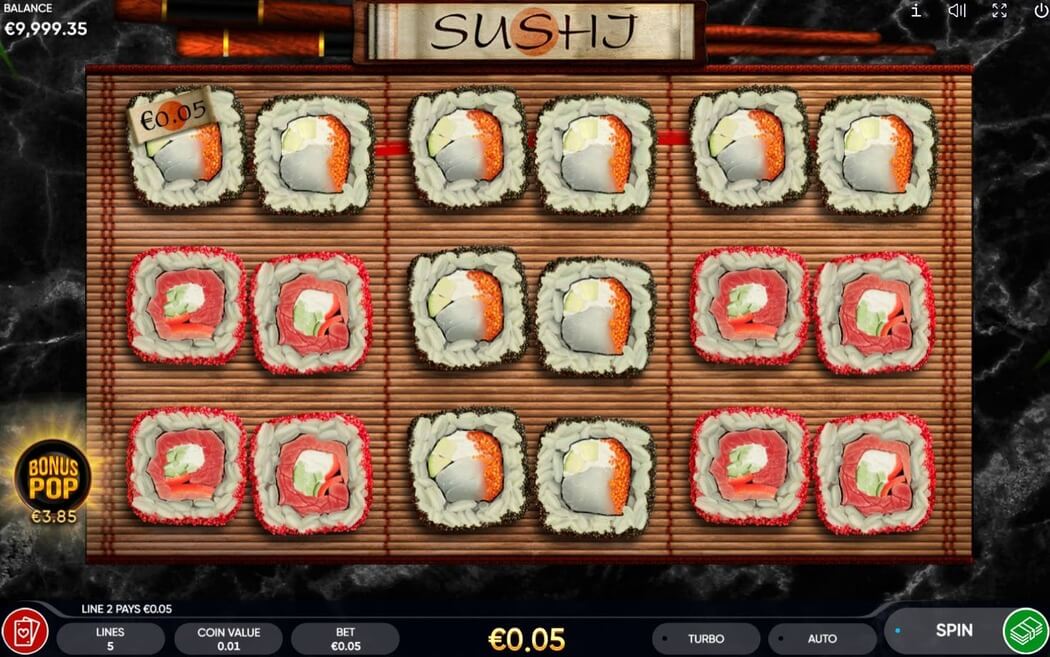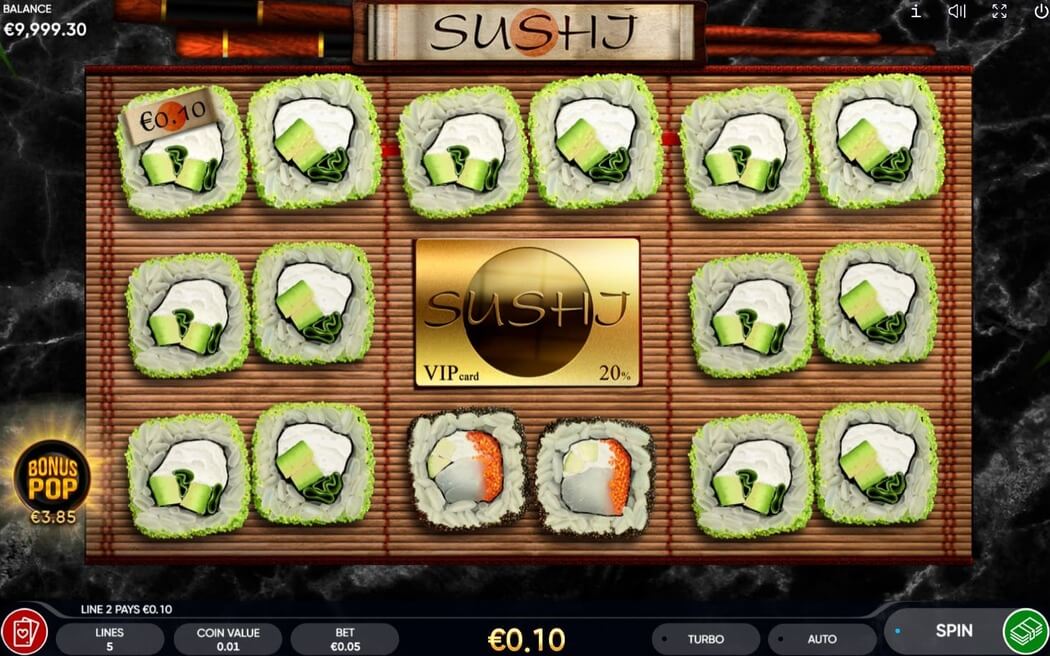 In the end, this made the Free Spins mode another disappointment. I walked away with less than 1 bet per spin from its 20 free spins. Considering it took me over 100 spins to even activate the Free Spins mode, it felt like a waste of both time and coins.
Conclusion
Sushi is a fun concept for a slot with some attention put in the design but almost nothing else. The high volatility is very punishing while the max. win is incredibly low. There is no sound to speak of, with only a brief musical stinger when there is a win. Which, again, is very rare too.
Players can pick a bet between $0.01 and $50 but to me, it felt like a choice of how fast you want to get rid of your funds. I don't want to spend too much time putting down this game as it is not fascinating or inventive enough to justify any of it.
In short: the game offers nothing for players on any level. The high volatility doesn't pay off at all, the graphics are passable but ultimately bland, there is no music, there are no features and the entire experience left me frustrated.