Kitchen Drama: BBQ Frenzy considers the exciting life of all the food that's thrown on the barbecue during one of those hot summer days. It even lets us profit from it!
Created by No Limit City and released in 2017, Kitchen Drama: BBQ Frenzy is the twin of Kitchen Drama: Sushi Mania which came out the same year. Both games present us with a cooking area on which we watch different types of food get prepared and maybe granting the player some big wins.
Kitchen Drama: BBQ Frenzy takes place on a 5-reel, 3-row barbecue, with 20 paylines to play with. The reels are filled with different types of food as well as some coal to fill out the collection. Everything is drawn in a comic-book style, all the symbols are humanized with different faces and there are quite a lot of animations to fill it out.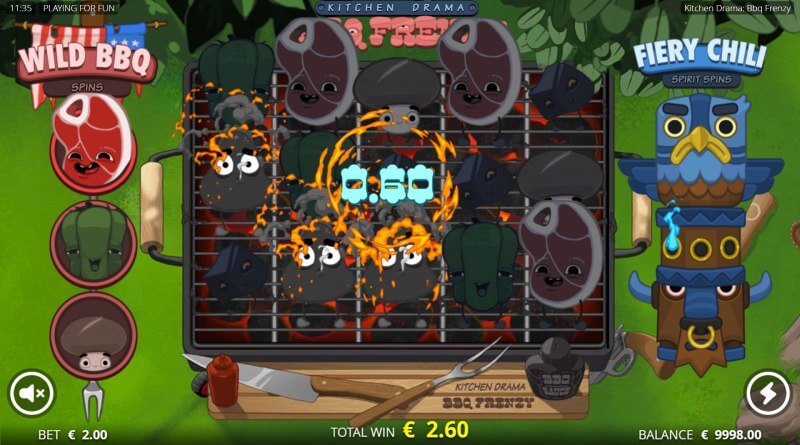 The symbols all use their tiny legs to jump on and off the barbecue and when they're part of a winning payline we see them burst into flames and crumble into dust! When the Fiery Chili feature is activated we're presented with a quick animated screen and the free spins mode also has a special series of symbols we don't see in the rest of the game.
I thought this was all done amazingly well, with each symbol oozing character and making it feel alive. The game has relentless energy to it and even though the screen could get quite confusing because of the large number of moving parts, it did a good job at presenting its information.
Symbols
All the symbols in the game are made to fit the theme, divided between different foods and different types of charcoal.
From highest to lowest they are:
Chili Wild: Substitutes all other symbols in the game. Max. 200 coins with five-of-a-kind on a winning payline.
Sheriff Badge Wild: This symbol starts the Gunsmoke feature, which triggers the Fiery Chili Spirit Spin. It also substitutes all other symbols in the game.
Sheriff Wild: The Sheriff Wild walks from right to left along the reels. It substitutes all other symbols in the game.
Steak: Max. 200 coins with five-of-a-kind on a winning payline.
Corn: Max. 175 coins with five-of-a-kind on a winning payline.
Green Pepper: Max. 150 coins with five-of-a-kind on a winning payline.
Eggplant: Max. 125 coins with five-of-a-kind on a winning payline.
Mushroom: Max. 100 coins with five-of-a-kind on a winning payline.
Charcoal: There are 3 types of Charcoal with the same paytable. Max. 60 coins with five-of-a-kind on a winning payline.
The high-paying symbols all look very different, not only are they easily recognizable but they're also different colours. The 3 types of charcoal are harder to distinguish with only the shape being different. Since they're all black it's harder to tell.
Features
Kitchen Drama: BBQ Frenzy offers quite a selection of features, including multiple different Wilds as well as a free spins mode. To start with, a quick rundown of the features:
Cascading Reels: Whenever there's a win on a payline, the affected symbols disappear and the remaining symbols drop down. Any new wins will continue the cascading effect.
Wilds: Wilds are added to the reels to substitute all other symbols in the game.
Random Wilds: With 3 wins in a single spin, the Fiery Chili Spirit Spin will activate, turning any symbol into a Wild for the next spin.
Free Spins: When there are wins with the three BBQ ingredients: Meat, Green Pepper and Mushrooms in a single spin, the Free Spins mode is activated. This grants the player 5 free spins.
Walking Wilds: The Sheriff Wild walks from right to left, moving one reel every spin until it disappears off the screen. Multiple Sheriff Wilds can be on the screen at the same time. During Free Spins mode, all Wilds are Sheriff Wilds.
Multiplier: When the Free Spins mode activates, any Sherrif Wild on the reels will grant a +1 multiplier.
Most of the features appeared during the base game, with the free spins mode being activated fairly regularly in my experience. The biggest feature was the cascading reels, which caused symbols to drop down whenever there was a winning payline. I found the game to resolve a winning payline at the bottom of the reels first which caused any winning paylines at the top to drop down and possibly not count anymore. I had that happen a few times.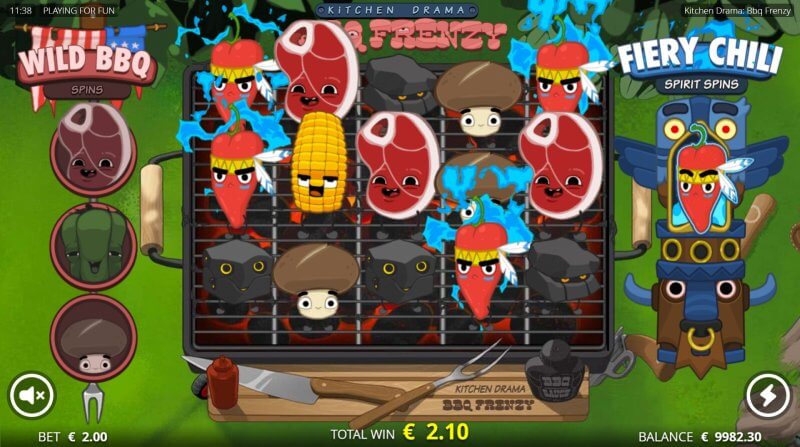 Getting cascading wins did a few things. The first thing was that it filled the Fiery Chili Spirit Spin counter to the right of the screen, which required 3 wins on a single spin to activate. When it did, it would randomly pick a symbol and turn it into a Wild for 1 spin.
The second thing, free spins mode, depended on which symbols were part of a spin. When the Steak, Green Pepper and Mushroom were part of wins in a single spin, the Free Spins mode activated. It was possible one of these would randomly activate, only requiring the player to get another 2 wins.
Even though this sounds extremely specific and difficult to accomplish, I had them trigger quite often. The Fiery Chili Spirit Spin can activate whenever a Sheriff Badge Wild appeared too, and with the random activation of the Free Spins tracker, it helped in getting free spins as well.
Conclusion
Kitchen Drama: BBQ Frenzy has an incredibly unique concept that still works extremely well and is very fun to watch. The game is flooded with beautiful and animated symbols that give a lot of character to the slot. It honestly puts a lot of bigger developers to shame with how much attention was put into bringing everything to life.
The game offers the ability to choose a bet between $0.20 and $100 per spin, and a max. win of 1,050x your bet. Coupled with the Medium Volatility I found it to be very lucrative.
If you're the type of player that is looking for an original slot with amazing graphics and some modern features that don't stray too far from the classic experience, I'd say you can't go wrong with Kitchen Drama: BBQ Frenzy. It has some of the funniest animations I've seen in a slot but it also uses the normal playing field and gaming conventions most people prefer.
Even though the game is getting a little older I imagine it'll keep me entertained for a few years yet and the great collection of features will definitely help with that.