Vikings Go Wild follows the adventurous crew of a Viking ship braving the ocean and the many perils that are found there. I can't wait to strap on my horned helmet again!
This slot was made by popular developer Yggdrasil and released in 2015. For me, Yggdrasil is a developer that occasionally experiments with abstract games that barely follow the tenants of classic slots. It seems that they took a step back from that with Vikings Go Wild.
Built with 5 reels, 4 rows and 25-paylines it is not that different from most classic slots. You can easily understand the game if you have played other video slots before. Personally I don't think that's a bad thing: often games with a unique new concept don't feel as nice to play as the more classic experience.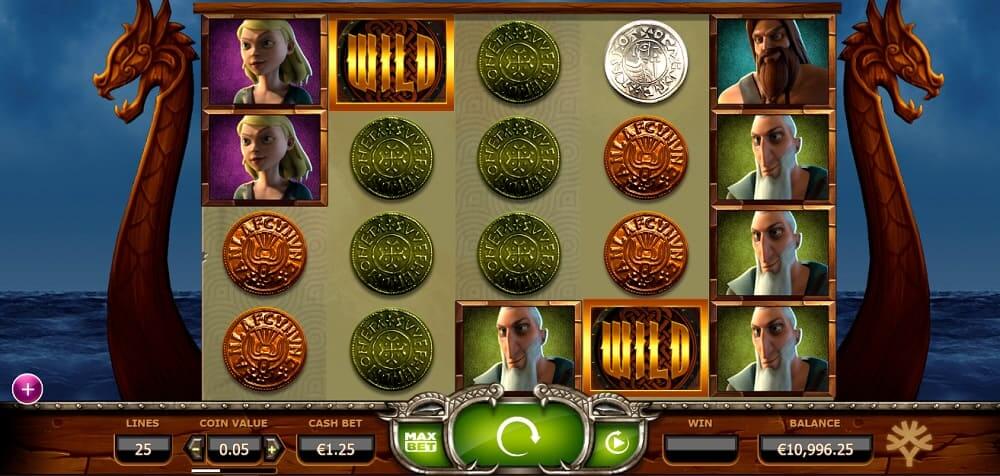 Vikings Go Wild is the first in a series of Viking slots made by Yggdrasil, who followed up this one with Vikings Go Berzerk in 2016 and Vikings Go To Hell in 2018. Although they've been improved in several ways, it all started with this one!
With Vikings Go Wild you can jump right into their cool Viking ship and set sail. The game starts with a gloomy, cinematic intro that shows the boat and its crew under attack by some horror from the deep. As the Viking leader leaps onto the monster with his axes drawn, the game begins. I thought it is an excellent introduction to the game and it put me in the right mood immediately.
Vikings Go Wild is several years old by now and it shows a little in terms of the graphics, although they used a cartoon style that doesn't require it to be photorealistic to look good. I appreciate that they made sure all the elements in the game fit the Viking storyline. The symbols all look like they could be found aboard a Viking ship and the different characters are stereotypical Vikings.
As for the sound, I can't say I'm quite as impressed. Even though it sounds fine it did not strike me as Viking-themed. Since this was Yggdrasil's first foray into Viking life, I don't hold it against them. When playing the sequels it's obvious they fixed this issue!
Symbols
The game is set onboard a Viking ship sailing the high seas. This is reflected in the way everything is presented, with an appropriate background, details and graphics. The different symbols are no exception, with Viking characters acting as the high paying symbols and classic Viking coins acting as the lower-paying symbols. As with the intro, these details kept me in the right frame of mind while playing.
From highest to lowest the symbols are:
Viking Ship: Max. 24 free spins with five-of-a-kind on screen.
Viking Leader: Max. 250 coins with five-of-a-kind on a payline.
Bearded Viking: Max. 225 coins with five-of-a-kind on a payline.
Old Viking: Max. 200 coins with five-of-a-kind on a payline.
Viking Woman: Max. 175 coins with five-of-a-kind on a payline.
Golden Coin: Max. 80 coins with five-of-a-kind on a payline.
Silver Coin: Max. 70 coins with five-of-a-kind on a payline.
Bronze Coin: Max. 60 coins with five-of-a-kind on a payline.
Copper Coin: Max. 50 coins with five-of-a-kind on a payline.
Wild Symbol: No value on its own but substitutes the highest paying symbol on the payline except the free spins symbol.
Feature
So far nothing special right? That's because I haven't discussed the Features yet! I have to say that these really elevated the game for me.
First off, here are the Features themselves:
Treasure Chest: At any time during the game, both in the base game as well as during the free spins phase, a Treasure Chest can show up on the fifth reel filled with free spins and coins.
Free Spins: Get between 3 and 5 Free Spins symbols on the screen to receive between 8 and 24 free spins that are used immediately.
Sticky Wilds: During the Free Spins phase every Viking symbol has a chance of turning into a Sticky Wild that will stay in place until there are no more free spins.
At first glance, I did not think these features were anything too exciting. What changed things up was that these features all interact with each other. That was a nice surprise and something that kept me playing a lot longer than I had intended.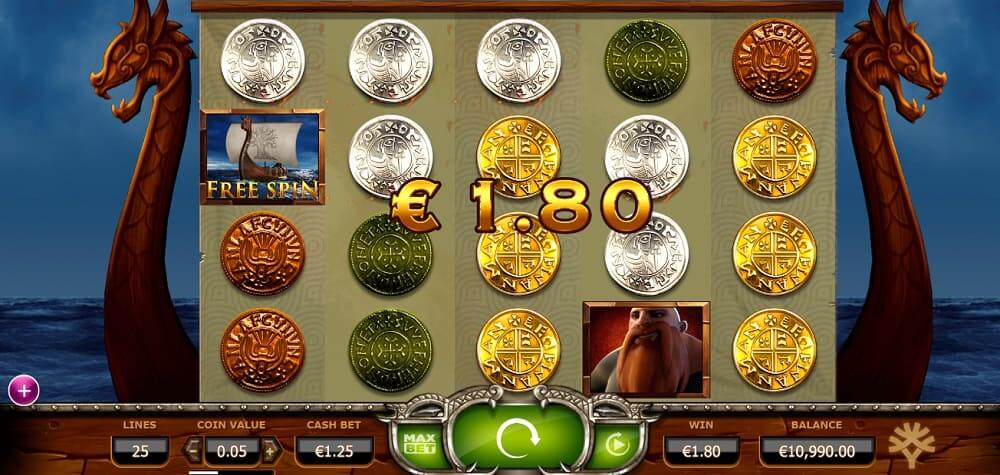 The Treasure Chest, for example, can have up to 1000 coins and between 8 and 12 free spins in them during the base game. That's right, it's possible to enter the Free Spins phase without getting three or more Free Spins symbols on screen! Even if it's a feature in the game, it felt like I found a hidden shortcut.
What's better is that I sometimes got one (or more) Treasure Chests while I was playing with Free Spins, and those chests can also have between 2 and 4 free spins. It happened more than once that I received additional free spins while playing the Free Spins phase thanks to these Treasure Chests, extending the duration.
While the Free Spins phase is playing, every Viking character that appears on screen plays a little animation of them fighting an enormous tentacle. If they lose they're dragged into the ocean and stay a Viking symbol. Sometimes they win, however, and they turn into a Sticky Wild! For that reason, I'd watch them fight off the tentacles with great interest.
Any Sticky Wild stays for the rest of the Free Spins phase, which can result in having most of the screen filled with Wilds for several spins. I hope you can appreciate the loop this created. I would get a treasure chest or Free Spins symbols with Free Spins, the Free Spins phase would add Sticky Wilds to the screen. I sometimes got extra Free Spins through a Treasure Chest which would add more Sticky Wilds, etcetera.
Conclusion
As the first Yggdrasil game in the Vikings Go series, Vikings Go Wild still has some rough spots. The graphics are getting a little dated and I don't think the sound quite holds up as it doesn't fit the theme.
The features make up for everything in my opinion. They interact with each other perfectly and the resulting bonuses really stacked up for me at times. I was frankly quite amazed at how Yggdrasil built the game to have different features improve each other this way. I had a great time playing this game and I imagine most players will feel the same.
You can choose a bet from anywhere between $0.25 and $100 which lets you play the way you feel most comfortable. The game boasts a healthy max. win of $190,000 on medium volatility. Personally, that's my preferred volatility as it gives steady albeit slower-paced wins.
I had a great time playing Vikings Go Wild. The dated graphics and the mediocre sound did not take away from my enjoyment of the game at all. I wish more games would allow the features to interact and improve each other as this slot does!