Ghost of Dead brings us yet another slot set in Ancient Egypt, this time infused with some supernatural elements. Ghosts haunt the reels of this slot which also includes familiar elements like free spins, expanding symbols and a random bonus game.
The slot was developed by Play 'n GO, who have created several Egyptian-themed games over the years. As we can expect from this developer the graphics are crisp and sharp with a lot of details, especially in 2021. There are also some interesting animations that play whenever there's a win or we activate the free spins mode.
Players are dealing with a standard 5-reel, 3-row playing field that houses a total of 10 paylines. The setting being Egyptian should be obvious from the moment that the game is started. Not only does the logo feature pyramids and a pharaoh mask, the game itself relishes the style. During the game, we can see the inside of a dark tomb in the background. It looks great but it doesn't shine with originality.
As far as the music goes, the developers have gone for an extremely toned-down version. There is barely any music to hear at all, with only some vague atmospheric tones in the background. This is disturbed by loud and disassociated tunes whenever the player gets a win. It feels like someone is simply pressing on a keyboard. As such, I didn't feel like the sound design was adding anything to the overall experience.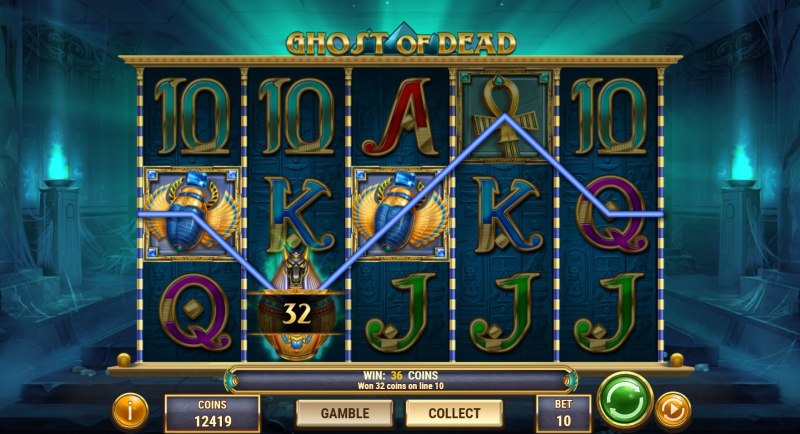 Symbols
Ghost of Dead isn't shy about its inspiration and makes optimal use of Egyptian imagery. The low-paying symbols are still the usual card letters but they have been redesigned to fit the setting. The use of Egyptian shapes helps tie them into the rest of the game. Meanwhile, the high-paying symbols are designed specifically for the slot but offer no creativity. Here we see the usual scarabs, pharaohs and ankhs.
Players who want to give the game a try will have to contend with High Volatility. This comes with an RTP of 96.21% which is barely above the average. While playing, I found that the game awards some wins reasonably often but they will mostly not be enough to make back even a single spin. As such, there's a slow decline of the funds that are mostly compensated for by the special features.
The game allows players to pick a bet between $0.01 and $100 which is an impressive range. This does require players to reduce the number of paylines, making it much harder to get a win. The minimum bet with 10 paylines is $0.10 per spin. As a reward, players might be able to walk away with a maximum win of 10,000x your bet. This is obviously a massive prize for the rare person that might be able to trigger it.
The symbols in the game are:
Scatter: Scatters count towards a win anywhere on the screen. Max. 1,000x your bet with five-of-a-kind on the screen. 3 or more scatters trigger the free spins mode.
Mask: Max. 5,000x your bet with five-of-a-kind on a win line.
Scarab: Max. 800x your bet with five-of-a-kind on a win line.
Cobra: Max. 300x your bet with five-of-a-kind on a win line.
Ankh: Max. 300x your bet with five-of-a-kind on a win line.
Ace: Max. 60x your bet with five-of-a-kind on a win line.
King: Max. 60x your bet with five-of-a-kind on a win line.
Queen: Max. 40x your bet with five-of-a-kind on a win line.
Jack: Max. 40x your bet with five-of-a-kind on a win line.
10: Max. 40x your bet with five-of-a-kind on a win line.
Features
Ghost of Dead makes use of some random features that can increase the likelihood of a big prize. The main one includes turning the scatter into a spectral scatter. Where the normal scatter only counts towards the free spins mode, the spectral scatter can trigger a massive win. However, it is completely random whether or not a scatter will be transformed in this way.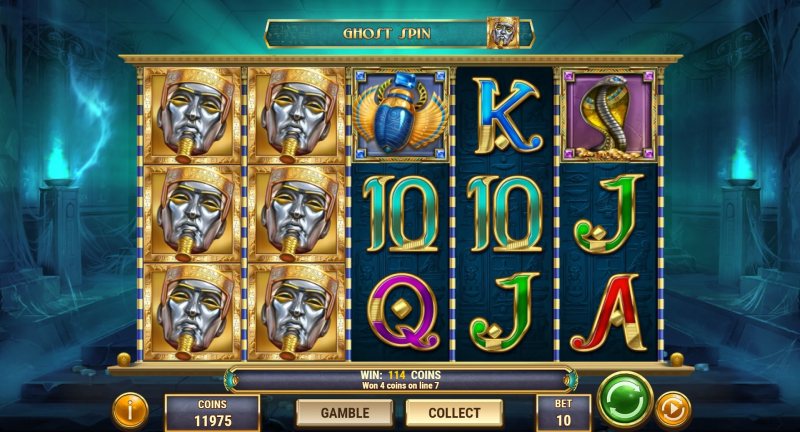 The features in the game are:
Wild: The scatter symbol doubles as a wild, substituting all other symbols in the game.
Scatter: The scatter symbol can appear anywhere on the screen and count towards a win.
Free Spins: Get 3 or more scatters on the screen to activate the free spins mode.
Expanding Symbol: During the base game a Ghost Spin can be activated, randomly selecting a symbol and expanding it to fill any reel it appears on.
Random Symbol: When the free spins mode is triggered, players pick a symbol to act as an expanding symbol. A second, random symbol is picked every spin to also count as an expanding symbol.
Because of the features, the game relies heavily on randomness. The scatters especially play an important role but only when they are converted into spectral scatters. As normal scatters, they only have limited use.
Players will also experience this when it comes to the expanding symbols. The Ghost Spin feature is something that can be triggered at any time during the base game. Doing that might result in some nice wins but in my experience, it was often a bit mediocre. Nonetheless, I kept my funds pretty close to my starting point the entire time I was playing.
Triggering the free spins mode isn't as hard as it might appear. The game mode certainly isn't a frequent occurrence but it wasn't as tricky to activate as in some other slots. Unfortunately, it also meant that the impact of this game mode wasn't as big on my funds either.
Conclusion
Ghost of Dead is a simple iteration of the Egyptian setting. It looks good with nice, colourful graphics and some impressive animations. However, it almost aggressively avoids doing anything original or inspiring. It will be extremely hard for anyone to remember this slot after closing the window, considering the enormous amount of very similar games.
The gameplay is fine but again I have to point out the relative averageness of the experience. Even though there are some slight tweaks to standard slot gameplay I doubt it will be enough for people to develop any kind of attachment to the game.
What I did like was the extremely wide range of choices when it comes to bets, being able to play with as little as $0.01 per spin to a massive $100 per spin. This allows any type of player to enjoy the game and perhaps get something good out of it.