Valley of the Gods 2 is the unoriginal name for the sequel to Yggdrasil's Valley of the Gods. Just like the original, this game is set in ancient Egypt and features non-standard reels, re-spins, multipliers and stacked wilds. Plus the game has a number of great animations and expanding reels.
This slot was released in 2020, 3 years after the first game came out. Where the original still had a standard playing field, Valley of the Gods 2 plays with bigger and bigger reels. In total, there are 6 rows. Each reel has a number of open slots and a number of closed slots which can open up when the player gets a win. Reel 1 has 1 open slot and 2 closed ones, reel 2 has 2 open slots and 2 closed ones, and so on.
This might be confusing when reading it typed out like this but opening the game immediately presents you with the reels and clears everything up. The closed tiles are closed but for every symbol, you have in a win line, one closed tile is unlocked. Every time you get a win you also get an immediate re-spin, using the opened tiles to possibly create additional wins. If you manage to unlock all closed tiles you'll hit the special game mode.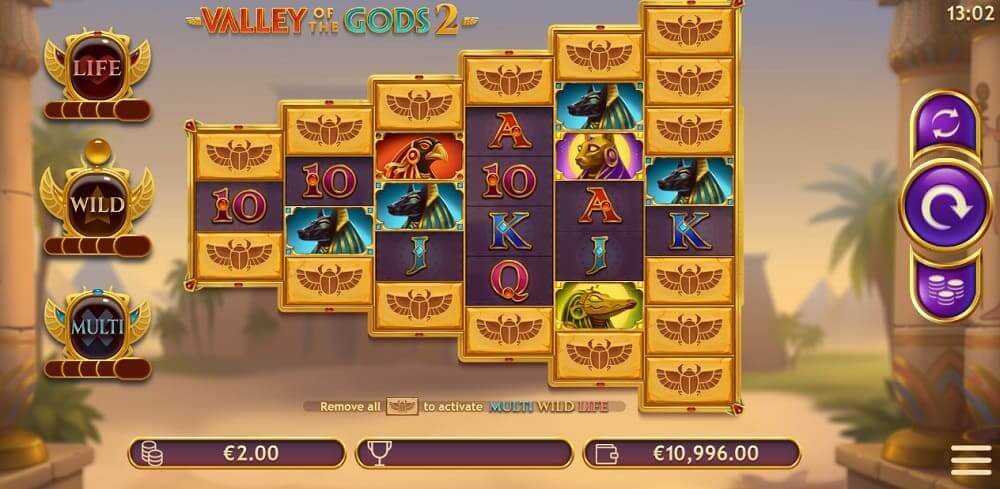 I thought the game looked very nice. The high-paying symbols are different Egyptian gods while the low-paying symbols are boring card letters. I think some more creativity here might have helped the game's setting, but the original slot sizes already make the game stand out so perhaps the developers decided that was enough innovation.
Symbols
The game has a sizeable number of different symbols. Combined with the varying size of the playing field and the limited number of features, the game lands on High Volatility. You'll find yourself often looking at the smallest possible playing field with no wins to expand it. Occasionally the stars align and you'll get a series of wins in a single spin which will somewhat balance out the cost of spinning.
During my time playing, I found my funds to stay relatively stable with some spikes into the positive but it is a rather volatile game so there are no guarantees. Players can pick a bet between $0.10 and $100 to help control the risk, and a max. win of 5,481x your bet will probably be enough to keep a lot of players interested.
You'll find the following symbols in the game:
Wild: Wilds substitute all regular symbols in the game. Wilds stay on the screen until part of a win.
Purple God: Max. 16x your bet with six-of-a-kind on a winning bet line.
Green God: Max. 8x your bet with six-of-a-kind on a winning bet line.
Red God: Max. 6x your bet with six-of-a-kind on a winning bet line.
Blue God: Max. 6x your bet with six-of-a-kind on a winning bet line.
Ace: Max. 4x your bet with six-of-a-kind on a winning bet line.
King: Max. 4x your bet with six-of-a-kind on a winning bet line.
Queen: Max. 2x your bet with six-of-a-kind on a winning bet line.
Jack: Max. 2x your bet with six-of-a-kind on a winning bet line.
10: Max. 2x your bet with six-of-a-kind on a winning bet line.
9: Max. 2x your bet with six-of-a-kind on a winning bet line.
Features
Valley of the Gods 2 only has a small number of features but I think that was a good idea, considering the original shape of the playing field. Offering too many modifiers to this gameplay would probably just confuse people. I found that the way it is now was easy to understand but still entertaining to learn.
The features include:
Non-Standard Reels: The game has 6 reels of increasing size. The maximum size goes from 3 rows to 8 rows.
Re-Spins: Whenever there is a win, an automatic re-spin is triggered. This continues as long as new wins are created.
Expanding Reels: Whenever a win is created, the winning symbols unlock an equal number of locked tiles.
Stacked Wilds: Locked Wilds can appear on any of the reels and remain in place until part of a win.
Multipliers: A 2x Multiplier can be activated to apply to a number of wins. The multiplier can be increased over time.
Extra Lives: With extra lives, failed spins are ignored and additional re-spins are triggered.
The main game is pretty standard and won't take long to understand. The playing field has open and locked tiles. Any win will use the involved symbols to unlock an equal number of locked tiles. If you get a three-of-a-kind win, you'll open up 3 locked tiles. After every win, a re-spin is activated. Occasionally, this will result in you fully clearing all locked tiles and playing with the maximum playing field.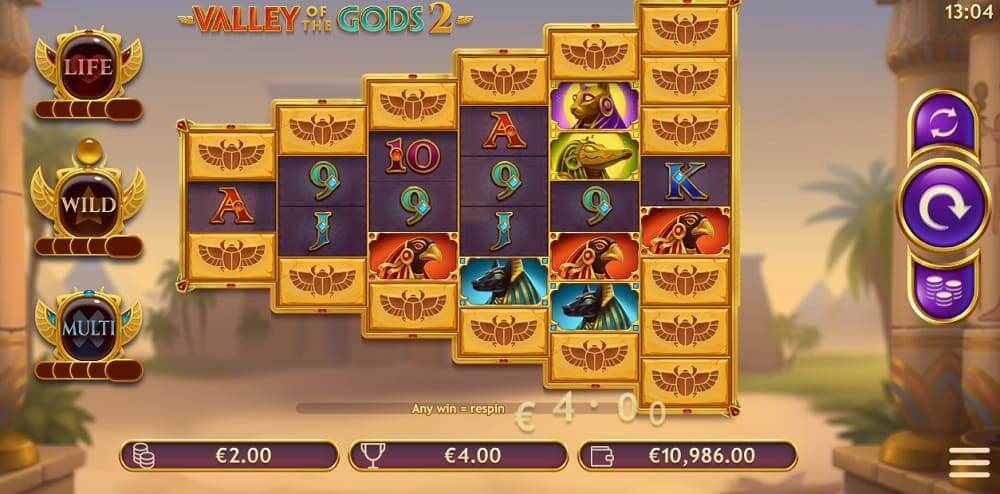 When this wins, the playing field will have 3 different coloured tiles. Each tile is associated with one of the 3 bonuses:
Stacked Wilds: Get a win on 5 Yellow Tiles to activate a Stacked Wild.
Multipliers: Get wins on 5 Blue Tiles to activate the Multiplier.
Extra Lives: Activate the Extra Life by getting wins on 5 Red Tiles.
This adds more randomness to the game and also makes the game even more volatile, but I found that it pretty reliably activated at least 1 of the 3 features. Technically, it's possible to activate all of the features at the same time and it's even possible to activate a feature multiple times in a row.
The gameplay is quick and easy, not requiring much from the players except watching the wins and seeing which locked tiles are removed. At first, I thought it did this from left to right but it is somewhat random.
Conclusion
Players that are looking for a non-standard slot with a bit more creativity in its design and gameplay will probably enjoy Valley of the Gods 2. It's a big departure from its original so fans of that one might be turned away by its new visuals. Then again, I feel like Valley of the Gods is still new and strong enough to be enjoyed if that's what you prefer.
The extra features are a fun addition but rather rare to unlock and activate, and maybe not strong enough to really make themselves worth the trouble. I did find that my funds stayed in the positive pretty reliably but obviously, this is subject to change with other players.
I wish the game had a little more attention put into the animations. It all looks great but the background is just a drawing and the symbols themselves also don't show a lot of character. Maybe it would have been a nice way to put the dots on the i.