Troll Haven is a 2020 game that brings the trolls of folklore to life in a very passionate way, not depicting them as evildoers but rather as benign creatures. This slot further introduces multiplier wilds, free spins and scatters.
This slot was developed and released by Endorphina, a studio that's been hard at work making a name for itself. This game really emphasises their creative abilities as it shows off an amazing range of artistic choices. The symbols are all beautifully hand-drawn even if they're not all terrible original. There are even some animations whenever the high-paying symbols are part of one of the 25 win lines.
The game is set on a 5-reel, 3-row playing field while the background shows us lush fields with mountains in the distance. Based on this and the name of the slot we can assume this is the titular troll haven where trolls can live out their lives in peace. The symbols also emphasise this idea as we see different items that a troll might use. The low-paying symbols are unfortunately all card letters but they have been made to look like runes to fit the setting somewhat.
As far as the sound design is concerned, the creators decided to go for something very laidback and subtle. There is music playing during the base game but it is soft and only vaguely noticeable. It definitely adds to a serene atmosphere. The sound effects in the game are a bit louder and emphasise any big wins the player might get.
Symbols
Troll Haven makes use of the usual low- and high-paying symbols that you would find in most modern slots. The low-paying symbols are card letters while the high-paying symbols are created specifically for this slot. These are also the ones that fit the setting the best. Whenever there's a win with these symbols, they will trigger a brief unique animation that makes them come to life somewhat.
Players will find the game relatively lenient when it comes to granting wins, allowing players to keep their funds pretty stable throughout. The slot is listed as Medium Volatility which fit my experience. I found the game to grant regular wins often enough but these would rarely be big enough to win back even a single spin. To deal with this, players can pick a bet between $0.01 and $250 per spin.
If you're a player that's looking for a shot at a jackpot, this slot's max. win of 3,000x your bet is about average for a game with this volatility. I never felt like I got close, however, so keep in mind it might take quite a while before any big wins are hit.
The symbols in the game include:
Scatter: Get 3 or more Scatters on the screen to activate the free spins mode. Max. 100x your bet with five-of-a-kind on the screen.
Wild: Wilds substitute all symbols in the game except the Scatter Symbol. Max. 120x your bet with five-of-a-kind on a win line.
Cauldron: Max. 30x your bet with five-of-a-kind on a win line.
Axe: Max. 30x your bet with five-of-a-kind on a win line.
Fish: Max. 16x your bet with five-of-a-kind on a win line.
Mushroom: Max. 10x your bet with five-of-a-kind on a win line.
Berries: Max. 10x your bet with five-of-a-kind on a win line.
Ace: Max. 5x your bet with five-of-a-kind on a win line.
King: Max. 4x your bet with five-of-a-kind on a win line.
Queen: Max. 4x your bet with five-of-a-kind on a win line.
Jack: Max. 4x your bet with five-of-a-kind on a win line.
10: Max. 4x your bet with five-of-a-kind on a win line.
9: Max. 4x your bet with five-of-a-kind on a win line.
Features
Troll Haven is rather light on the features and the ones that are included will mesh with the base gameplay pretty well. Only the free spins mode really interrupts the gameplay and in my experience, it will trigger very rarely.
The features included are:
Wilds: Wilds substitute all other symbols in the slot, except the Scatter Symbol.
Multiplier Wilds: Whenever two or more Wilds are part of a win, they will apply a 2x multiplier.
Free Spins: With 3 Scatter symbols on the screen, the free spins mode is activated.
Players will spend most of their time on the base game as the free spins mode was difficult to activate. Getting 2 Scatters on the screen seemed trivial, but getting 3 or more was almost impossible. Once a player does manage to do it, they will be presented with a choice before the free spins mode starts.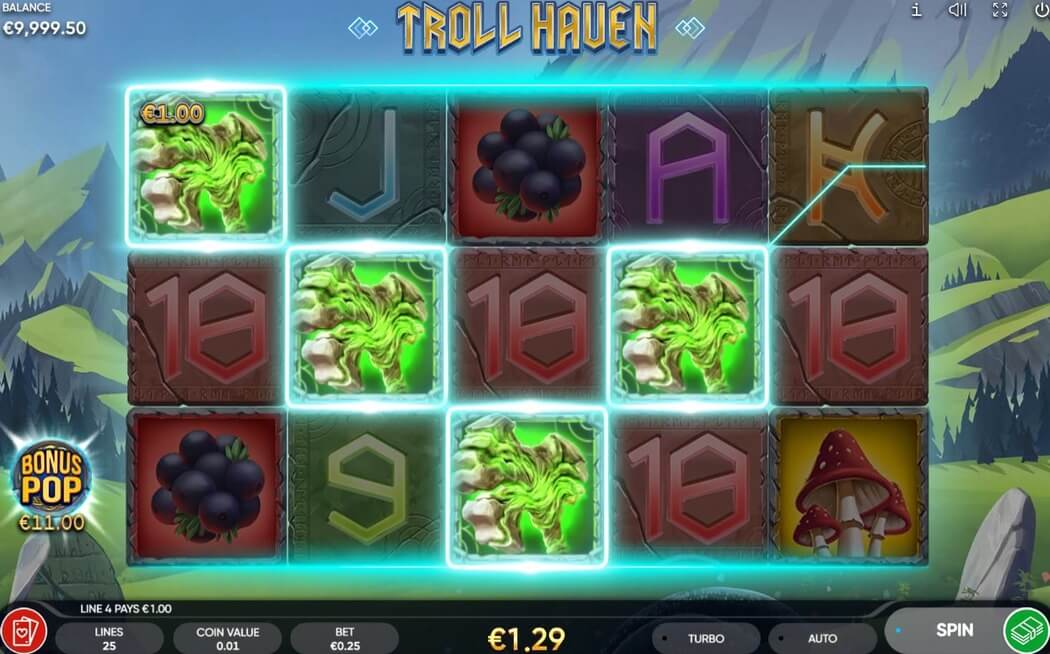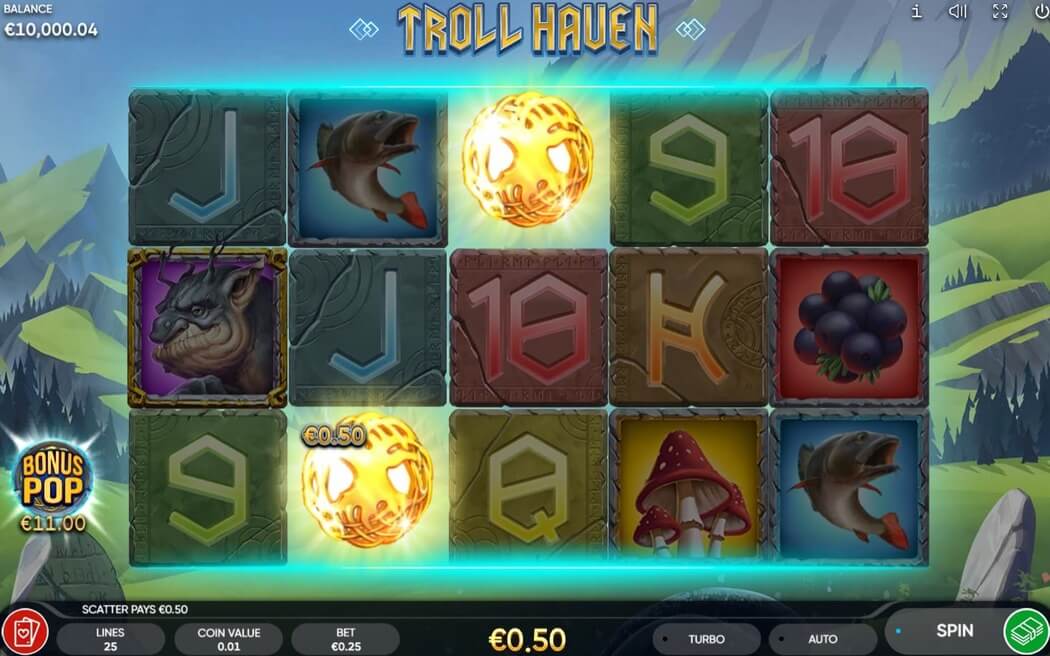 The player can pick 1 of 4 modes that balance between more spins and a higher multiplier. The higher the multiplier, the fewer free spins you are granted. The maximum multiplier is 10x your bet, which comes with 5 free spins while the minimum is a 2x multiplier with 23 free spins. If you manage to get at least 3 Scatters on the screen during the free spins mode, you will immediately be granted another choice afterward.
Conclusion
Troll Haven brings a rather sweet idea to life with the notion that not all trolls are evil and some just live in peace in a secluded valley. I do think that this is all left a bit too much to the imagination as there is barely any hints as to the intent of the creators. It's just something I pieced together from the name, the symbols and the art.
If you're looking for a slot with some basic but sturdy gameplay you will definitely find it here. I had a nice time playing this slot, given that the features were simple but clear and effective. Payouts for regular wins are high enough to keep things interesting while the special features are a good boost.
I did find my funds trending down as time went on, but a single good free spins mode could easily turn this around. Do expect to have to play the game for quite a while to see this happen, which is why you should keep an eye on your bets.