Mystery Joker 6000 is the prettier, more popular cousin of any of Play'n GO's previous three-reel slots.
The number 6000 in the title is not just for appearances. This is the amount of the biggest payout that players can score in this game. I think it is a handsome amount of money and one that you can tell your friends about, even if you had won it with the smallest bet of 10p per spin.
In essence, this is a classical fruit machine that puts to use a more complex math model in order to offer a twist in the gameplay. Perhaps it isn't much by the measure of most players, but Mystery Joker 6000 comes with a respin option and a bonus feature that's been aptly named Mystery Wheel.
The game is more interactive than your typical three-reel slot machine replica in that it enables the player to either collect the winning outcome or transfer it towards the possibility of triggering the Super Meter, which is where the big pay potential lies.
There isn't much to like or dislike about classical fruit machines turned online slots. You either play the game just for the kicks of it or because a certain game has a reputation for triggering decent payouts or it comes with a good RTP. In the game at hand, I think we have both. As I said, 6000x your bet is enticing enough, but there are few more details that can inspire even the pickiest players out there/ That is the RTP amount of 96.00% and the high variance, which essentially means that Mystery Joker 6000 can turn up a big win from the Wheel of Fortune bonus game.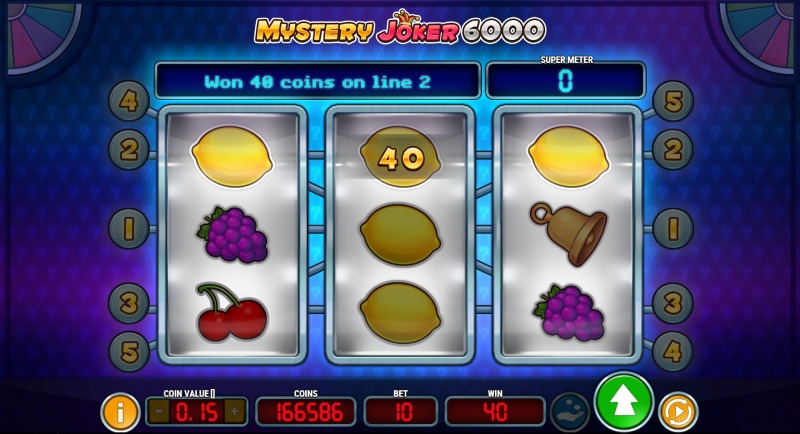 Theme and Graphics
To me the game looks like a modern fruit machine that has a spot reserved for itself in a prominent location on the casino floor. The layout and the graphics are definitely primed to draw attention towards a slots experience that is bound not to disappoint.
I can't vouch that a big payout is guaranteed, but one look at that Wheel of Fortune and you know that the odds of winning a big sum of cash exist and not only in virtual terms. The prizes on the wheel are split between low, medium and high, so even if the wedge stops the wheel at 2000x I would still consider it a sizable amount to cash out on. Is this part of the game's graphics? Oh yeah. Seeing the wheel spin is just marvellous, precisely for the reason above.
As for the symbols on Mystery Joker 6000, they are all fruits and classical symbols. Perhaps the symbols themselves aren't wildly appealing, but they are placed in a setting that has a very close semblance to a real slot machine. In that regard, the game is convincing enough, but just in case there are few moving parts and flashing lights that gives the visual experience the edge that fruit pokies usually lack.
Mystery Joker 6000 isn't rich in extra features, as it can be expected from a game in this genre. Nevertheless, two features can liven up your rounds on this game at any time and both are triggered, in part, by the jester's hat symbol.
At first, I thought this symbol is a substitute for the standard symbols, but it is not, as Mystery Joker 6000 doesn't come with a wild. Nevertheless, if you get two of the Super jokers on a payline, from left to right awards a respin on the third reel. This is, essentially, a second chance of getting a third joker symbol for the Mystery Wheel feature.
Once at the wheel, you'd be looking at a chance to win an instant cash prize between 20 and 6000x. The increments are irregular, but there is a gradual rise in the potential win amounts so that you could be win amounts such as 100x, 250x, 500x, 1000x, 2000x your bet and so on.
I mentioned that Mystery Joker 6000 comes with a twist that makes the game more interactive and more entertaining for that matter. Practically, any winning outcome in the main game can be dispatched to the Super Meter, which is a cache that holds previous winning outcomes.
Bets that are made from the Super Meter are more expensive, but you get better odds at winning the Mystery Wheel game. In the main game, three jokers trigger the Mystery Wheel, while with the credits in the Super Meter, you can win one spin on the wheel with two jokers and three spins with three jokers.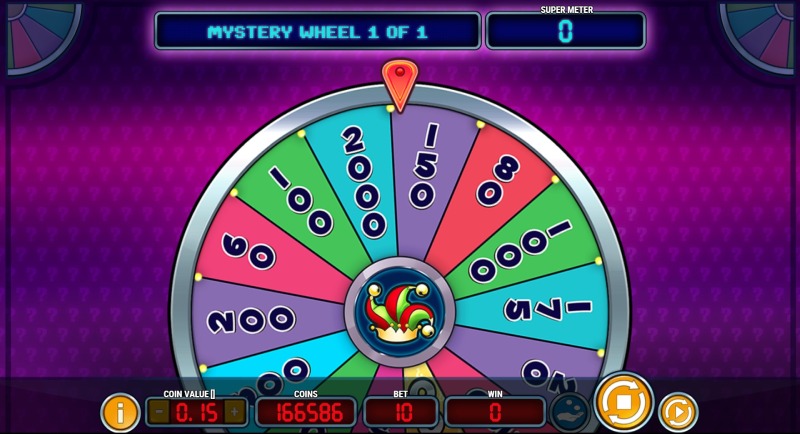 Bets and Payouts
Mystery Joker 6000 isn't expensive to play. Players can roll with any amount between 10p and $100 per spin and you can bet pennies on the payline and still 'notice' the payouts. This is because even the smallest winning outcome pays more than the bet.
You need three of a kind to score and keep in mind, there isn't a wild symbol. The cherries pay 2x, the lemons 4x, grapes 6x, watermelons 8x, bells 10x, stars 12x and sevens 20x.
Conclusion
Despite the favourable paytable structure, I still think that Mystery Joker 6000 is all about the Mystery Wheel. The base game can shake out the occasional medium payout and you'd have to play a while before you get three sevens – which I never got to land on a payline.
So I think the Mystery Wheel is where things can get quite interesting, but that prospect doesn't come without a challenge. I couldn't resolve to send all of my winnings to the Super Mode, even though that is the most sensible thing to do, considering the top payout of 6000x your that's on the wheel.
I can recommend this game to other players, but it's a really quirky game that I think only makes sense playing if you are willing to forgo your winnings in order to up your chances at the Mystery Wheel.