Check out this beginner-friendly slot and learn the mechanics of online slots. This one even comes with a tutorial.
Play'n GO is known for having a wide range of slots and this is one of those games you don't usually hear much about. Star Joker was released at the tail-end of 2018 and is a game designed for beginners.
Star Joker is an easy-to-approach slot, where you don't need to know anything about slots to enjoy it. It doesn't even matter if this is the first slot you have played in your life. Play'n GO went as far as to add a special feature that will help you get started.
When you start up the slot, you will encounter a rare feature: a tutorial. You can go through all the features of the game, learn what each button does and get a good look at how the game works. It takes a good while and you can stop midway by hitting the exit button.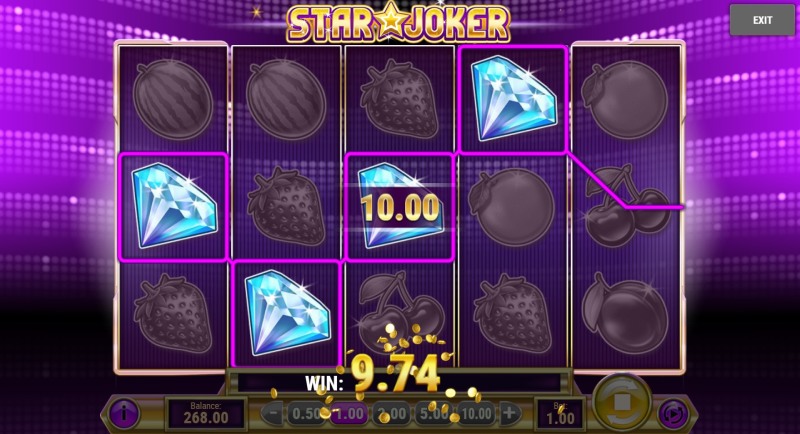 Graphics and sound
The best words that I can use to describe Star Joker are clean and approachable. The slot is designed in a way that anyone can pick it up and play it. Play'n GO took the classic fruit machine style and made a modern version of that.
The game looks nice. It has vibrant colours and the background is simplistic, so it will not draw the attention away from the reels. The user-interface is also done in a way that there are no questions on which button does what. Star Joker is easy to use, but at the same time, it lacks personality.
The same can be said about the music. It has a nice bassline and a funky beat, but it is not the centre of attention. The slot uses audio cues to instruct the player. The sounds get louder and more lively when you do something right and die down when things are not going great.
As a whole, Star Joker is a fine-looking slot and the visuals serve a purpose. The developers took time to understand who this game is for, and what a player like that would want and need.
Symbols and wins
The symbols in this game are the iconic fruit machine symbols that most people have at least seen somewhere, if not played with. The low-tier ones are cherries, strawberry, plum, orange and watermelon, and the high-tier ones are bell, diamond and seven. For the special symbols, they have the standard set: a wild and a scatter.
The more valuable symbols have another good feature, apart from their better wins. You only need two of them on a payline to win. The wild star joker symbol also has its own value if you happen to get more of them. They are worth 500x your wager if you get five of them on a single payline.
Speaking of paylines. The slot has ten fixed lines, which the player can't adjust or de-activate. This means your wager is always the coin size times ten.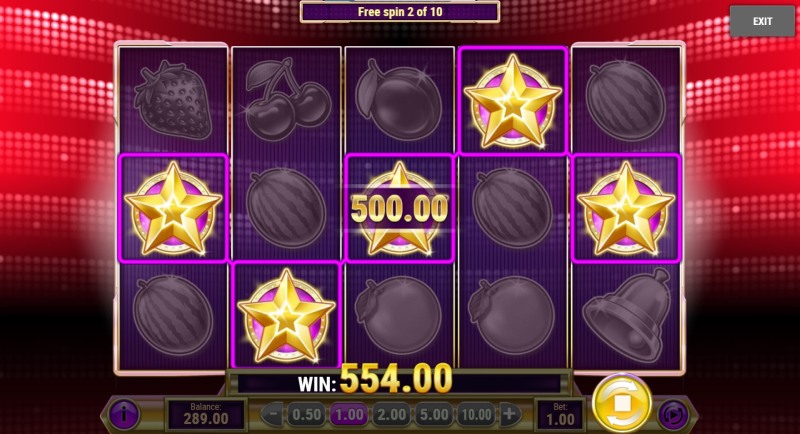 The scatter symbols are not worth anything by themselves. You still want to get at least three of them to activate the free spins. They are scatters, so it doesn't matter where they land on the reels for you to win 10 free spins.
The slot has low volatility, which is a must in a game like this. There aren't many things as discouraging as losing your entire bankroll without getting a single win. This one will hand out small wins constantly and activating the Free spin feature isn't that difficult. The hard part is to get a major win, which usually isn't the goal in a beginner slot.
Features
Free Spins: Get some jokers and play for free
Jokers are the scatter symbol and will activate the free spin feature. You just need to get three of them anywhere on the reels disregarding the paylines. This will award you with 10 free spins.
During the free spins, a new symbol will appear on the reels. The Wild Joker is both a regular wild and a scatter symbol. It can substitute other symbols on a payline and if you get three of them on the reels, you will get 10 extra free spins.
Gamble: Take a risk and win more
After every win, you have the option to gamble. If you choose to do so, you are given a card and you need to guess either the colour or the suit. Guessing the correct colour will double your win and guessing the suit will quadruple it. After a successful guess, you can either collect or go again.
Final Thoughts
Star Joker is a peculiar game, as it is meant for new and inexperienced players. This made reviewing the slot a bit more difficult. It wasn't so easy for me to jump years and years back in time when I was a newbie.
This is an important thing when you look at a slot like Star Joker. As an experienced player, I could say that the game is dull, unimaginative and simple, but that is how it is supposed to be. This slot is not made for me but to a completely different audience.
If I wanted to introduce a new player to the world of online slots, then Star Joker would be an excellent choice. This easy to learn, accessible and straight-forward slot will quickly teach someone how to play slots on the Internet. It has some of the most common features and will guide you through how they work. For this particular purpose Star Joker is a perfect game.