Snakebite is a slot set around the famous darts player Peter 'Snakebite' Wright with his iconic haircut and the flair for the dramatic. Players will also have to deal with free spins, multipliers and wilds besides trying to hit the 180.
This game was developed and released by Play 'n GO, which has grown its selection of games in 2021 with quite a few excellent slots. This game looks to be a good addition to that list, even though it does tone things down when it comes to presentation. What I mean is that we are back to the standard 5-reel, 3-row playing field with a modest 10 paylines.
When it comes to the presentation, it also doesn't seem to be doing anything particularly interesting. I did like how the playing field was put on a familiar stage, with at the front the outlines of a cheering audience. The colours are very bright with purple and green as the most dominant ones. This obviously harkens back to the colours of his mohawk.
I thought it was an interesting choice to pick a very mellow techno song as the soundtrack. There are also some fun sound effects to liven things up. The main one is the announcer who will comment on certain events but also reacts at particular moments. At the same time, the audience will also cheer and even chant.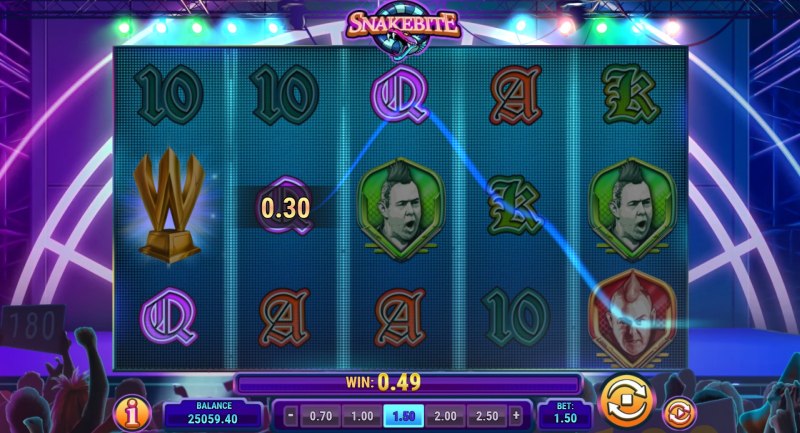 Symbols
Snakebite uses a mix of familiar low-paying symbols and more unique high-paying ones. Most of the time players will see the usual card letters on the screen. These are easily distinguishable thanks to their vibrant colours. Most of the high-paying symbols are different pictures of Snakebite, kept apart by their colours. The remaining symbols are filled with a trophy and a dartboard.
The game is listed as having Medium Volatility, which largely fit my experience. Wins are pretty frequent but they usually aren't very big. The larger wins are spaced out a bit more. The RTP is 96.2% which is a little above average. I found my funds to drop slowly over time without it feeling too fast. Wins were relatively common but usually only small.
Players can decide how much funds they want to play with by selecting their bet. They can pick one between $0.10 and $100 per spin. The maximum win of 6,000x your bet was significantly higher than average and even beats most high volatility slots. That said, I never felt like I was close to the jackpot or even any bigger win.
The symbols you'll find in the game include:
Snake: Triggers the Snake Snap feature, granting an instant win.
Peter Pays: The Peter Pays feature increases the value of all instant wins on the screen.
Dartboard: Get 2 Dartboards and a Peter Pays symbol on the screen to activate the Snake Spins feature.
Wild: Wilds substitute all regular symbols in the game. Max. 200x your bet with five-of-a-kind on the screen.
Red Snakebite: Max. 24x your bet with five-of-a-kind on a winning payline.
Green Snakebite: Max. 22x your bet with five-of-a-kind on a winning payline.
Purple Snakebite: Max. 20x your bet with five-of-a-kind on a winning payline.
Ace: Max. 3x your bet with five-of-a-kind on a winning payline.
King: Max. 2x your bet with five-of-a-kind on a winning payline.
Queen: Max. 2x your bet with five-of-a-kind on a winning payline.
Jack: Max. 2x your bet with five-of-a-kind on a winning payline.
10: Max. 1.6x your bet with five-of-a-kind on a winning payline.
Features
Snakebite has a number of different features that feel quite subtle even though they can impact the gameplay in different ways. That's why I wouldn't call this a classic slot even though it presents itself as such.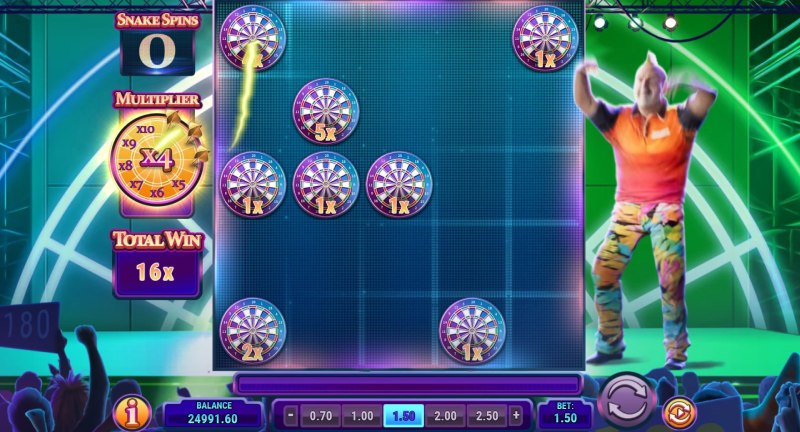 The features include:
Wilds: Wilds substitute all other symbols in the game and act as scatters.
Snake Snap: This feature is triggered by the Snake Snap symbol and duplicates all Instant Prizes on the reels.
Peter Pays: This feature appears when the Peter Pays symbol shows on the screen. This will increase the value of all Instant Prizes on the reels. This symbol only appears on reel 5.
Dartboard: The Dartboard counts as an Instant Prize. They only appear on reels 1, 2, 3 and 4.
Snake Spins: When 2 or more Dartboard symbols and a Peter Pays symbol appear on the screen the Snake Spins feature is activated. During this mode, special symbols except Wilds will reset the number of spins to 3.
Multiplier: During the Snake Spins mode, Golden Darts increase the multiplier up to 10x.
This slot heavily relies on activating the free spins mode which is unfortunately tricky to do. It requires the right combination of symbols to appear on the screen at the same time, which I only managed to do once. The activation of the special mode will make it more likely to get a big win, even though it's still not guaranteed.
The Wilds were the best shot at a big win in my opinion, even if it's not close to the jackpot. Since they count as scatters, as long as they appear on consecutive reels they will award a payout when 3 or more show on the screen.
Conclusion
Snakebite will likely be an entertaining slot for fans of this energetic darts professional. The game features his likeness a lot. I would have liked to have seen maybe some more animations or his voice in the soundtrack. The presentation, on the whole, is colourful but rather simple.
When it comes to the gameplay it's solid but rather simple. The features feel largely irrelevant, with all of them depending on other special symbols to make them better. Since they are largely spaced out, these combinations almost never happen. For me, this always feels like false advertising. If they are included but never appear, what do they matter?
Still, if you are a fan of the player or you are looking for something new and simple, this game will likely satisfy you. The higher than normal jackpot is a nice incentive but don't expect to see anything close to it appear in your funds.