Electric Sam is back and he is taking his family on a vacation. The sequel is full of new features and even more wins.
Electric Sam was one of ELK Studios' more popular slots, so it was natural that the troll family would get a sequel. In 2017, a bit over two years after the first game, ELK published Sam on the Beach.
At this point, ELK was still an up-and-coming developer, who had their own voice and style. The game has a lot of charm, as does Sam and his family. The slot also has a little environmental undertone, which isn't really shown in the game. ELK Studios wanted to bring to light the fossil fuel dependence of the Caribbeans, which they say could be fixed with solar energy.
Even if the slot might have a heavy message hidden underneath, the game is very relaxed. There is no fast play option and the game takes its sweet time.
Graphics and sound
The slot has a very relaxed atmosphere. The warm sun of the Caribbean will just melt your worries away as you play in the sand with Sam's family.
ELK Studios has a very unique style and to me, this slot is one of the best examples of that. The symbols are large and colourful, and at the same time very distinct. It's so easy to play this game, as you can instantly tell the symbols apart and see if you win anything.
The steel drum music has a cool island beat to it, but there is a little problem with it. The song cuts off every time the reels stop. Even if you have autoplay on, it still keeps restarting after each spin. This is a design choice I have never understood and I hope at some point the developers stop doing it.
If you want to relax a bit more on the virtual beach, just leave the game open in the background. This way the music stops, but you will still hear the ocean. The waves hitting the beach sound so calming.
Symbols and wins
The five reels are full of big symbols that are easy to see. There aren't even that many of them, which is a nice thing. Now you have a better chance of hitting what you actually want.
There are three low-tier symbols, which are neon lights. Sam loves electricity and lamps, so these are very thematic. The four high-tier symbols are Sam, Sandra, Maggie and Uncle Ted.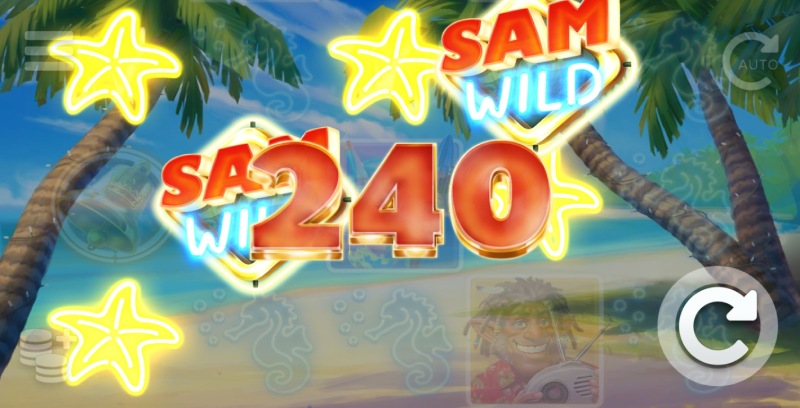 There are two special symbols, a standard wild and a scatter bell. The bell calls the trolls to party and activates the Free Spin feature, which just happens to be the best feature of the game. Get at least three scatters and the evening gets electric.
If you look at the paytable, you quickly notice that most of the wins are surprisingly small. The low-tier symbols are worth your wager only if you get five of them, which sounds like a lot. Things aren't actually as bad as they seem, as it is fairly easy to get multiple hits at once.
The volatility is medium, but most of the good hits are concentrated in the Free Spin feature. With an easy way to get extra spins and the Electric Treat feature activating, these spins are worth a lot.
Features
Win all ways: The slot has 243 paylines
This slot is so relaxed that you don't even need to worry about paylines. 243 paylines mean that every possible combination is accounted for. Just get the same symbol somewhere on the first three reels and there is a payline for that.
Beach Memories Re-spin: Make some memories and spin again
Sam and his family want to make memories on this trip. If all of them are on one horizontal line, the Beach Memories feature activates. The four trolls change into sticky wilds and you get a free re-spin.
Free Spins: When the sun goes down, it's time to party
When the bells chime, it's time to get off the beach and join the evening festivities. Get at least three scatter symbols and you get to spin for free. Three bells win you 5 spins, four gives you 10 and five bells is worth 15 free spins. You can earn more spins during the feature. Every bell symbol you get there gives you an extra spin.
The trolls are enjoying themselves and they get a little charged up. If you happen to get a winning combination with any of the family members, you activate their Electric Treat feature. These include two different kinds of multipliers, sticky wilds or even cascading symbols.
Electric Treat: You are in for a nice shock
The trolls are having a blast during the free spins and I hope you are too. Now all you need to do is get a winning combination with any of the four trolls to activate their Electric Treat. Each have their own and they are powerful.
Sam: Sam electrifies a single symbol, which then turns into a sticky wild for the rest of the free spins.
Sandra: Sandra increases your total multiplier.
Maggie: Maggie wreaks havoc with her harpoon. She destroys some of the symbols and causes a cascade, where new symbols fill the empty spaces and can bring new wins.
Uncle Ted: Uncle Ted's radio isn't that reliable and you can expect a little shock from it. This shock leaves that one space with a 3x multiplier.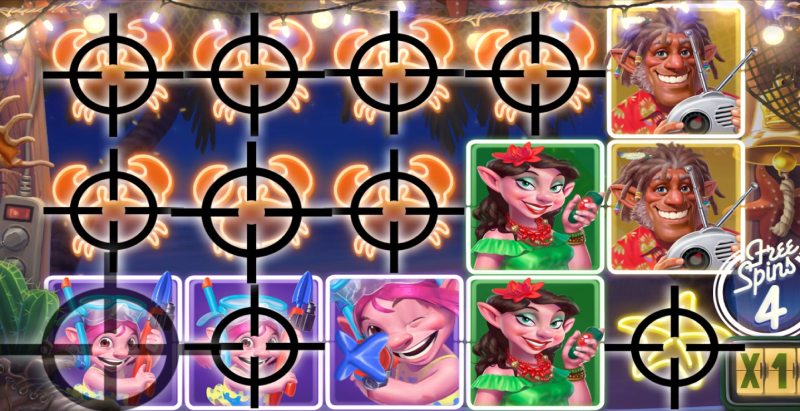 Final Thoughts
Sam on the Beach is a perfect slot if you want to relax and play slowly. You know, one those lazy Sunday afternoon play sessions, where you just want to watch the reels spin. Sam's family is in no rush and neither is the game.
I always have fun playing this slot and it is my go-to game when I want to play slow, but still have a chance of getting a big win. Sure, the special features could activate a bit more often, but when they do, it's party time.
I like Sam and his family and I wouldn't mind seeing him in a new slot. They bring in more personal touch, which is refreshing. I just hope ELK isn't done with them, because I and probably some other players are not.