Raptor DoubleMax is set millions of years ago when dinosaurs still roamed the land and Velociraptors vied for domination against other creatures. With this slot, we are able to watch this unfold while we play with multipliers, random wilds and free spins.
The game was released by Yggdrasil in 2021. To me, it was immediately clear that it was developed by this studio. They have a certain style that can easily be told apart from other developers. The graphics are brightly coloured and very detailed, there are plenty of animations and the theme feels like it's applied to every part of the game.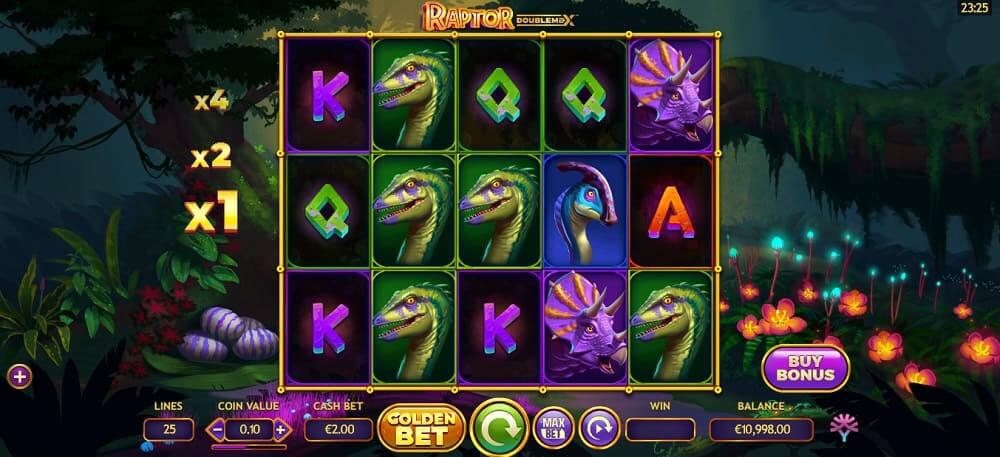 Players will enjoy this slot as they play on the 5-reel, 3-row playing field. There are a total of 25 paylines that can be used to get wins. These reels are filled with dinosaur symbols, all of them original art. Whenever one is part of a win they will show a brief animation that brings them to life. In the background, we see strange and exotic plants to further transport us back in time.
We are treated to an original soundtrack while the game plays, although I didn't feel like it quite fit the setting. It is a very fast song that was still somehow melancholic in its design. The slot also has a number of special sound effects relating to the dinosaurs. We can hear them roar or grunt when part of a win.
Symbols
Raptor DoubleMax brings a number of different dinosaurs to life within the game. These act as high-paying symbols, with their bright colours and various shapes helping to keep them apart. These also have animations play when they're part of a win. In contrast, the low-paying symbols are simple card letters. Although they are designed to fit the theme somewhat, it still doesn't feel like they should be included in the design.
Players will enjoy this slot if they like High Volatility games. I found the gameplay to be fast and furious, bringing wins occasionally. These can be quite big even in the base game, helping to keep my funds steady. Obviously, it can be a different experience for another player. There is an RTP of 96.01% which is almost exactly the average.
To better fit a player's style the game allows them to pick a bet between $0.20 and $60 per spin. This can help players with a limited budget play longer or high-rollers to enjoy bigger wins. There is also a jackpot to look forward to with a maximum win of 20,000x your bet. Obviously, this is a huge prize but not likely to bless many players.
The game features the following symbols:
Free Spins: Get 3 or more free spins symbols to activate the free spins mode.
Wild: Wilds substitute all regular symbols in the game.
T-Rex: Max. 5x your bet with five-of-a-kind on a win line.
Triceratops: Max. 3.5x your bet with five-of-a-kind on a win line.
Velociraptor: Max. 2.5x your bet with five-of-a-kind on a win line.
Parasaurolophus: Max. 2x your bet with five-of-a-kind on a win line.
Ace: Max. 1.2x your bet with five-of-a-kind on a win line.
King: Max. 1.2x your bet with five-of-a-kind on a win line.
Queen: Max. 1x your bet with five-of-a-kind on a win line.
Jack: Max. 1x your bet with five-of-a-kind on a win line.
Features
Raptor DoubleMax has a few simple features that can seriously change the outcome of the game. Although players will probably already know each of these, I think their combination works quite well.
First, a quick overview of the different features:
Wilds: Wilds substitute all regular symbols in the game.
Cascading Reels: Whenever there's a win, the winning symbols drop away to make room for new symbols.
Random Wilds: If a win happens, a Wild is added to the screen as the winning symbols drop away.
Multipliers: When players get a win, their multiplier doubles. As long as new wins are triggered, this can continue indefinitely.
Free Spins: With 3 or more scatters on the screen the free spins mode is triggered. The multiplier counter starts at 1x. Every win will increase the counter and it will not reset in between spins. This continues as long as there are free spins remaining.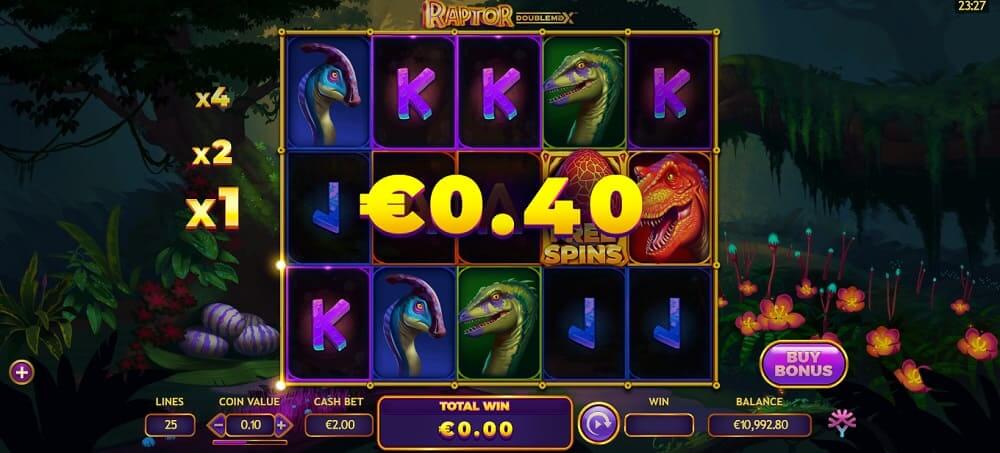 I found the basic gameplay to be quick enough to keep me interested, even when very little is happening. The great thing about the slot is that any win is rewarded with a Wild on the screen. The multiplier counter also increases. Although it's pretty rare to have multiple wins in a row, when it happens this directly causes them to grow in size.
The downside to this is the smaller payout for regular wins since the game expects you to get multipliers active over time. That also works towards the high volatility. With the cascading reels feature, players always have a shot at getting multiple wins in a row. I managed to get up to 64x multipliers in the free spins mode a few times but getting higher than that prove too difficult.
Speaking of the free spins mode, this is not too hard to activate. The game doesn't exactly make it easy to trigger but I managed to do it a handful of times while I was playing. Some countries have the ability to manually activate the free spins mode, but this is unavailable in the UK.
Conclusion
Raptor DoubleMax brings a lot of colour to the prehistoric age. The different dinosaurs all have their chance to shine. The graphics look amazing, with animations to help bring it to life. There is a rather strange soundtrack to accompany the game, but I didn't feel it was too distracting. Overall, I was very pleased with the presentation of the slot.
Players will encounter a few features that augment the gameplay. The Wilds are definitely the most important. It's a good thing that they appear quite often, even without getting a win to trigger. This helps make the multiplier feature feel more important. Getting into the free spins mode is an important part of the game, as this helps create some bigger wins more easily.
If you're looking for a very classic slot or a very modern one, this will probably not quite fit the bill. The gameplay is entertaining and the features are strong, but none of it really does anything very new. At the same time, the game is too advanced to be considered a classic slot. Nonetheless, the big jackpot might be enough reason for anyone to try it anyway.