Sparks are flying as Sam and his troll family are having fun. Each has its own shocking treat just waiting for you.
Electric Sam was released in December of 2014 and it was the second release from the developer, ELK Studios. The game was a popular one and a lot of people have enjoyed the antics of this modern electricity-loving troll.
Sam was even the mascot of ELK Studios for a while. He was a popular character and the slot even got a sequel, Sam on the Beach. Eventually, the popularity faded and the developer moved on to other properties and ideas.
The slot takes its inspiration from the art of the legendary Swedish artist, John Bauer. He painted a lot of popular troll related works and became the father of the modern troll during his short life at the start of the 20th century.
Electric Sam is an intriguing slot that has a lot to offer. Medium volatility makes sure that you get a steadier stream of wins and the Free Spin feature will surely blow your socks off. Get ready for some shocking spins while the trolls are partying.
Graphics and sound
Electric Sam is a bright and colourful slot about trolls, who have found the creature comforts that electricity brings. Sam might have gone a bit overboard with his lights, but his energetic personality makes up for it. The slot features a hand-drawn style which is fitting for these Scandinavian trolls and their environment.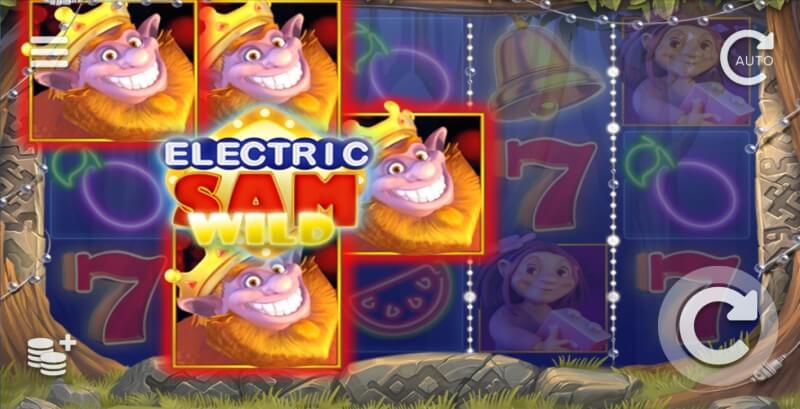 The game is built well in the technical sense and the slot scales down really well no matter what kind of a mobile device you have. Unfortunately, it doesn't work that well in the other direction. The picture looks fuzzy if you play in full-screen mode with a larger monitor. I know I rather reduce the size of the window than play a blurry slot.
We don't get much in the sound department. When the game is still, the background music is just the sounds of the forest. When the reels start to spin, you get some quirky drumming that is fit for a troll. The sound effects aren't much better. They are fairly stock and remind me of old fruit machines.
As a whole, Electric Sam is a nice game and a good start. ELK Studios started out very carefully, even if this slot could have been a whole lot more. The developers have later gone all out and made a lot more garish games.
Symbols and wins
You can meet the entire troll family on the reels, as Sam, Sandra and Maggie are all there. You also get to see Sam's collection of lights as well, as most of the symbols are neon lights depicting familiar fruit machine symbols. That is a clever way to use a classic style with a thematic twist.
The symbols themselves are clear and easy to distinguish. It's not difficult at all to see what symbols are winning, especially when the slot features a whopping 243 paylines; one for every possible way the symbols can be connected.
You can easily get yourself some small wins during the base game, as the slot has medium volatility and a somewhat average RTP of 96%. Just keep an eye out on how much you win, as three of a kind is not worth much no matter which symbol you get. You either need four of the same symbol or to hit at least two or three paylines at once.
Free Spins is where the big prizes are. The Electric Treat feature is amazing and can turn you regular spins into something magical. I have never had any problems hitting the required scatters, so at least you get to see the feature quite often.
Features
243 ways to win: Win in every way
Electric Sam has 243 paylines, which means that you can win in any possible way. You don't need to worry about paylines at all. If you have the same symbol on reels one, two and three, it is certain that there is a payline for just that combination.
Free Spins: Ring the bell and spin for free
The bell scatters will activate the Free Spin feature and this is a good one. If you are lucky, these spins can grow to be massive. To start, you need at least three scatters. Three will give you 5 spins, four is worth 10 spins and with five bells, you get 15 free spins. Every single bell will give you extra spins if you get them during the free spins.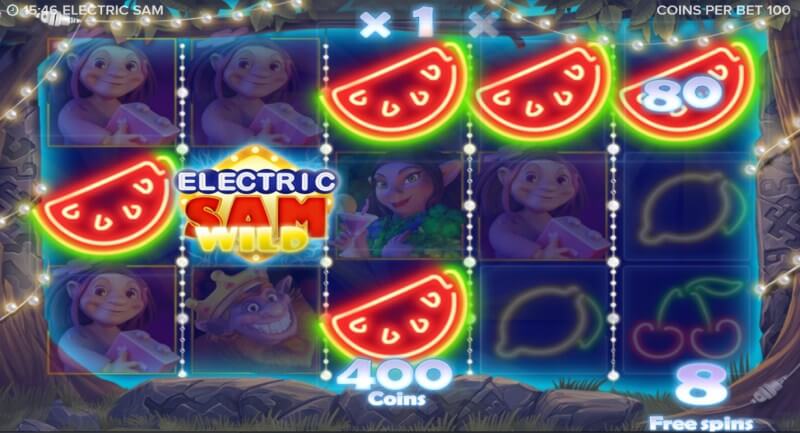 What makes these spins so great, is that the Electric Treat feature is active during them. That feature has the potential to make the spins amazing. I personally love these kinds of additional features during free spins.
Electric Treat: A shocking treat for you free spins
During the Free Spin feature, the trolls are all playing with electricity, but each in their own way. Sam wants more and more electric devices, little Maggie will just destroy things and Sandra wants nothing more than to relax.
If you get a winning combination with any of the characters, their Electric Treat feature will activate at the end of the spin.
Sam: Sam will create a new sticky wild for the duration of the free spins.
Sandra: Sandra will increase your multiplier and can push it up to 10x.
Maggie: Maggie will make other symbols implode and new symbols to cascade in their place. This can create new wins and new treats.
Final Thoughts
I have a soft spot for Electric Sam, as it was ELK Studios' first breakthrough. I like the developer and the innovative touch they have and this slot was the one that put them on the map.
When the slot came out, it was a beautiful game, but time makes fools of us all. Now that it has been about six years since the game launched, its age is starting to show. I still do love how the game works and especially the Free Spin feature so much that I won't be retiring this slot for a while.
This has been a feel-good slot for me. It makes me smile and I enjoy the gameplay. I never expect to win anything huge, but I have definitely got some decent-sized hits out of it.
Pros:
Bright and colourful graphics with a hand-drawn style
Creative use of neon lights for symbols
243 ways to win, providing frequent small wins during the base game
Free Spins feature with the potential for big wins
Electric Treat feature during Free Spins adds excitement and variety
Medium volatility offers a good balance between wins and risk
Compatible with various mobile devices
Cons:
Graphics can appear fuzzy in full-screen mode on larger monitors
Sound effects and background music are not particularly impressive
Payouts for three-of-a-kind combinations are relatively low
RTP of 96% is average and not particularly high
Game may feel outdated compared to newer releases from ELK Studios
Age of the game is starting to show in terms of visuals and overall presentation