Find a perfect gem from a sea of beautiful and valuable stones. See the master's work and spin the ever-changing reels.
Perfect Gems takes you back in time a couple of centuries to the chambers of a master gemwright. The reels are littered with his jewels and you need to find the perfect ones to activate the special features of this slot. But there is more to this game than first meets the eye.
This game has a special feature, where the reels can create extra spaces and the number of paylines adjusts accordingly. Sound familiar? This is not an official Megaways slot, but it is the same.
Perfect Gems has up to 21,609 paylines, an RTP of 96.50% and a massively high volatility. Chain up some wins, raise your multiplier and hope that luck is on your side.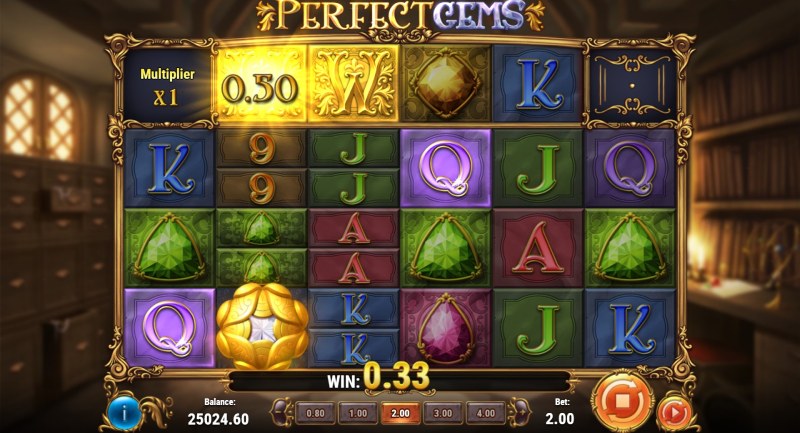 Graphics and sound
The soft amber light shines through the dusty windows in the master's chamber. He has just finished crafting a new gem, and this time it is perfect. Even the golden leaves around the shiny diamond are of the utmost quality. The gem is placed on the reel and it is time for you to play.
If you haven't played any Megaways slots before, the reels might look a bit confusing at first. Don't worry, as these slots are easy. The game adjusts the amount of paylines to be the maximum possible and the more symbols there are on one reel, the better. The size doesn't matter, as each symbol is worth the same no matter how big the square is.
Perfect Gems is a subtle, yet beautiful game. This isn't a flamboyant spectacle of wealth, but a restrained show of the craftsman's work. The gems speak for themselves and they know what they are worth.
The theme is set even firmer when you listen to the music. It is a charming tune played on a harpsichord. You truly get the feeling that you are back in the 16th century.
This is a calming game, which is then juxtaposed with the high-risk gameplay. It is an interesting mix, which plays to its advantages. You won't get worn out by a bright and loud theme, as you play for high stakes.
Symbols and wins
On the reels, we see a few different kinds of symbols. You have the low-tier card symbols, high-tier gems and a few special symbols. A golden W is the wild and a gold-encrusted diamond is the perfect gem scatter.
One thing I have never understood is why these game developers keep adding card suits and symbols to games where they don't belong. Here, you could have used smaller gems, or maybe rough uncut stones.
You will quickly notice that this game is not going to hold your hand. It is an all-or-nothing slot with an extremely high risk. In most cases, a single win won't even get your wager back. What you need to do is chain multiple wins together.
Perfect Gems has cascading wins, which means that every winning symbol is removed from the board and new symbols fall in to fill the gaps. This can trigger new wins and the cascade continues. What is even better, is that you increase your multiplier with each win. This might sound a bit familiar, as Gonzo's Quest has the exact same mechanic.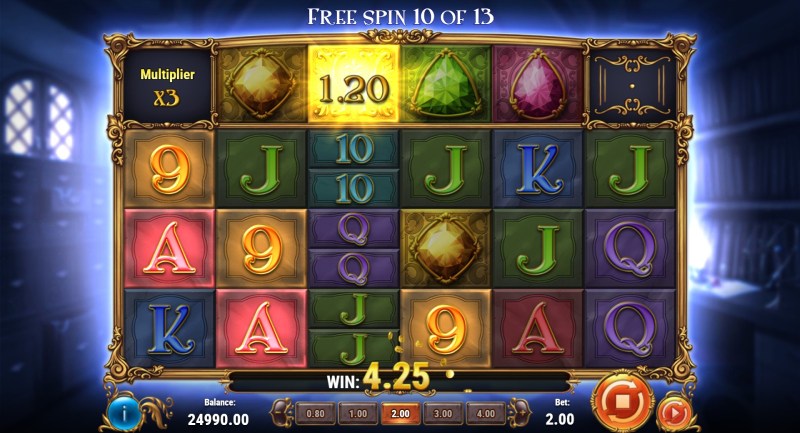 Features
Cascading Wins: Destroy the winning symbols and spin again
Every time you win, the game will destroy all the winning symbols from the playfield and new symbols will fall down. These new symbols can have more winning combinations, which then, in turn, will be destroyed and a new cascade of tiles will fall down.
Win Multiplier: Your multiplier grows as you win
If simply getting more and more wins with a single spin wasn't good enough, Perfect Gems adds a multiplier to the mix. Every time you win and your symbols are removed, you increase your multiplier by one. After which the new tiles will fall, create new winning combinations and thus, increase your multiplier even more. The multiplier will reset after the round ends, but in the Perfect Spins feature, it will reset after all the spins are done.
Perfect Spins: Find the perfect gem and play for free
Find the perfect gems to activate the Perfect Spins feature. You need at least three scatter gems and if you get more, you get more free spins. You can get 9, 15, 21 or even 27 free spins depending on how many gems you get.
The free spins basically work like normal, but there are two changes. First, your Win Multiplier will not reset until at the end of the free spins. Second, there is a new Spin Scatter symbol, which will give you two extra free spins.
Final Thoughts
When Perfect Gems was released, I completely missed it. The funny part about it is that I played it for the first time after trying Gonzo's Quest Megaways, which is basically the same game. Perfect Gems just did it a year earlier.
As for the slot itself, it is a charming and brilliant game; pun intended. It is one of those games that just sits there quietly until someone is curious enough to give it a go. And when you do, you are in for a treat.
What I liked about this game was the atmosphere. It is easy to understand and simple to play slot with a risky mechanic. It takes just a few seconds to know everything that is going on. After which, you can just sit back, enjoy the tunes and try to beat the odds. Just make sure you keep an eye on your bankroll, as the risks are high.