Penguin City explores the city completely run by penguins and the desperate struggle of one of them to escape the rule of the Emperor Penguin through their restaurant!
This slot is set in a strange place where penguins are in charge and there's an entire city filled with them! They don't just do exciting things though, there are also penguins that need to do the cooking. And that's where you come in.
In this Yggdrasil slot released in 2018, we take on the role of an overworked and underpaid cook penguin who works under the yolk of the Emperor Penguin that rules the shop with an iron fist. With 243 ways to win on the 5-reel, 3-row playing field surely there is some way to escape this predicament.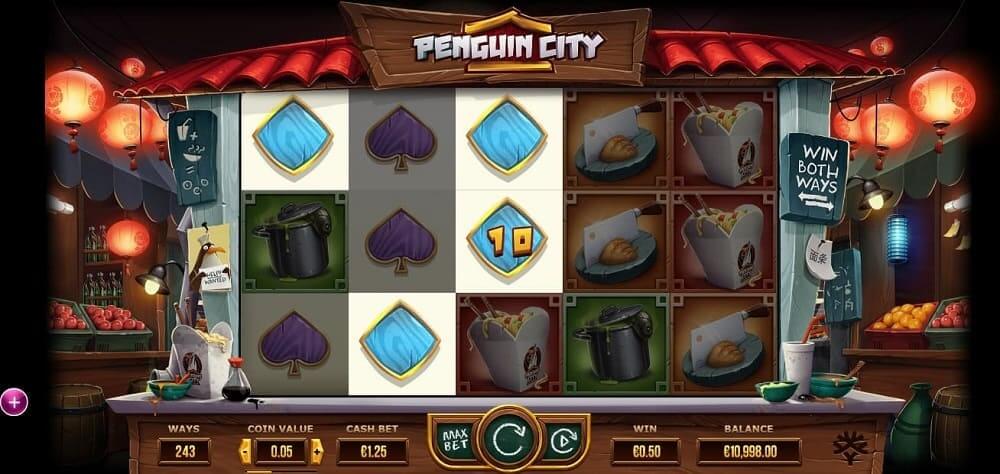 The game is set in a bustling Asian-looking city with a focus on a Chinese food restaurant. The background shows a busy shopping street with different penguins wandering past. There are all sorts of different details that bring the setting to life, with cockroaches scurrying on the counter, soy sauce dripping down and flies circling the lights. I found it to help immensely in creating a believable setting, even as penguins walked by!
Symbols
The different symbols in Penguin City are all of a high quality even though the low-paying symbols are simple card suits. The high-paying symbols are original and created specifically for the game, but they aren't animated. They only rotate a bit when they're part of a winning payline. It does help in seeing what symbols make up a win, however.
From highest to lowest they are:
Wilds: Wilds substitute all other symbols in the game. They appear only on reel 2 and 4.
Fast Food: Max. 250 coins with five-of-a-kind on a winning payline.
Soy Sauce: Max. 200 coins with five-of-a-kind on a winning payline.
Fish Soup: Max. 150 coins with five-of-a-kind on a winning payline.
Soup Bowl: Max. 125 coins with five-of-a-kind on a winning payline.
Cutting Board: Max. 100 coins with five-of-a-kind on a winning payline.
Heart: Max. 70 coins with five-of-a-kind on a winning payline.
Spade: Max. 60 coins with five-of-a-kind on a winning payline.
Club: Max. 55 coins with five-of-a-kind on a winning payline.
Diamond: Max. 50 coins with five-of-a-kind on a winning payline.
I found the symbols to be distinct enough to keep them apart, and the Wilds are engulfed in flame to make it really obvious they showed up.
Features
Penguin City is a rather simple slot when it comes to the features and it doesn't have too many. The important features are:
Paylines from both sides: Wins are calculated from either side of the screen, either left to right or vice versa.
243 Ways To Win: Whenever the same symbol appears on consecutive reels from left to right or right to left, it counts as a win.
Sticky Wilds: Wilds are always Sticky and trigger a Re-Spin, continuing as long as the Wild is part of additional wins.
Penguin Escape Mode: Whenever there is a Wild on screen it activates Penguin Escape Mode. During this mode, a Stacked Wild can appear on reel 3.
Stacked Wilds: During the Penguin Escape Mode, a Stacked Wild can appear on reel 3. This Emperor Penguin is Sticky and drops down 1 row each spin until it disappears completely off the screen.
Because of the 243 ways to win and the paylines from both sides, it has a Low Volatility which I agree with. I saw regular but smaller wins during my time playing, sometimes accentuated with a big win during the Penguin Escape Mode. The Sticky Wilds and Re-Spins also helped a lot.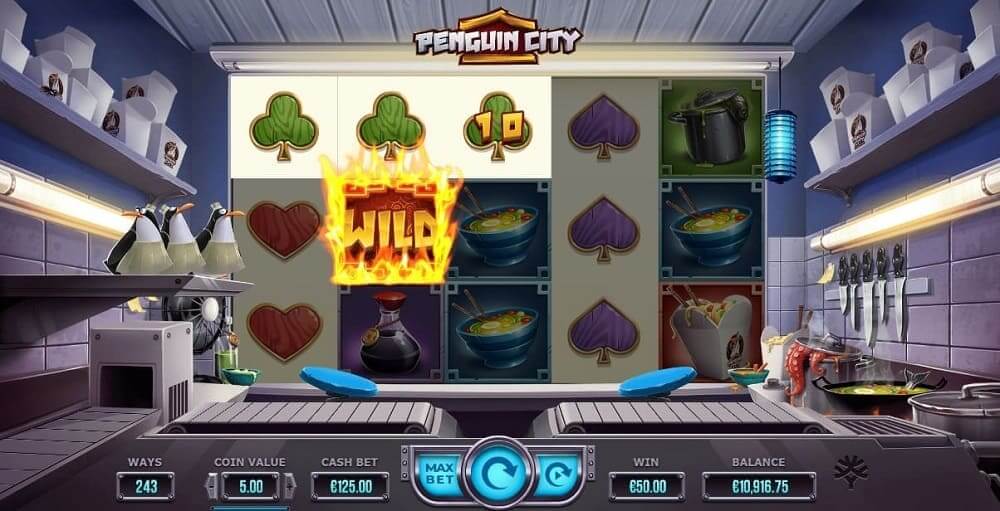 The game doesn't really leave the base game at all, even though the Penguin Escape Mode is technically a bonus game. It functions almost exactly the same as the base game except for the chance that the Emperor Penguin Stacked Wild appears on reel 3. This Stacked Wild then drops down the rows each spin until it disappears off the screen. I had it happen once I had 2 Stacked Wilds in a row, but this does not happen often!
I found the game's features to work pretty well but the switch from the base game to the Penguin Escape Mode would feel a little jagged. It would happen quite often that the game would switch over to the other mode with a splash screen, the re-spin would spin without a win and then it'd switch back to the base game. I found that to slow down the pace of the game.
Conclusion
Penguin City is a strange but endearing slot that tries to create a classic slot experience while adding some more modern features. This way it could appeal to both classic players as well as people looking for something new.
I think it succeeds at this fairly well. The game looks gorgeous as I've come to expect from Yggdrasil. It has a lot of animations and movement, enforcing the idea we're watching penguins living their life in a city. The idea of escaping the Emperor Penguin is barely explored and really only made obvious through a splash screen with text and the name of the Penguin Escape Mode. Even then, we don't actually see any Penguins escape successfully. I was expecting a free spins mode or a bonus game where a penguin actually escaped but that was never part of the game.
The game's low volatility combined with the ability to choose a bet between $0.10 and $125 helped in keeping my funds high, although I found it worked a lot better with a lower bet per spin. There is a max. win of 2,430x your bet which is pretty good considering the volatility. Still, on average you can expect a frequent supply of low value wins.