Beauty and the Beast could be one of the most famous fairytales in the world. Yggdrasil decided to turn it into a slot and I can't wait to tell you about it!
Released in 2017, Beauty and the Beast is one of the most beautiful slots I've played so far. The drawings are not only well done and sharp, but they also fit the theme perfectly. Add to that a maximum win of 1000x your bet and it makes it very enticing for me to stay in the castle for a while.
Beauty and the Beast is a 'standard' 5 reels, 3 rows and 20-paylines slot. There is plenty of room to show off the different symbols and enjoy the beautiful background that shows the interior of a fantasy castle. Players can choose a bet between $0.20 and $250 per spin.
I found the symbols to be easily distinguishable and fitting. Whenever you get a payline, all the different characters have their own brief animation.
Fairytales are a popular subject matter for many slots. Famous ones include Jack & The Beanstalk by Netent and Big Bad Wolf by Quickspin. One thing that struck me is that the developers usually choose a rather whimsical and cartoony style for these games. Although that definitely makes sense, I think the choice for a more realistic and grounded style here fits the story of Beauty and the Beast better.
In case you haven't looked at the slot yet, this is not a game based on the classic Disney movie. Instead, Yggdrasil took the original fairy tale and made it their own. I found the Beast to look sufficiently scary for once, making it more believable he'd have trouble getting Belle to fall in love with him. Meanwhile, the different servants were not turned into living furniture but are ghostly instead.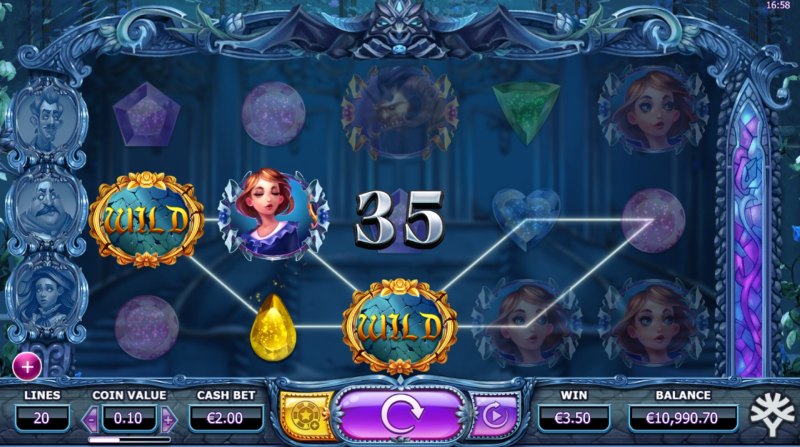 Beauty & The Beast Highlights
RTP: With the RTP of 97.1%, Beauty & The Beast is great for wagering your bonus.
Buy bonus game: You can instantly enter the bonus round by paying a lump sum.
Freespins: You can get in-game free spins in Beauty & The Beast.
Expanding reels: Expanding reel feature copies the symbols to neighbouring reels or adds new places for symbols.
Random wilds: Random wilds are sprinkled on the reels after the spin to create more wins.
Symbols
The symbols in this game are, from highest to lowest:
Free Spins: Max. 10 free spins and 5000 coins with five-of-a-kind on the screen.
Beast: Max. 250 coins with five-of-a-kind on a payline.
Belle: Max. 250 coins with five-of-a-kind on a payline.
Red Ruby: Max. 80 coins with five-of-a-kind on a payline.
Green Sapphire: Max. 75 coins with five-of-a-kind on a payline.
Pink Topaz: Max. 70 coins with five-of-a-kind on a payline.
Blue Diamond: Max. 60 coins with five-of-a-kind on a payline.
Yellow Garnet: Max. 50 coins with five-of-a-kind on a payline.
Purple Quartz: Max. 50 coins with five-of-a-kind on a payline.
Wilds: Wild symbols substitute all other symbols except Free Spins.
Features
There are several features in Beauty and the Beast that appear in different ways:
Free Spins: While playing the base game, Free Spins symbols can appear scattered on the screen. If there are three or more at the same time this will award 10 free spins and potentially a load of coins. After this, the Free Spins round begins.
Nudge: The Butler is a special character in the game that will Nudge any one reel up or down one space to maximize the win for that spin.
Synchronized Reels: The Chef is a special character that causes the middle three reels (2, 3, 4) to be synchronized.
Random Wilds: The Maid is a special character that causes between 2 and 4 Random Wilds to appear on the screen.
Golden Bet: This feature lets you add features to every spin at the cost of more coins!
The special characters randomly give their allotted bonus in the base game for one spin before they disappear. It was nice to see but I didn't really get much out of it, either in the way of wins or a sense of excitement.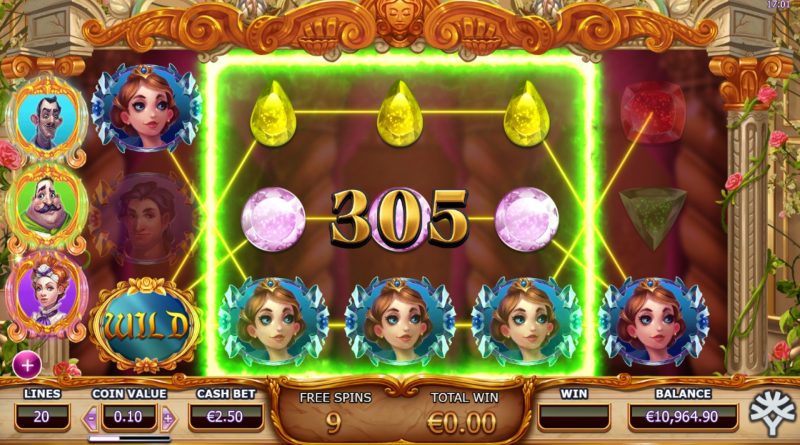 It was different when I got Free Spins as I had to choose 1 of these Special Characters to help me with the Free Spins round. As long as there are Free Spins to play with, this Special Character remains active. It created a sort of mini-game where I tried to decide which character would help me best during that Free Spins phase.
The Golden Bet requires a quick separate list. The Golden Bet features can be enabled and disabled at will, and it's possible to switch between them at any point as well. The different options are:
No Golden Bet: This costs nothing extra but also does not add any extra bonus to the spins.
Boost: Pay +5 coins per spin and this offers a choice of 2 features whenever the Free Spins feature activates instead of only 1.
Nudge: Pay +15 coins per spin and Nudge always activates in the base game to put Free Spins on the screen, making a Free Spins round much more likely.
Boost and Nudge: Pay +30 coins per spin and the previous two bonuses are active simultaneously.
It's possible to retrigger the Free Spins, adding more Free Spins and letting the player select the second or even third special character to help! Although this only happened to me once during my time playing, it easily helped the most in getting a big win. That was a highlight during my time playing for sure.
Conclusion
I think this slot has a very fitting style where the graphics and the soundtrack work together to keep me in a fairytale mood. The different features keep the slot engaging and with medium volatility, it means there is a steady stream of average wins to keep me entertained.
The Beauty and the Beast slot is very easy to get into, not requiring you to read through the information screen to figure out how the Features work as some slots do. Instead, it introduces these elements organically while playing.
The Golden Bet feature let me augment my bet quite significantly, adding an extra bonus when I felt it needed some more excitement. This paid off especially with the ability to choose 2 features instead of only 1 during the Free Spins mode. However, deciding to use it is a choice every player has to make for themselves since it does bump up the cost per spin quite a lot.