If life on Earth is getting a bit slow, you can go for a Space Race on this engaging, double bonus feature slot by Play'n GO.
Regardless of the fact that the game is a bit dated (released in 2012), it can be as entertaining as if it were released yesterday.
Its three-row, five-reel layout spins across 20 paylines, has a Wild symbol and bonus features that can increase the odds of winning bigger prizes.
I especially liked the graphics and the sound effects as they contribute to an eerie feeling of taking a spacewalk. In my opinion, this theme never gets old, if the designers pull it off well.
The engine specifications are just as appealing. Medium volatility in pair with two extra features sounds great to me. It means that the winning outcomes can range between low and high, but the likelihood of medium payouts will tend to be balanced.
I can agree that the RTP (Return to Player) percentage is a bit lower than I expected (94.23%), but I can digest that. Lastly, Space Race has a very appetizing maximum win potential of 5,000x your bet. This is possible in the free spins bonus, which is your chance to land potential big wins.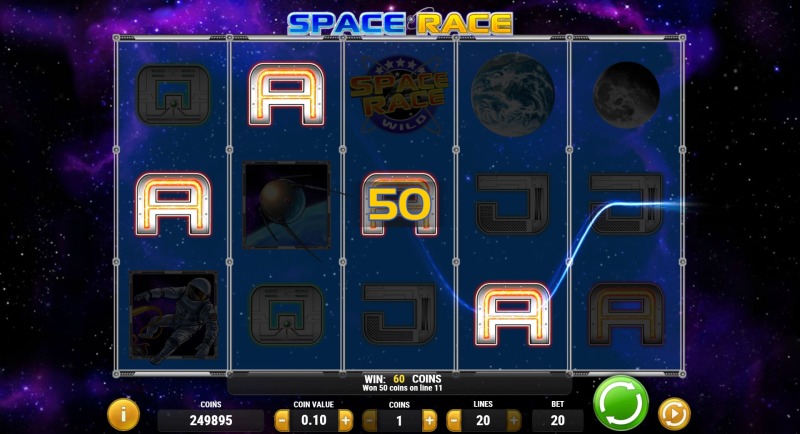 Theme and Graphics
The title hints at dramatic events and the symbols and features correspond to that vibe. Space Race is about prolonging your life in the great beyond while avoiding meteor showers.
Half of the symbols on the paytable are playing cards rendered with the skin of high-tech polymer and the other half consists of a rocket ship, a satellite, the Moon, the Earth and a man in a space suit.
The special symbols are animated, giving Space Race an extra tinge of character and getting close-calls and wins triggers an electric crackle and some cool sound effects.
Overall, the graphic and sound design have been given the right amount of essence to keep you well-entertained.
Features
The game comes with a single Wild symbol which substitutes for all but the bonus symbols. This is also the most valuable symbol on the paytable, right next to the scatter. Three, four and five Wilds can amount to 50x, 500x and 5,000x your payline bet.
The scatter symbol is represented by a meteor show. Facing an event like this in outer space is a dreaded circumstance but in Space Race, it's the thing you want to see as often as possible.
You need three or more scatter symbols to trigger the free rounds. In addition to getting 15 spins, you can win a prize of 3x, 30x or 300x your bet depending on the number of scatters.
There is one thing that I really like and one thing that I don't like about this bonus feature.
I like the fact that the scatter symbol acts as a Wild – this helps improve the odds for winning more because you get the benefit of two Wilds.
On the other hand, the "Warning – meteor shower" symbol can't act as a scatter and that means the free spins bonus can't trigger again.
The second bonus feature involves landing on the Moon. This game presents you with three levels. Each level is a grid of a specific size and your job is to choose where you'd like to place the rocket ship towards your Moon landing.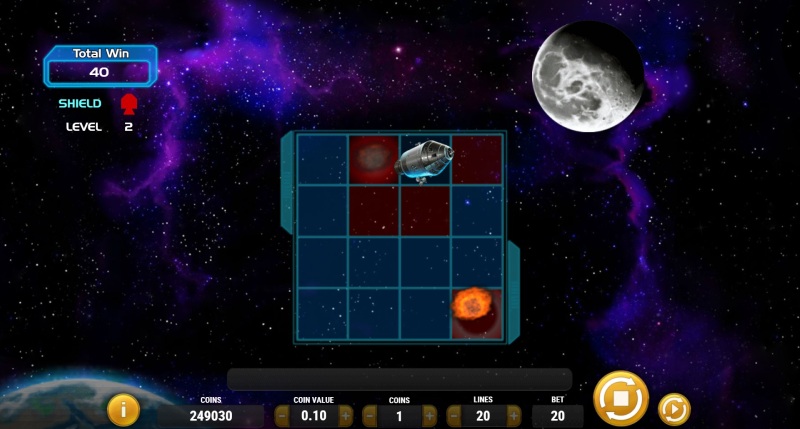 The objective is to avoid the meteor shower. Each successful try results in a cash prize. If you play Space Race you will notice that the space rocket can take a single hit from a meteor and not get completely destroyed.
This gives you a chance to get to the last level featuring a four-square grid. The chances of getting hit are greater but if you pass the level you will gain the full prize respective to your bet.
Bets and Payouts
The coin value ranges between 1p and one dollar. This enables the player to play Space Race with pennies to the payline as you can choose between one and 20 active lines.
I always prefer to play all 20 paylines. This way I lessen the chances of missing out on a payout, however, sometimes I like to switch things around. Selectable paylines gives you the choice of mitigating your total bet amount by playing on fewer lines.
In terms of payouts, Space Race has a payout structure that is unique and consistent.
Notable is that you aren't going to win back your full bet by landing three of a kind. This is valid for both the high-paying and low-paying symbols.
On the other hand, four matching symbols in the cards category lets you take at least 25x your payline bet. I think this is quite good, but it gets even better with the high-paying symbols.
The payout structure is as follows:
10 card: 5x, 25x, 100x
Jack: 5x, 25x, 100x
Queen: 5x, 25x, 100x
King: 10x, 50x, 150x
Ace: 10x, 50x, 150x
Moon: 15x, 75x, 250x
Earth: 15x, 100x, 500x
Satellite: 15x, 100x, 500x
Space man: 25x, 250x, 1,000x
Wild: 50x, 500x, 5,000x
Scatter: 2x, 3x, 30x, 300x your total bet
Conclusion
Space Race is definitely fun to play and has a good win potential. You aren't going to find too many games where both the Wild and scatter are paying symbols. Two extra features mean more fun in my book.
In my experience with the game, the Moon Landing bonus tends to trigger more frequently compared to the free spins bonus. Needless to say, the former has a lower payout potential. Regardless of that, I can recommend Space Race to any player. You can even play on 10 or 15 paylines and cut the cost of your bet if you only want to try the game.