Grab your weapons and hunt down the most nefarious space scum in the galaxy. Iron Girl is all action, all the time.
Play'n GO released Iron Girl in late 2018. The slot features fast-paced action, quick gameplay and heaps of pure energy. This game is not for relaxing. This is when you want to shoot first and ask questions later.
Iron Girl is mechanically speaking a simple game. There are only a few special features and some are just activated at random. Iron Girl doesn't reward you for playing longer or having any kind of a long-term strategy. No, this game is all about the here and now.
20 paylines, high volatility, an RTP of 96.7% and non-stop action. This is what Iron Girl is made of.
Graphics and sound
First, we need to address the elephant in the room. Iron Girl's characters are basically pulled from Blizzard's Overwatch game. Iron Girl herself is just Tracer with pink hair and Slith is a copy of Widowmaker. Iron Girl's Iron Armour is also a Gundam, which could be seen as a copy, but Gundams have become so commonplace nowadays.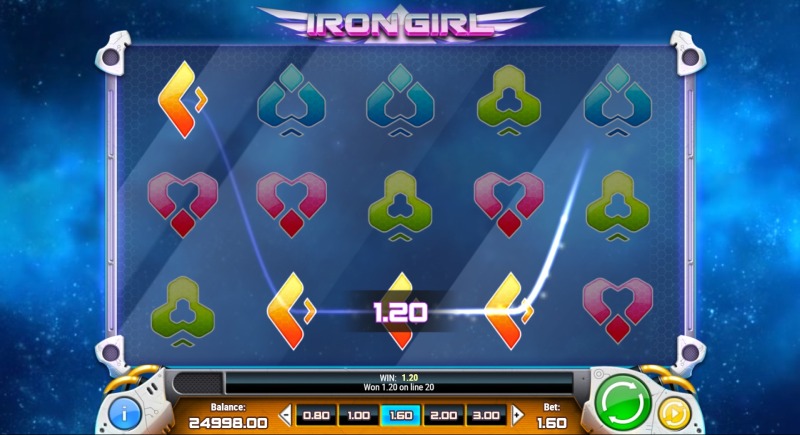 Iron Girl is a colourful cyberpunk slot, with a cool futuristic look. The visual style works well, and if it weren't for those copied characters, this slot would get high praise for it.
Audio is on par with the visuals. The background music has a nice little beat to it, especially when you win something bigger. The digital voices sound cool and fit the cybernetic style.
All and all, this is a good-looking slot with a nice soundscape. If it doesn't bother you that the characters are what they are, then you are going to enjoy this. For me, I was constantly thinking that these characters are actually Tracer and Widowmaker.
Symbols and wins
Iron Girl has two kinds of symbols, high-paying wanted posters and low-paying card suits. Surprisingly though, the futuristic style looks good on those suits. They aren't just some hearts and spades, but actually look like they belong there.
The wanted posters are what we are here for. Iron Girl gathers them up and tries to capture the criminals. The more you get them, the closer you are. If you get at least three of the same kind on a payline, you activate the Villain Re-spin feature.
Iron Girl herself is the wild and can replace any symbol, even in the re-spin feature. Iron Girl's Iron Armour can also pop up occasionally and lend a hand. Well, actually a rocket, but the end result is the same. Useless symbols are blown up and you get some extra wilds.
The payment structure is very bottom-heavy. The card suits can't even triple your wager on a single payline. You need to hit those high-paying symbols or at least get hits on multiple paylines.
The slot is a high-volatility game, and it shows. Most of the time you are just barely getting your wager back or even just hitting blanks. Then, you activate the Villain Re-spin feature and everything changes. This isn't my style of gameplay, but I can see that some people will love this.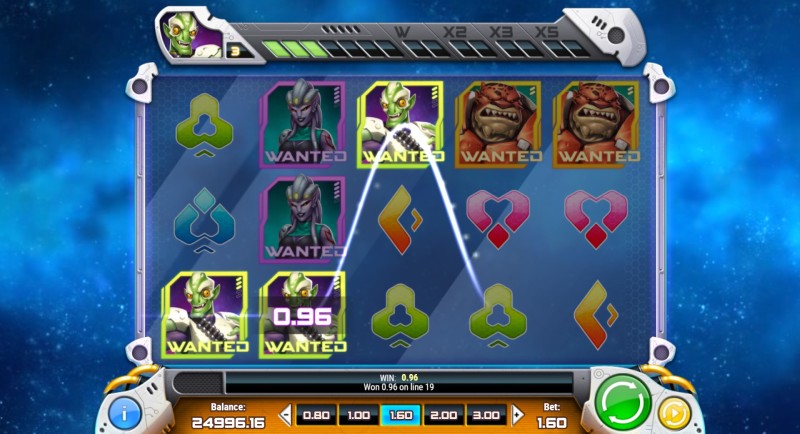 Features
Calling Backup: Iron Armour to the rescue
Iron Armour is an autonomous battle suit that can either help Iron Girl out or be used as a vehicle. Every once in a while Iron Girl calls for backup and the call is answered with a barrage of rockets. Iron Armour activates randomly at the start of any standard spin. The rockets destroy other symbols and leave wilds in their place. You can get up to five wilds on a single spin.
Villain Re-spins: Hunt down the wanted criminals
When you get at least three wanted signs of any one criminal, the hunt begins. Iron Girl is in hot pursuit and is looking for more clues to their whereabouts.
The wanted symbols are all locked in place and you get a free re-spin. These re-spins continue until you don't get a new wanted symbol or a wild. There are steps that give you rewards if you get close enough to the criminal. The first adds more wilds to the reels and then your multiplier starts to grow. You can get up to 5x wins for the entire re-spin feature.
Final Thoughts
Iron Girl is an energetic game. I like the design of it, both visuals and audio. It felt to me like a great shell, that could house a bit better game.
One of the biggest reasons why I'm not a fan of Iron Girl is the pay structure. I felt like I wasn't going anywhere in the main game. I know there are people who love a game with big swings, and this slot is perfect for them.
This game also works great on mobile. This is perfect when you don't have too much time on your hand, but still want to play a few quick spins. Iron Girl is a fast game that can be quickly picked up and played.
I had to deduct a point from the originality score of Iron Girl, due to the copied characters. This isn't just taking someone's idea and improving it. No, this is just plain plagiarism. Play'n GO really dropped the ball here.