Discover enlightenment and tranquillity among luminescent glow flies with Firefly Frenzy from Play'n GO. A spellbound woodland glade complete with fluttering, iridescent fireflies, helping you on your way to massive wins. This game's creating a buzz, and here's why.
Lights, Camera, Glowing Insects
This slot is absolutely radiant. Transporting you to another dimension, the atmosphere created in Firefly Frenzy is so complete, ethereal and seductive. The fireflies are naturalistically designed, so much so that you could be forgiven for believing they're live-action creatures, the animations and illustrations being so meticulously realistic.
The woodland clearing that serves as the background for Firefly Frenzy is just as dreamily fantastical. The gentle swaying of phosphorescent dayglo fireflies slowly float by and there's also a nice graphic touch with a pair of menacing but still kinda cute eyes peering out at you from the hollow of a tree.
Less frenzied and more chilled-out beats that wouldn't sound out of place at a 7 am after-party; all calming melodies and an all-round audio experience that compliments the lustrous visuals. Play'n GO has created a world so well-realised and atmospheric, Firefly Frenzy video slot is escapism in its finest form.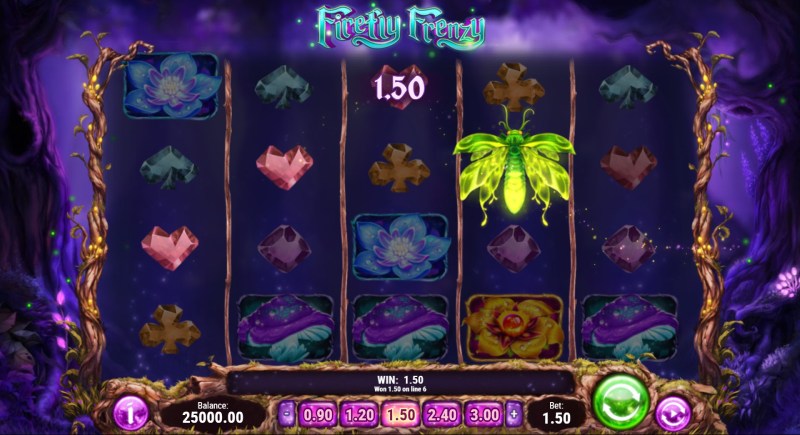 Symbols of Serenity
For 5 on any of Firefly Frenzies 30 fixed paylines across a 5×3 view, symbols pay as follows:
Green FireFly Wild – 900x
Yellow Flower – 900x
Blue Flower – 300x
Pink Flower – 150x
Mushroom – 150x
Spades – 90x
Hearts – 90x
Diamonds – 45x
Clubs – 45x
Features of the Forest
The main player in Firefly Frenzy is the Green Firefly symbol. This symbol substitutes for all symbols, minus the moon scatter. Taking the form of the highest value symbol, the Green Firefly symbol, they have the chops to land on every reel. Appearing as a standard wild, a 2x multiplier wild in an orangey-yellow hue or a 3x multiplier, resplendent in an emerald sheen.
The Moon is the scatter and doesn't pay any wins on its own but it can trigger Frenzy Spins.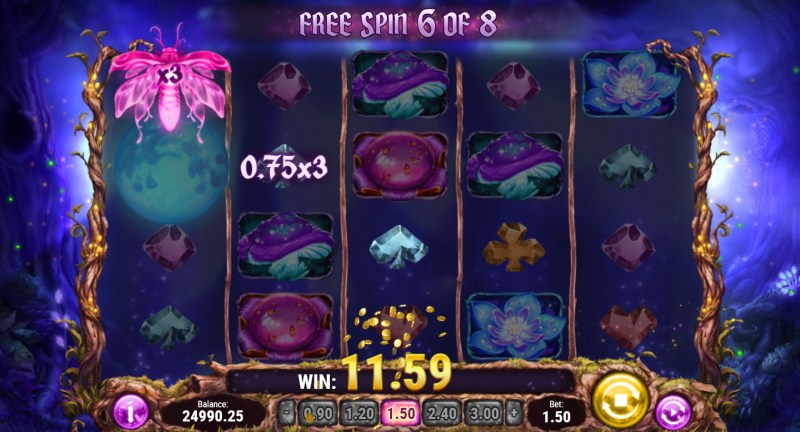 Multipliers
If you're lucky enough to land cumulative multipliers, you can max out at a 243x win potential.
Multipliers behave as follows:
2x 3x Multiplier Wilds = 9x
3x 3x Multiplier Wilds = 27x
4x 3x Multiplier Wilds = 81x
5x 3x Multiplier Wilds = 243x
Keep an eye out for Moon symbol scatters, a rarity, only 1 can land on any spin.
Frenzy spins
Once the Moon has landed, a Firefly may float elegantly onto it, granting access to the Firefly Frenzy Bonus Round. The round brings you 8 Free Spins. The minimum value of the multiplier Wilds during the free spins depends on which Firefly Wild landed on the Moon. For example, if the Wild was 2x then 2x is the minimum multiplier of the Firefly Wilds for the time of the free rounds.
The icing to the already delectable Fire Frenzy cake, Frenzy Spins can be retriggered up to a total of 16 Free Spins.
Buzzing Bets and Payouts
With a 10,000x maximum win potential, Firefly Frenzy with an RTP of 96.59% comes with a minimum and maximum bet of $0.30 and $100 respectively.
A Glowing Review
Firefly Frenzy, with its uniquely sensitive, relaxing and empathetic approach sets itself apart from most other slots. Too often are video slots amped-up into an in-your-face rampage of jarring audio and over-the-top graphics. Firefly Frenzy is the antithesis to such slots and a welcome one at that.
Don't get me wrong, there's a time and a place for adrenaline-fuelled slot outings, but much like a player's mood, a slot choice can be based not just on generous RTP or potentially massive wins, but where atmosphere and soothing gameplay are the main features.
A slot that flies low under the feature radar but with such care and attention paid to the base game, Firefly Frenzy is a slot that should shine as brightly and exotically as the title namesake.