Harlequin Carnival is set at a masked ball in a bygone era, where people with masks dance and frolic in a beautiful garden. The game includes a number of features, such as Re-Spins, Walking Wilds, and a bonus game.
This slot was developed by Nolimit City and released in 2020, making good use of the graphical abilities of the studio's designers. The background of the slot shows what seems to be a gazebo of some kind, carved out of marble and covered in flowers. The 5-reel, 3-row playing field is populated with a series of high-and low-paying symbols. In total, players can get a win on one of the 20 paylines.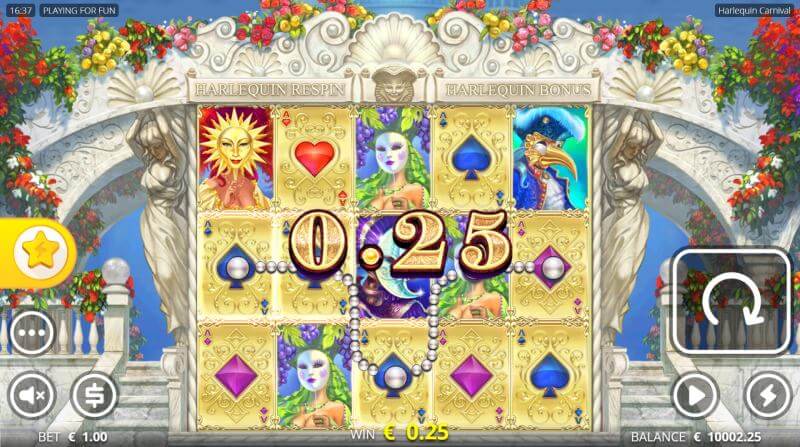 The setting is rather original, giving room to some exquisite character designs with a lot of attention to detail when it comes to the masks. Seeing how this is the theme of the game, I think that was a good choice. Getting a win is signified by a series of beads like a necklace, which was a nice touch.
The music reminded me somewhat of the classical type of music that would be played at those parties, but in a weirdly distorted way. It's as if they took the classic song and ran it through an electric keyboard. The sound effects are better even though they're very simple.
Symbols
Harlequin Carnival uses a standard collection of symbols, roughly divided between low- and high-paying. While they are all designed in the style of the masked ball, the low-paying symbols are simple card suits that feel a little too simple for the rather intricate design of the rest of the game.
With its larger number of symbols as well as the lower payouts, the game has High Volatility. The wins aren't very evenly spaced out, sometimes getting hits a few spins in a row before having a large drought. It means players are better off playing it safe until they get a grasp on the win ratio, considering there might be some time before they can win anything back.
The symbols in Harlequin Carnival include:
Wild: Max. 15x your bet with five-of-a-kind on a win line.
Sun Mask: Max. 15x your bet with five-of-a-kind on a win line.
Moon Mask: Max. 10x your bet with five-of-a-kind on a win line.
Cat Mask: Max. 7.5x your bet with five-of-a-kind on a win line.
Bird Mask: Max. 6.25x your bet with five-of-a-kind on a win line.
Fairy Mask: Max. 5x your bet with five-of-a-kind on a win line.
Spade: Max. 4x your bet with five-of-a-kind on a win line.
Heart: Max. 4x your bet with five-of-a-kind on a win line.
Diamond: Max. 3.75x your bet with five-of-a-kind on a win line.
Club: Max. 3.75x your bet with five-of-a-kind on a win line.
Features
Harlequin Carnival has a couple of features that bring the game to a different level, most of which revolve around the Harlequin Wild. This Wild usually appears Stacked and can move along the reels in different ways, triggering re-spins as it does. I thought that the game was pretty good at spacing out this feature as it showed up regularly.
The features include:
Stacked Wild: A Stacked Wild can appear on the playing field, nudging itself to fill the reel. When it appears, the re-spin feature is activated.
Re-Spin: When a Stacked Wild appears, it will move one reel to the left with every re-spin. This continues until it reaches the side of the screen.
Multiplier: The Stacked Wild can have a random multiplier associated with it, up to 5x.
Free Spins: With 3 Bonus symbols on the screen, the Free Spins mode is activated. Players receive 8 free spins.
As can be understood, the main feature is the Stacked Wild which is beautifully designed as a Harlequin. Whenever it's part of a win, it triggers a short animation as well. The Stacked Wild that appears on the screen will start to move its way to the left with every re-spin. The wins that happen during that time are added together.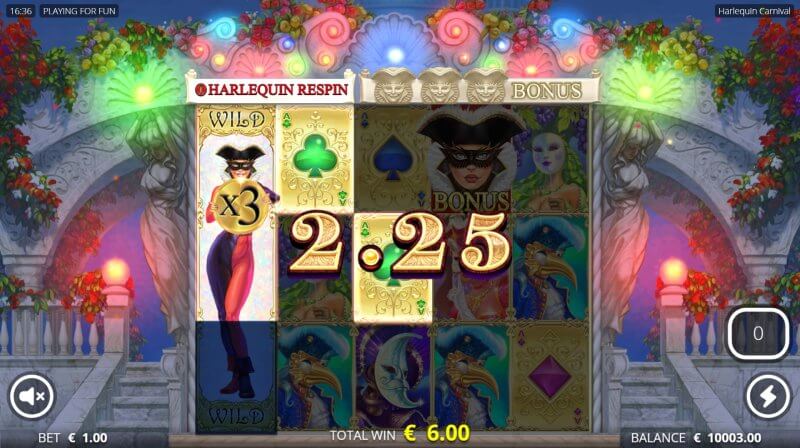 The Stacked Wild can have a multiplier added to it, applying to all wins that are created during the re-spin. I never got the multiplier to get very high but even a 2x multiplier is a nice addition. I didn't get more than one Stacked Wild on the screen at the same time, but it is technically possible.
The features as a whole felt pretty interesting without disrupting the gameplay too much. Players are kept to the base game most of the time, giving them the chance to appreciate the art. The Stacked Wild is an interesting feature that appears often enough to feel like an important part of the game. Especially the additional effects it has gives the Wild a real big effect.
Conclusion
Harlequin Carnival is a slot that has a unique idea with some great graphics but it somehow did not feel like a very memorable slot. The graphics look great, there are a lot of fun little details and it plays well. Somehow though it could not keep my attention and I felt my interest in it wane even as I was playing it.
I don't know why that was, seeing as the features are simple but substantial enough to make the standard gameplay a bit more interesting. It just didn't feel exciting when I got a big win, and triggering any of the features didn't really feel like a big achievement either.
I think the game is better suited for players that are looking for something that is close to the standard slot, with some familiar features that add some volatility to the slot.