Gift Shop conjures the idea of wandering into a shop selling all sorts of souvenirs and knickknacks. I wonder what kind of slot could come out of that idea!
If you've never seen Gift Shop before, you might be slightly disappointed. I was picturing a more modern take on slots, maybe adding a themed bonus game or something. Instead, Play 'n GO released this 2012 slot with 3-reels and 1 payline. That's right, it's a classic fruit machine!
There really isn't much to say about this slot that most beginners don't already know about slots. I do want to comment on the graphics. Even though there isn't much to see, the different symbols are all unique and fit the theme. Meanwhile, everything looks sharp and crisp with loads of colour.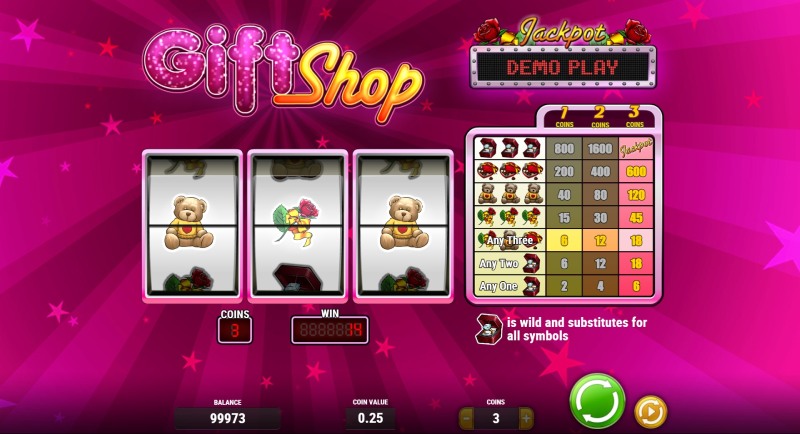 I almost feel like the Gift Shop idea is too good to be spent on this type of slot since it offers so little room for creativity. In comparison, there's Play 'n GO's own Big Win Cat, which takes a similar idea of a Japanese shop and they do turn it into a more modern slot with loads of features.
There is a music soundtrack to accompany the game which sounds fresh and energetic. The wins are emphasised with a classic alert tune. Unfortunately, the music started to sound a little repetitive after a while and that's why I muted it.
Symbols
There are only 4 different types of symbols in Gift Shop. Each of them unique, which was something of a surprise. They're also different enough to easily differentiate.
The symbols are from highest to lowest:
Diamond Ring (Wild): Substitutes all other symbols in the game. Win the jackpot when you get three-of-a-kind on the payline with maximum bet.
Box of chocolates: Max. 600 coins when you get three-of-a-kind on the payline.
Teddybear: Max. 120 coins when you get three-of-a-kind on the payline.
Rose: Max. 45 coins when you get three-of-a-kind on the payline.
But there are more winning combinations:
Any 3 symbols: Max. 18 coins when you get any 3 symbols on the payline.
Any 2 Wilds: Max. 18 coins when you get 2 Wilds on the payline.
Any 1 Wild: Max. 6 coins when you get 1 Wild on the payline.
The game is listed as having High Volatility, which matched my experience pretty closely. Getting a win isn't very likely since it happens frequently symbols don't stop on the payline. When they do, they generally pay out alright.
There are only 3 bet levels to choose from, between $0.25 and $0.75. That means your investment won't be very big. I did find that any win would generally come close or exceed in replenishing my betting. Plus the prospect of the progressive jackpot still sounds good even with low bet sizes!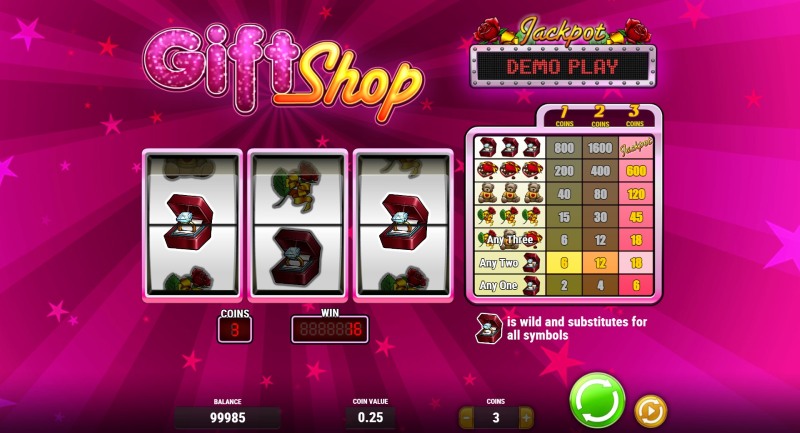 Features
Gift Shop really doesn't have any features to speak of. The only ones worth mentioning are:
Wild: The diamond ring symbol counts as a wild, substituting all other symbols in the game. Even 1 will award a win while getting 3 on the payline will result in the jackpot.
Autoplay: You can enable the game to spin itself for up to 100 times in a row. There are parameters you can set to get it to stop spinning after winning or losing a certain amount.
Quick Spin: If you'd like a quicker experience you can enable Quick Spin and get through your spins even faster.
These should be familiar to all players. There is also a paytable present on the main screen of the game, which lets you quickly see how much you've won. I thought that was a nice addition but only practical because the game has so few symbols.
Conclusion
Gift Shop is a fruit machine that adds very little to the classic experience. Instead, it has perfected some elements while keeping most classic ones intact. In Gift Shop you'll find a selection of new symbols that still maintain the same gameplay you expect from a classic slot.
I thought the game was doing what it set out to do well. It doesn't hold any surprises but that's what some players are looking for. I did find the game to be pretty rewarding in terms of wins and although your mileage may vary it does offer reasonable payoffs when you do get a win.
For people who like classic slots, I would recommend they give it a try. If you're someone who prefers more modern slots with lots of features, or even a classic slot with a modern take, I would suggest you look elsewhere.