Gem Rocks sees the mountains themselves come to life, crumbling down onto winning paylines and creating massive cascades!
Developed by Yggdrasil, Gem Rocks was released in 2018 and adds a slot to their library that leans heavily on the cascading reels feature. Other games that use this mechanic include Play 'n GO's Reactoonz and Tiger and Dragon by Red Rake Gaming.
The game has a sizeable 6-reel, 4-row playing field with a massive 4,096 ways to win. As the name probably gives away, the game is based around the combination of gems and rocks. The background shows us a pile of rocks as we look at the core of the mountain. The different symbols are all gems, embedded in rock.
I liked the overall look of the slot. It's very clean and the symbols are minimalistic and brightly coloured. As the game hinges around the cascading reels feature, it's nice that before the new symbols drop down the gems that could become a new payline light up slightly so you know what to look for.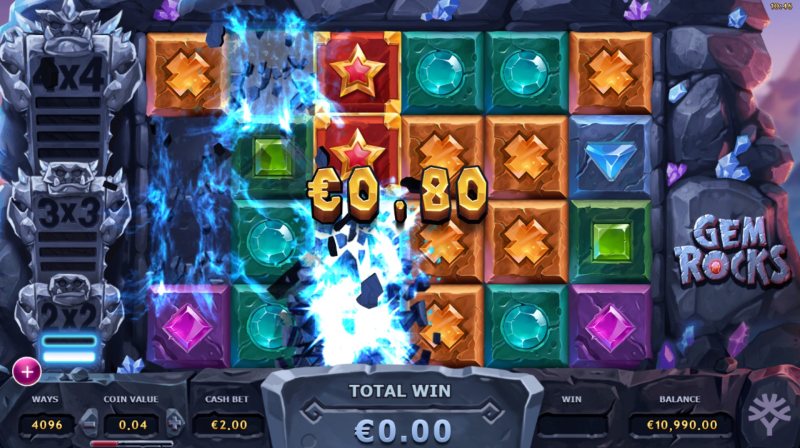 The game keeps things simple when it comes to the sound. Most of what you'll hear is the sound of rocks rumbling. When there's a winning payline there is a rather orchestral sounding tune playing which picks up if the cascading reels generate more win. These fade out quickly once the wins stop coming.
Symbols
The reels are filled with simple but original symbols, all gems that seem embedded into the rock. The rocks themselves are coloured matched with the gems to make it easy to tell apart. From highest to lowest they are:
Red Star: Max. 200 coins with six-of-a-kind on a winning payline.
Yellow Moon: Max. 35 coins with six-of-a-kind on a winning payline.
Azure Circle: Max. 25 coins with six-of-a-kind on a winning payline.
Blue Triangle: Max. 25 coins with six-of-a-kind on a winning payline.
Grey Pyramid: Max. 20 coins with six-of-a-kind on a winning payline.
Green Square: Max. 20 coins with six-of-a-kind on a winning payline.
Purple Diamond: Max. 20 coins with six-of-a-kind on a winning payline.
Orange Cross: Max. 20 coins with six-of-a-kind on a winning payline.
Features
Gem Rocks is a simple slot with not a lot of features, but they work well together to create a fun experience. The game mostly plays itself with little input required from the player. The High Volatility also means that wins are rather rare but due to the cascading reels, if we consider that a single win it can get pretty big.
The main features of this game are:
4,096 Ways To Win: As long as the same symbols appear on consecutive reels from left to right this will count as a win. Having more symbols on each reel will increase the total win.
Cascading Reels: Whenever there is a winning payline, the symbols involved will explode and cause the remaining symbols to fall down, making room for new symbols. This can create additional wins.
Colossal Symbols: After 2, 5 and 9 wins in a single spin respectively a 2×2, 3×3 and 4×4 colossal symbol will appear to help and create new wins.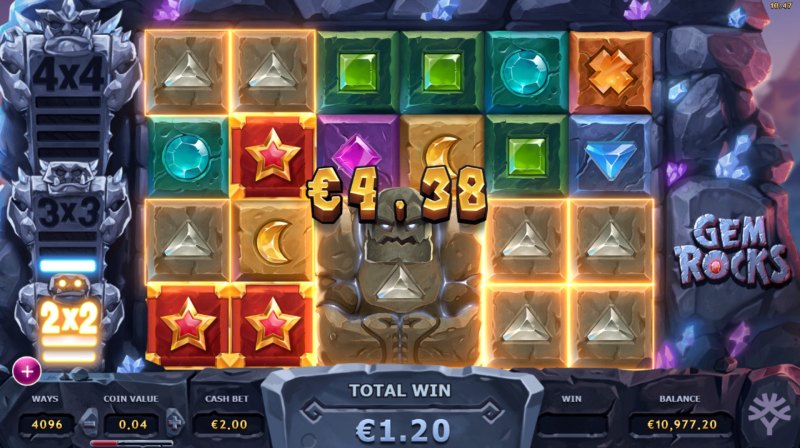 Because of the low number of features, the gameplay is rather simple. The 4,096 ways to win help in creating wins which cause the reels to drop down and maybe create new wins. Once that happens enough the game adds a colossal symbol and so on. The 2×2 Colossal Symbol would show up often enough, the 3×3 Symbol was rare and I didn't get to the 4×4 symbol at all. Considering its size we can imagine that will be quite a win so I understand why it's sparse.
Everything is presented in a clear way where the different colours associated with the symbols help a lot. Each gem lights up a bit if they're potentially part of a win while the reels are still dropping down. I found that to be a clever little addition that helped a lot.
I thought the gameplay was solid but not very special since there was so little interaction required. In the best-case scenario, the game would play itself for up to 9 times in a row due to the cascading reels. I was glad it looked so crisp and clear, however, since that at least made it interesting to look at!
Conclusion
Gem Rocks is a simple slot that is made to look pretty. The symbols are big and obvious with distinct colours that helped in keeping things apart. The tracker on the left kept score as the cascading reels created new wins, making it clear when a colossal symbol would appear.
I liked that the art was all original, no tired old symbols this time, and the background made sure I felt like I was dealing with rocks and gems the entire time. The ability to pick a bet between $0.10 and $50 meant I was free in deciding how risky I wanted to play it. A max. win of 16,384x your bet should appeal to everyone!
I found games with cascading reels to often resemble each other since the premise is so dominant in a slot like this. With the addition of colossal symbols, I think Gem Rocks takes a big step in setting itself apart. The Colossal Symbols also appeared organically, although they didn't often contribute to a win.
Are you looking for a classic slot with familiar features but a modern presentation? Then you can't really go wrong with Gem Rocks. It offers a solid albeit passive experience where you'll spend your time looking out for a winning streak that will get you the coveted 4×4 Colossal Symbol!