Frozen Gems is located deep within an icy cave where a group of explorers have found themselves aboard their ancient ship, setting up camp and looking for these special gems. Players can help them and also make use of features like multipliers, Wilds and free spins.
This slot was released by developer Play 'N GO in 2020, letting players play on a 5-reel, 3-row playing field with expanding reels. The game is very new but still doesn't look too modern when compared to other slots. The graphics are very static, with the symbols appearing as simple gems or card letters. When they're part of a win on one of the 243 paylines, the tiles light up but they aren't animated in any way.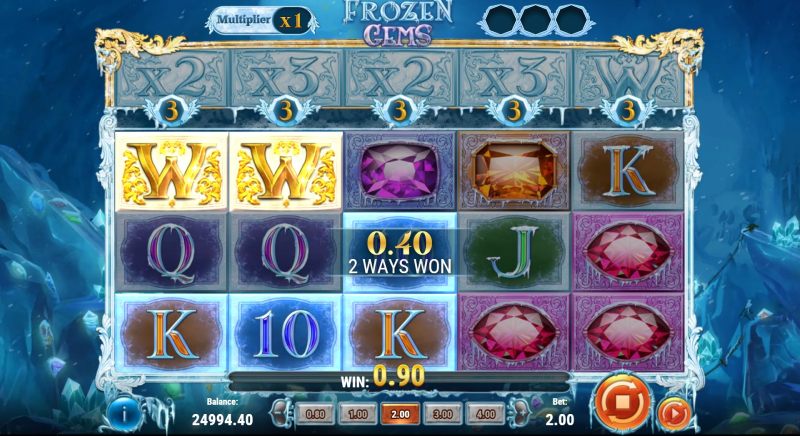 The background shows that we're deep inside a frozen cave within the distance of a sailboat but without knowing why. The cave also features a giant skull and a series of climbing ropes, implying the survivors of the ship went out to explore or look for a way out. It seems appealing but unfortunately, the game doesn't make any use of it which makes it feel wasted.
If you like to play with the sound on, you'll be treated to a calm and generic background song that plays quietly. The music sounds slightly otherworldly but doesn't emphasise the icy setting. The only thing that really relates to the cold is the sound of reels dropping down as it resembles the crackling of ice.
Symbols
Frozen Gems brings only a rudimentary collection of symbols to the game, with the high-paying symbols being gems that are only different in colour. The low-paying symbols are even less inspired, as these are based on card letters with some frozen icicles hanging off them. It really underlines the entire design of the slot which seems to put functionality above creativity.
The symbols in the game include:
Scatter: Get 3 or more Scatters on the screen to activate the free spins mode
Wild: Wild substitutes all other symbols except the scatter symbol. Max. 2.5x your bet with five-of-a-kind on a win line.
Orange Gem: Max. 1x your bet with five-of-a-kind on a win line.
Pink Gem: Max. 0.9x your bet with five-of-a-kind on a win line.
Purple Gem: Max. 0.75x your bet with five-of-a-kind on a win line.
Green Gem: Max. 0.65x your bet with five-of-a-kind on a win line.
Ace: Max. 0.5x your bet with five-of-a-kind on a win line.
King: Max. 0.4x your bet with five-of-a-kind on a win line.
Queen: Max. 0.35x your bet with five-of-a-kind on a win line.
Jack: Max. 0.35x your bet with five-of-a-kind on a win line.
10: Max. 0.3x your bet with five-of-a-kind on a win line.
Players will have to deal with the game's High Volatility by watching the features to activate, as the base game will not grant a lot of big wins. Fortunately, the game does hold a decent collection of different features that help with this. To mitigate the risk, players can pick a bet between $0.20 and $100 per spin, while the max. win of 10,000x your bet is an incentive to keep playing.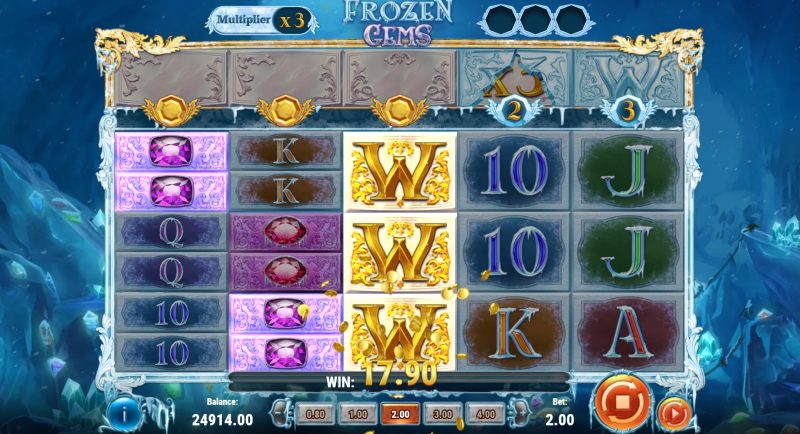 Features
Frozen Gems makes use of some familiar features but also has a less popular one that can really increase the possibility of a big win. A complete overview of the features includes:
Multipliers: When any reel has enough wins in the same spin, it will unlock an extra multiplier
Wilds: Wilds substitute all symbols in Frozen Gems except the Scatter symbol.
Expanding Reels: Splitting scatters split all symbols into 2 or 3, increasing the numbers of ways to win.
Free Spins: With 3 scatters on the screen at the same time, the free spins mode is triggered.
Probably the most interesting features in the game are present during both the base game and the free spins mode. At the top of each reel are multipliers and a Wild symbol as well as an individual counter for each reel. If the player gets enough wins on a reel, it will unlock the multiplier or the Wild.
When that happens, the entire reel will get that bonus, which can be to double or triple the symbols, or to change the entire reel into Wilds. If this helps create additional wins, the multiplier increases. This is rare to happen but when it does, players can expect a big win as with all reels unlocked it will facilitate up to 8,748 ways to win.
The Free Spins mode is also pretty hard to unlock but offers similar advantages when it does get activated. Triggering it isn't very difficult but it doesn't happen often, requiring 3 or more Scatter symbols on the screen. During the free spins mode, additional free spins can be collected by getting scatters on the screen.
A 5x multiplier is added when a scatter symbol appears on the screen. Every scatter symbol adds another 5x multiplier. This can theoretically continue indefinitely, making the free spins mode last forever since a Scatter will reward an extra free spin and increasing the multiplier that way as well. Obviously, the player will usually not see more than a handful of scatters during an average free spins mode.
Conclusion
Frozen Gems is a standard slot that has one or two lesser-known features included which change up the gameplay somewhat, but most of the game feels like it was thought of in an afternoon. The graphics are acceptable but uninspired and bland, especially considering they are one of the newest released by the studio.
Players who enjoy the standard slot experience will likely be fine with this as it doesn't affect the gameplay in any meaningful way. The symbols are easy to tell apart and the game has quite a high pace. Considering the high volatility I would suggest players start with lower bets.
I doubt many people will remember this slot for a long time when it comes to the appearance or setting, but the elements in the game that include the expanding reels and the free spins might keep people coming back for quite a while.