Join a rad redhaired she-warrior on her quest to rule the Dragon Tribe. You'll be accompanied by the xNudge and xWays mechanics and a bonus feature that lets you choose volatility level and max win potential.
Even though I am not a big fan of the graphics, I think that Dragon Tribe has made its presence felt in the realm of win-ways video slots. Nolimit City has taken the care to enrich the gameplay with enough action to keep you guessing for what's next.
I especially liked the multiplier Wilds because they've played a major role in boosting my winning outcomes on numerous occasions. In addition to this, the game can win you over with the cascading wins system. It fits exceptionally well in the Extreme mode of the free spins bonus, as you'll see in a bit.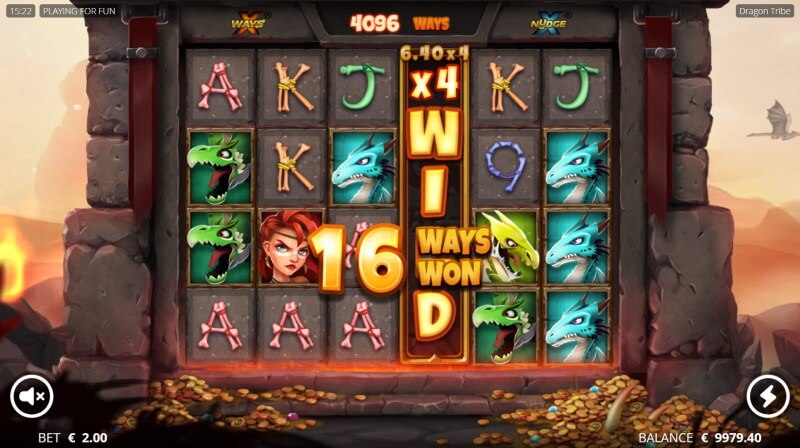 Dragon Tribe comes with six reels and four rows. The winning outcomes arrive through the ways-to-win payout system, meaning matching symbols need to land on concurrent reels. You can get up to 20,736 possible win combinations and prizes of up to 27,000x your bet.
Theme and Design
The graphic design and visual effects perfectly correspond to the cascading wins system. The symbols may be static but the choice of visual effects is spot-on as every action gets its corresponding response on the playing field.
There is one thing that I wish Nolimit City had done differently, however, and that is how they drew the dragons. I get the idea that Dragon Tribe is meant to be the opposite of epic and real, but for my taste, the critters are cartoon-like.
At any rate, this has no negative bearing on the flow of the gameplay and I think most players will appreciate the graphic design for what it is.
The base game is heavily invested in the cascade wins mechanic and its xNudge Wild element. These two features plus the xWays Mystery Symbol combine for a trifecta of actions that makes the exciting gameplay complete.
I didn't get the feeling that the quality of my gaming experience depended on winning the bonus feature. Each spin on Dragon Tribe has the potential to unleash a barrage of cascades and that's what I love about this game.
Nolimit City's signature model gets a fix up with the Wild symbol. A Wild that lands on the bottom position adds 1+ to the multiplier tally for each drop.
Basically if the Wild drops three times, you'll get a 3x win multiplier plus an expanded Wild. One caveat, xNudge Wild can only land on the four reels in the middle. Not too shabby in my opinion!
This feature completes the duet of xWays and xNudge. Basically, it takes a single symbol position and splits it into two or three symbols of the same kind.
The Mystery Symbol part of this extra cooks up a surprise random symbol that tends to link with its matching kind.
I especially love the part when you get more than one Mystery Symbol in xWays mode. This can sweep an entire portion of the screen for a massive cascade.
As you may expect, this isn't seen too often so when you do get it, it tends to expand the number of win ways towards a succession of big win outcomes.
Three Bonus symbols trigger the free spins bonus, but you are invited to select which mode. The regular Dragon Spins mode comes with xNudge and the Extreme mode comes with both xNudge and xWays.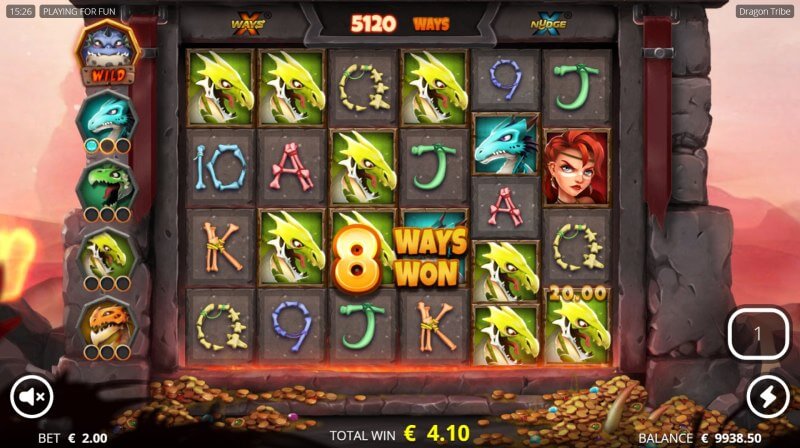 Furthermore, the Extreme version is a lot more volatile. I was drawn to select the Extreme mode on three occasions, thinking, if it hits it's going to hit massively.
In fact, this is where Dragon Tribe can show the best its random number generator can offer.
I can't say how much I won but I'll say it was well-worth forgoing the small to medium potential winnings I could have gained in the regular Dragon Spins mode.
And the kicker that's part of both Free Spins modes is getting dragon symbols converted into Wilds for each third winning cascade. This action lasts for the remainder of the spins, plus you get 2+ free spins to your tally for each dragon that becomes Wild.
Bets and Payouts
Dragon Tribe has a lengthy paytable with 14 symbols. In addition to the Wild and Bonus symbols, there are six cards (nine to ace) and six picture symbols (dragons plus the warrior).
You can spin the reels for as little as 20p per spin – not too bad considering the volatility and max win potential. In other words, a 20p spin can land you potentially massive winnings during the free spins bonus.
The "catch" with this sort of specs is that playing a bigger bet (say, 1 dollar or more) comes with greater risk considering the long stretches of small wins – usually below the amount of your bet.
That said, the payout structure of Dragon Tribe doesn't have the capacity to award decent sums unless the game goes full throttle by way of cascades and extra features.
The symbol values, times your bet, are as follows:
9 card: 0.10x, 0.15x, 0.3x, 0.5x
10 card: 0.10x, 0.15x, 0.3x, 0.5x
Jack: 0.10x, 0.15x, 0.3x, 0.6x
Queen: 0.15x, 0.2x, 0.4x, 0.6x
King: 0.15x, 0.2x, 0.4x, 0.7x
Ace: 0.15x, 0.2x, 0.4x, 0.75x
Blue dragon: 0.2x, 0.25x, 0.5x, 0.9x
Turquoise dragon: 0.2x, 0.25x, 0.5x, 1x
Green dragon: 0.2x, 0.3x, 0.6x, 1.1x
Yellow dragon: 0.2x, 0.3x, 0.75x, 1.25x
Orange dragon: 0.25x, 0.4x, 1x, 1.5x
She-warrior: 0.5x, 1.25x, 2.5x, 3.75x
Conclusion
Dragon Tribe is not for the faint of heart. Be prepared to see your budget dwindle quickly if you are betting amounts that I consider borderline serious (1 dollar or more). I've enjoyed the game by betting any of the amounts between 20p and $1.00. In my opinion, the high volatility demands it.
Other than that, regardless of the unimpressive choice of dragon art, the game is fun to play and has the potential to startle you with one or more big wins.