Chibeasties are the small alien creatures living in the forest, looking to spread mischief and perhaps some big wins. I'm heading into the brush to get the full report!
This slot is maybe one of the most well-known settings that Yggdrasil created, with big-eyed critters that populate the forest and the reels. Released in 2015, it has by now been followed up by Chibeasties 2 which took the alien aspects and amplified them. The original stays closer to the forest idea however, pretending these animals are forest-dwelling creatures on Earth and not some alien planet.
Even though it's getting older, the game still looks great. The images are clear, it's all original art and some of the symbols have their own subtle animations. The background shows us a forest, amplifying the idea that this all takes place on Earth. The game is built up out of a 5-reel, 3-row playing field with 20 paylines.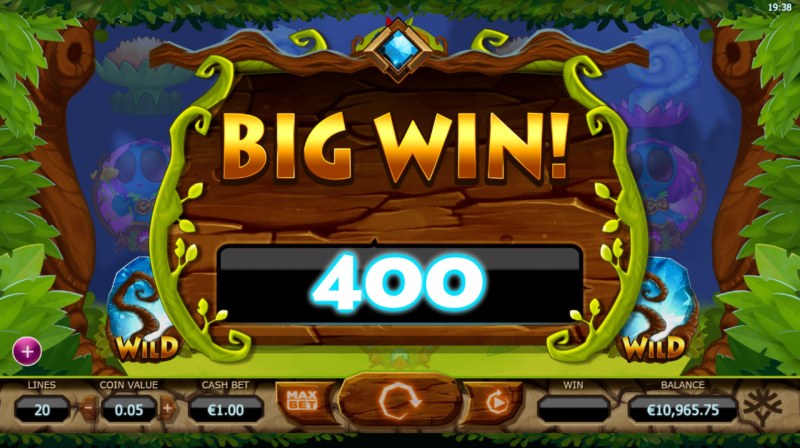 The developers intentionally chose a very magical, light-hearted style of music that works well with the idea that these animals are a special kind of animals that exist in seclusion from humans like fairies. That's why the game also reminded me of slots Enchanted Meadow and Enchanted Crystals by Play 'n GO.
Symbols
The game is populated with a wide variety of symbols, all of them original for Chibeasties. The high-paying symbols are Chibeastie characters while the low-paying symbol are the alien-looking flowers.
They are from highest to lowest:
Free Spin: Get 3 or more at the same time on the screen to activate the free spins mode. Players can get up to 40 free spins to play with.
Red Chibeastie: Max. 750 coins with five-of-a-kind on a winning payline.
Green Chibeastie: Max. 400 coins with five-of-a-kind on a winning payline.
Pink Chibeastie: Max. 300 coins with five-of-a-kind on a winning payline.
Blue Chibeastie: Max. 200 coins with five-of-a-kind on a winning payline.
Blue Flower: Max. 80 coins with five-of-a-kind on a winning payline.
Yellow Flower: Max. 70 coins with five-of-a-kind on a winning payline.
Red Flower: Max. 60 coins with five-of-a-kind on a winning payline.
Purple Flower: Max. 50 coins with five-of-a-kind on a winning payline.
Wild: Substitute all other symbols in the game except the Free Spin symbol.
Even though all the characters and flowers looked strange and alien, their colours and design kept it very easy to tell them apart.
Features
Chibeasties doesn't have a lot of features, keeping the slot very close to the classic experience. The few features it does have are well implemented, however, with a special introduction screen for the free spins mode and beautiful shining Wild symbols.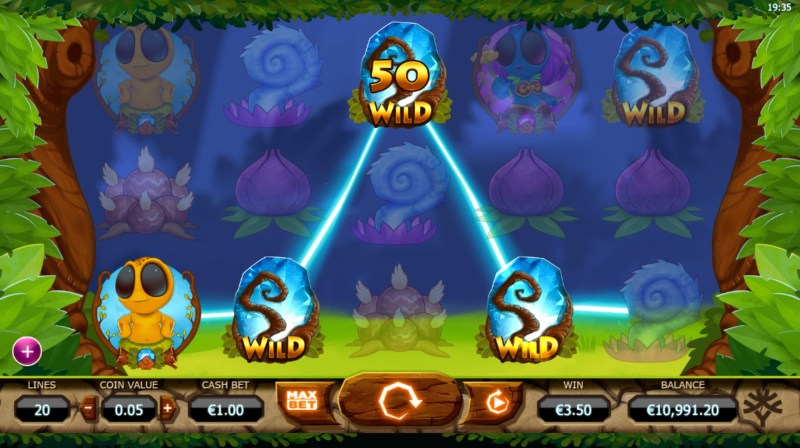 The features are:
Wilds: Wilds can appear during both the base game and free spins mode. Wilds substitute all other symbols in the game except Free Spins symbols.
Free Spins: With 3 or more Free Spins symbols on the screen at the same time, the Free Spins mode activates. Players get between 10 and 40 free spins to play with.
Stacked Symbols: During the Free Spins mode, a random symbol is chosen to expand, causing it to become stacked. This can also include the Wild symbol. The symbol isn't turned into a Stacked Symbol until after wins are calculated. If a Stacked Symbol creates a new winning payline, these wins are also calculated and added to the win total.
To start with, the free spins mode did not trigger very often at all, which made 2 of the features I listed above very rare. The wilds did show up regularly, often more than 1 on the screen at the same time. This did help with getting wins, resulting in the Medium Volatility the game lists itself as.
The random Stacked Symbols idea was nice and did help sometimes. Especially because the feature works by first calculating normal wins before applying the Stacked symbols and doing another calculation. With correctly placed Wilds, this helped a lot in getting some bigger wins.
All in all, Chibeasties doesn't have the most exciting mix of features. Maybe that's why Chibeasties 2 did some work in adding extra features that do help in keeping players engaged with the game.
Conclusion
Chibeasties is the type of game that really wowed me when it was first released but over time has lost some of its shine. Not only does it have its own sequel that does things better, as time passed other developers also created slots that surpassed it.
That's not to say I thought Chibeasties was bad. Even though the features are rather simple and don't show up a lot, they do add some excitement to the game. It was also common for them to restock my funds. Even though the game is listed as Medium Volatility, I had some trouble seeing big wins. With the ability to choose a bet between $0.20 and $40 it doesn't give people as much room to choose as other slots but it's enough to let them pick an amount they're comfortable with. With a max. win of 750x your bet I doubt many people will be swayed to stick around just for that prospect.
If you've never played Chibeasties I'd recommend you give it a try to see where this Yggdrasil original came from, but after that, I'd suggest you move on to Chibeasties 2 if you like what you see!