Football by developer Endorphina is a game that has a unique take on the most popular sport in the world as we are treated with a bunch of cartoon characters that represent the different aspects of the game!
This slot was released back in 2014 but has aged quite well, with the graphics being sharp and animated quite well. The game makes use of the standard 5-reel, 3-row playing field which means the symbols have some room to show off. The background is, unfortunately, a rather simple green, making it seem like we're looking straight down at the pitch. Other slots make it seem like we're in a stadium which I think might have looked a little better.
When there's a win on one of the 21 paylines the game gives us a quick pause to show off the win line as well as the animations. Each of the symbols has its own little play, which I think was nice attention to detail. The high-paying symbols are random football items with faces on them, as there are no actual people in the slot.
The sound is a little more intricate compared to other Endorphina slots but it still stays quiet when it comes to the music. Instead, we hear an audience shout and yell as the reels spin, with wins interrupting it by playing short jingles. Overall, the game does a good job of creating the mood of being at a real football match.
Symbols
Football uses symbols with a lot of colours with mixes well with the bright green background. The high-paying symbols look very distinct as they have a lot of character to them as well as a colourful scheme. Similarly, the low-paying symbols are card letters but also drawn to give it that cartoony vibe with brash colours.
The game has Low Volatility, granting players small wins over their time playing. This also fits my experience as I played, which could sometimes be frustrating. Enabling turbo spins especially makes it obvious how infrequent wins are even with such low volatility. The total coin win for spins can also be low.
The symbols are:
Bonus: Get 3 or more Bonus symbols to enable the Free Spins mode. Players can get up to 45 free spins this way.
Wild: Substitute all other symbols in the game except the Scatter symbols. Max. 12.5x your bet with five-of-a-kind on a winning bet line.
Shoe: Max. 6.25x your bet with five-of-a-kind on a winning bet line.
Gloves: Max. 6x your bet with five-of-a-kind on a winning bet line.
Stopwatch: Max. 5x your bet with five-of-a-kind on a winning bet line.
Red Card: Max. 4.5x your bet with five-of-a-kind on a winning bet line.
Yellow Card: Max. 4.5x your bet with five-of-a-kind on a winning bet line.
Ace: Max. 4x your bet with five-of-a-kind on a winning bet line.
King: Max. 3.75x your bet with five-of-a-kind on a winning bet line.
Queen: Max. 3.75x your bet with five-of-a-kind on a winning bet line.
Jack: Max. 3x your bet with five-of-a-kind on a winning bet line.
Features
Football uses some popular features that are sometimes somewhat hidden, but otherwise aren't anything experimental or unfamiliar. Each of the features augments the gameplay in some way, with the Wilds being the most obvious one.
Wilds: Wilds substitute all other symbols in the game except the Bonus symbols.
Scatter: Get 5 Red or Yellow Cards on the screen to receive a 21x or 10.5x coin win.
Free Spins: With 3 or more Bonus Symbols on the screen the Free Spins mode activates. Players receive between 10 and 45 free spins.
Multiplier: All wins during the free spins mode are multiplied by 3x.
The Wilds in this slot are fairly common and as a result, can play a pretty big part in getting wins. There is a larger number of symbols than usual for a slot with this volatility but they seemed to end up on the right places anyway.
A unique little detail is that getting either 5 red or 5 yellow cards anywhere on the screen, this will grant you a tidy win. If you have less of these symbols on the screen they only count when they're part of a win line, so they're only Scatters occasionally.
The Bonus symbol does act like a normal scatter all the time, and getting between 3 and 5 on the screen will activate the free spins mode. Like some other Endorphina slots, such as Chimney Sweep, the free spins mode grants a 3x multiplier to all wins in this mode. This can turn out pretty high in your favour as even three-of-a-kind wins make back multiple spins each.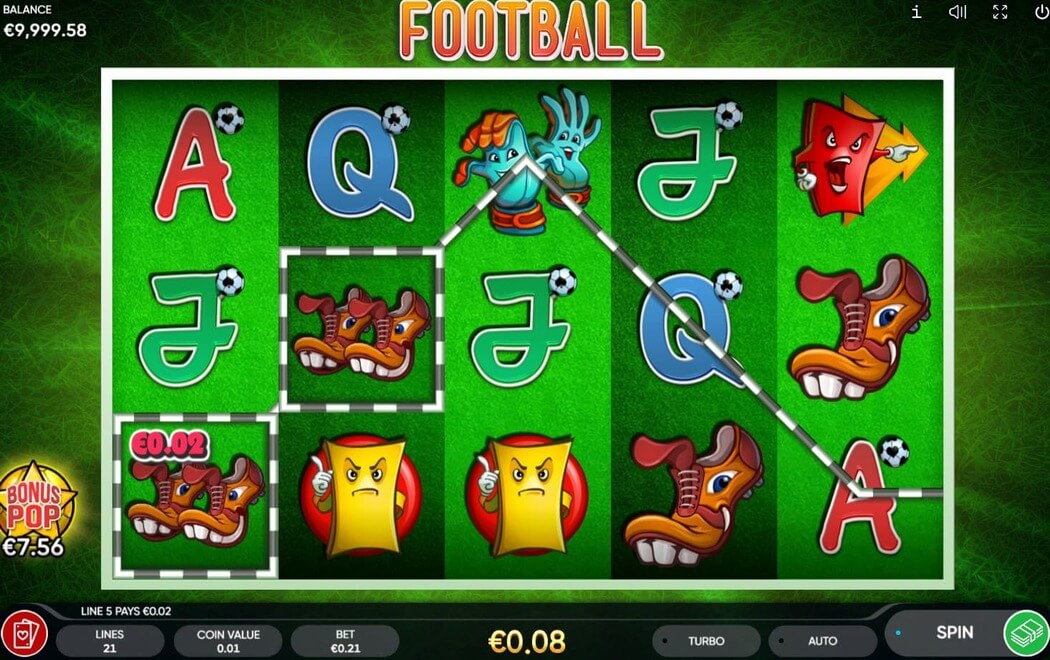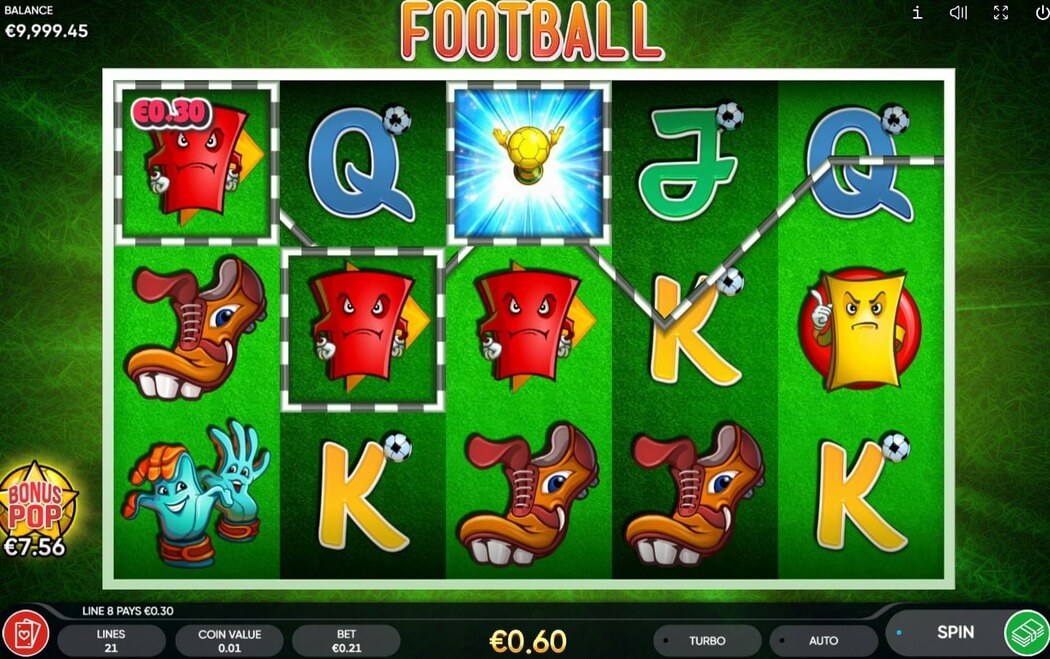 All in all, the Football features are about what you'd expect from a standard slot. I think the biggest downside is the fact that the features aren't really related to football at all. Even the free spins mode does not trigger a special background or any kind of change in the gameplay.
Conclusion
Football is the standard type of football slots that a lot of other developers have also released. The biggest difference is the style of the different symbols with a lot of character put into the high-paying ones. The sound design was also solid, where I felt like I was actually watching a football match with the audience responding to events.
Unfortunately, the game also missed some easy goals. One would be a relevant background, something like a stadium or something. The features are also very basic, not just in how they work but they also don't do anything with the football theme itself even though I think it could have.
Finally, the volatility was low but I found it to hand out wins quite often. As a result, my funds tended to go up more than they went down. Players can try this slot out by using a bet between $0.21 or $210 per spin. The max. win of 250x your bet seems very low but it's not completely impossible to actually win it.