Big Win Cat is a slot that combines cute animals, medium volatility and exciting features. I personally love these elements so for me this was a very enjoyable experience.
Developed by Play 'N Go and released in 2016, the Big Win Cat slot pops off the screen with its colourful cute appearance. The game borrows heavily from Japanese culture, from the way the animals are drawn to the music and even the style. For them, the cat is known as a fortune symbol. As far as I know, this has been Play 'N Go's first foray into this Japanese cartoon style. I think they absolutely nailed it!
Big Win Cat seems to take place in a classic Japanese store. The background is filled with small details including fire lanterns and an authentic wooden interior. Our friend the Big Win Cat reminds me of the Japanese Maneki-neko, or 'beckoning cat' statue, that is prevalent in many shops.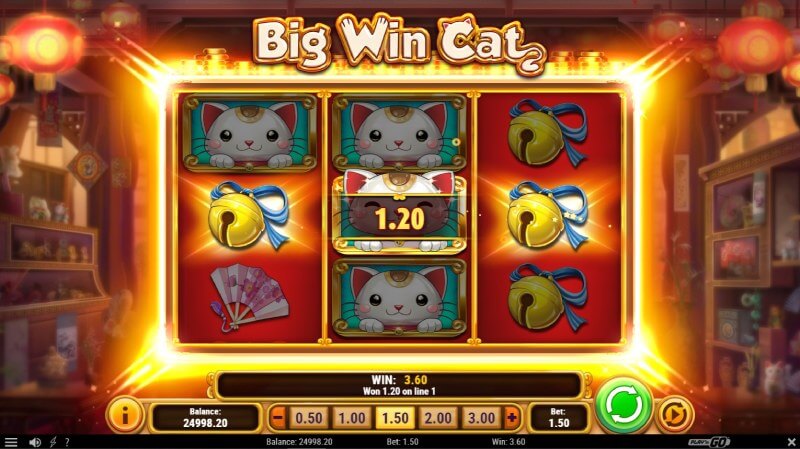 The maximum win you can get is 800x your bet, which might seem modest compared to other slots. Big Win Cat has medium volatility and some features that I think really help a steady number of wins to even it out.
Sound
Before I delve into the mechanics of the slot, I should make special mention of the sound design.
As beautiful as the game looks, I was blown away by the sound. The music is Japanese in every sense of the way and it really fits the game. It's cheery and light. It also blends seamlessly with any wins you get.
Whenever I hit a payline I heard coins dropping and if there is a Big Win Cat on the payline I heard a cute little meow. They even added several different meows so getting more Wilds on the payline does not play the same sound over and over.
Big Win Cat Highlights
Multiplier: In Big Win Cat, the winnings can be multiplied by different multiplier mechanisms.
Sticky re-spins: Sticky re-spins lock all symbols in the wins and spin the rest until there are no new wins.
Re-spins: Re-spins make the reels spin again without having to place an additional bet.
Wilds: Wilds substitute any standard symbol and help create more winning combinations.
Automatic play: Auto-play function spins the reels without needing to push play for every spin.
Symbols
At its core, Big Win Cat is a classic slot. It has 3 reels and 5-paylines which help keep things simple. Each symbol has it's own value, from highest to lowest:
Big Win Cat (Wild): Substitutes all symbols in the game. 16x your bet with three of a kind.
Goldfish: 5x your bet with three of a kind.
Pig: 4x your bet with three of a kind.
Turtle: 3x your bet with three of a kind.
Mallet: 1,4x your bet with three of a kind.
Fan: 1,2x your bet with three of a kind.
Coin purse: 1x your bet with three of a kind.
Cat bell: 0,8x your bet with three of a kind.
Coin: 0,4x your bet with three of a kind.
Since there are 3 reels and 5 paylines, the only way to get any win is to get three-of-a-kind on any payline.
I was impressed by how beautiful the different symbols are drawn. They look crisp and are visually very distinct. Since they're quite big it's nice to see the amount of attention that was put into creating them. The animals have a very big cuteness factor with their button eyes and rosy cheeks. I think the artists captured the popular Japanese drawing style very well.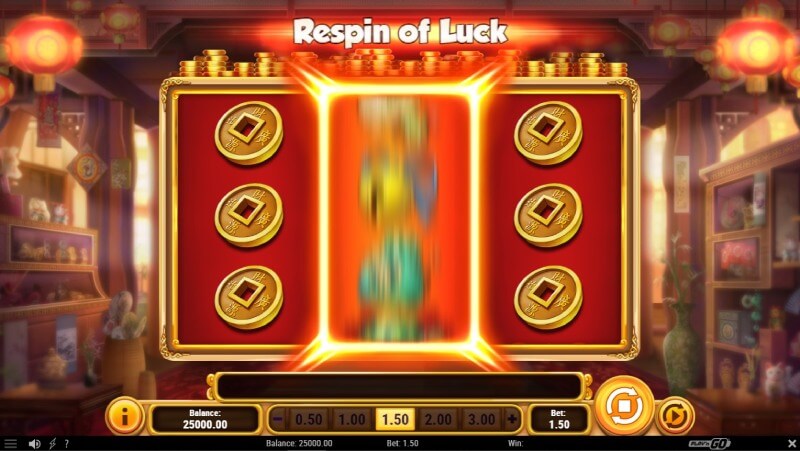 Features
The Big Win Cat slot adds a little variety with two main features:
Respin of Luck: The Respin of Luck is a second chance at a win. It triggers when 2 of the reels are filled with the same symbol (or Wilds) but there isn't a win. This pauses the game to respin the remaining reel. It frequently happened to me that this would result in at least 1 payout!
Wheel of Multipliers: This feature triggers whenever you get all 3 reels filled with the same symbol. This can happen because of a Respin of Luck or just by playing the game.
Getting the Respin of Luck is spiced up with a nice animation, highlighting the remaining reel as it takes another spin. This feature is an excellent way of getting another shot at a win. In combination with the Wheel of Multipliers, it can even turn into a big win.
Obviously getting a payout on all 5 paylines is already a nice win. That's not enough for Big Win Cat, however. The Wheel of Multipliers does exactly what you'd expect. It pauses the game, drops a wheel into the frame and spins it to determine the multiplier you get on your win. This can go from a 2x to a massive 10x multiplier!
Conclusion
Even though Big Win Cat isn't Play 'N Go's most popular slot, it definitely impressed me a lot. It has a simple concept that they explored to its fullest potential. Adding only two features keeps the game simple but enticing enough to keep playing. Playing with bets between $0.05 and $100 and a maximum win of 800x your bet you can decide for yourself how adventurous you are feeling.
I thought the Respin of Luck was a nice addition but it's the added feature of the Wheel of Multipliers that makes this game really interesting. When I got two reels filled with the same symbol I was already 2/3rd of the way to a big win, facilitated with the free respin. When that hit, the Wheel came in to add an additional multiplier. I really loved this escalation which happened relatively often.
If you want to play a classic slot with modern features and an intensely cute appearance, you should definitely give Big Win Cat a try!
Pros:
The game's colourful and cute appearance, inspired by Japanese culture, creates an appealing and visually pleasing experience.
The review highlights the impressive sound design, with Japanese-inspired music that fits the game's theme, as well as unique sound effects that enhance the gameplay experience.
The game offers exciting features like the Respin of Luck, which gives players a second chance at a win, and the Wheel of Multipliers, which can lead to big wins with multipliers of up to 10x.
Cons:
The maximum win of 800x your bet might be considered modest compared to other slots that offer higher potential payouts.
With only 3 reels and 5 paylines, the game's simplicity may not appeal to players who prefer more complex gameplay mechanics and a larger number of paylines.