Joining a secretive order of alchemist owls hasn't been easier in ages. You get to wear a cape, learn magic reel modifiers and even grow a halo above your head. Nolimit City makes all of this possible on its Owls slot, which sets the player on the path to finding the 'philosopher's stone' which is cash prizes that can get as high as 1,374x your bet.
This is a game where imagination runs wild and features run even wilder. The owls can trigger three different free spins games where each one comes with its own initiation rite that involves magic and boosted odds for better payouts.
One of the rarest things I've seen on a slot game is a stacked scatter symbol. Owls has that, as well as a stacked wild that can rub off its stardust on the reels during the feature games. Also, don't mind the five reels, because this game can trigger payouts with up to seven symbols. How? Druid magic!
Those who are familiar with Nolimit City may have noticed that their productions have become bolder and more engaging over time, such as Punk Rocker with its edgy graphics and Bonus Bunnies being all soft and cuddly, yet primed for a thrilling adventure.
Owls is something in-between and I find it to be both a joy to play and decently stimulating thanks to its one in four spins payout frequency and a theoretical RTP that is above the average, at 96.22%.
Theme and Graphics
The graphics can be appealing to anyone who knows how to enjoy an epic fantasy book or a movie. Once you've ventured inside the mysterious wood you can sense that there's been a Gaelic inspiration behind the graphics and the overall look and feel of Owls.
The sound design helps feed the imagination through ethereal sounds and faint notes of a flute. I love it when your experience is made perfect by the attention paid to every detail in the sound theme, and this is a game that does just that.
Players will find four owl characters – three on the reel set and one standing alongside the reels. Let's say these are the guardians of the deep wood and their mission is to help the adventurer, as each owl becomes an expanded symbol in the respective bonus feature.
I think the design is marvellous, really, and a stark contrast from the number of Nolimit City games I've played, which involved wild west renegades and collages of Johnny Rotten and Albert Einstein.
For all of the above, I can appreciate some peace and quiet inside a game that makes me feel like a druid. As I said, imagination runs wild and Owls makes it easy to become enamoured in the theme and in its bonus features.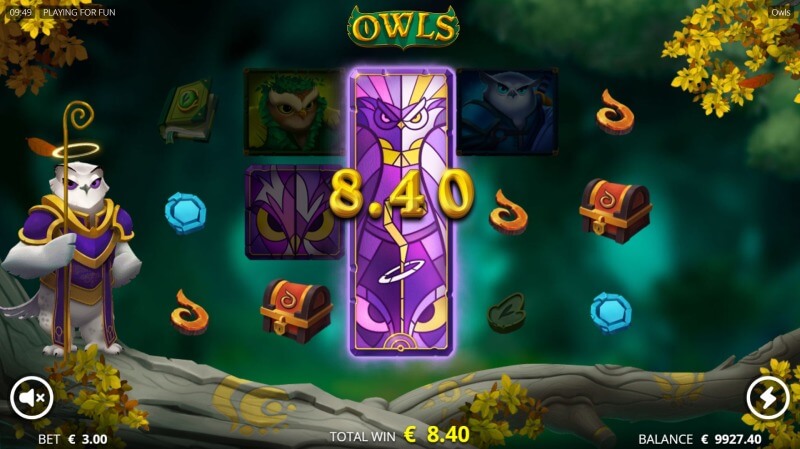 Scatter Loot

A stacked scatter symbol, represented by a purple owl, is quite the sighting. It can emerge on the third reel and help create scattered payouts for up to seven symbols every time the surrounding symbols permit it to happen.

Dream Spins

Five free spins are awarded when three scatter symbols land on the middle three reels. In the event, Owls picks one of the three free spins bonuses for you but leaves a stacked wild symbol on the center reel throughout the five spins.

Ember Dream

Both the high-paying and low-paying symbols bear a magical crest. Every time either one of the two flame-crested symbols appear on the reels, the game turns it into a wild.

Emerald Dream

The emerald-crested symbols transform into the green Owl, a symbol that can pay between 0.66x and 100x your bet.

Frozen Dream

Either of the frost-crested symbols transform into the blue symbol kind that is most common on the reels or the one that has a higher value.
Bets and Payouts
The paytable looks quite promising for big win outcomes, especially when the Scattered Loot triggers for any of the high-paying owl symbols.
These can pay between 40x and 100x your bet for six and seven symbols of the same kind. Payouts that consist of three, four and five owl symbols pay between 0.5x and 33.33x your bet.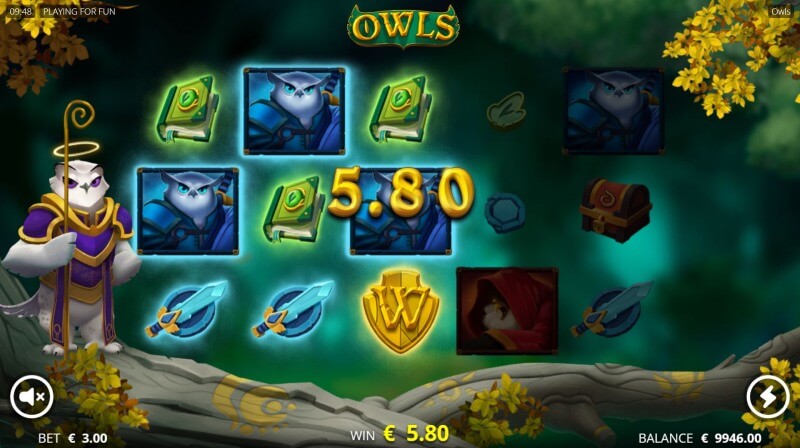 Surprisingly, the wild is also a paying symbol. Three, four and five of a kind pay 1x, 5.3x and 33.33x. On the other hand, the low-paying symbols only pay 0.33x and 0.46x for three of a kind, which along with four matching symbols are the outcomes that you are likely to see occur more frequently.
What the game is really all about is the stacked scatter symbol on the third reel that only needs at least one owl symbol and one or two wilds in order to trigger a big win.
Conclusion
Wagers between $0.15 and $75.00 provide a nice range to choose from, but if you really want to just try the game, starting with the lowest bet can give you a good sense of how the sticky wilds work in the free spins bonus and how many turns it takes for one of these to crop up.
I've enjoyed playing Owls. I think the payout potential trumps that in a good portion of games out there and you don't even need to get the free spins bonus to see it happen, considering the combo of expanded scatter, wilds and high-paying owls.