The savanna is the home for a large variety of beasts. Lions are watching over their territory, the zebras are grazing and the cheetahs are hunting for a meal. However, when the ground starts to shake, it's not an earthquake – it's a stampeding herd of wildebeest and you're in their way!
Win-A-Beest was released in 2020 by one of my favourite game providers, Play 'n Go. It's a very nicely designed slot where a herd of wildebeest can get spooked at any second. And, when this happens, they trample all over the reels and drive off any other animals and low-paying symbols! On top of this, the game has a lot of other special features too, like expanding reels and multiplier Wilds. Oh, and did I mention that you can win up to 10,240x your bet?
So, it's better to keep your eyes peeled and take cover whenever there's a rumble in the distance – we don't want to get squished under the big wins!
Graphics and sound
Win-A-Beest instantly reminded me of Mega Moolah, which is a progressive jackpot game from Microgaming. Of course, Win-A-Beest is more sleek and modern, as Mega Moolah has been around since 2006. The theme of the game is Africa, so you can easily spot animals like rhinos and elephants roaming around. The background shows us a beautiful but ascetic savanna scenery, which occasionally gets a thick layer of whirling sand when the wildebeest cross the screen.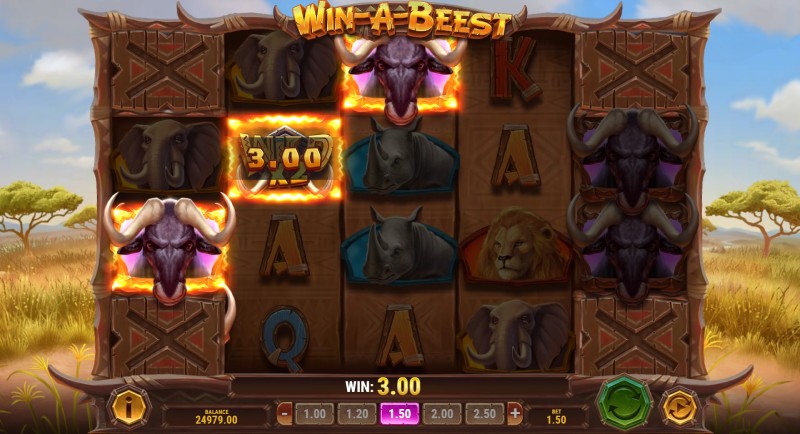 The high-paying symbols in the game are, of course, the animals. But, I do wish the game providers would sometimes invest just a bit more to the low-paying symbols, too. Usually, they're just the suits or, as in this case, letters A, K, Q and J. In Win-A-Beest, the letters do look like they're made out of wood, so I guess it's better than nothing.
The music in the background is nice and fits the theme with all the drums. Too bad Play 'n Go included a man to voice out the title of the game, as well as the triggering features and announcing the big wins. I don't really see the point in this, and it can't be turned off without turning off all of the music in the slot.
Symbols and wins
Win-A-Beest is a slot with non-traditional reels. Usually, all of the reels are the same size but in this case, the reels hold symbols as follows: 2-4-4-4-2. However, the first and the last reel can expand to hold 4 symbols during the Beest Mode and Stampeding Spins. This means the base game has 256 ways to win and with the expanded reels there are 1,024 ways. In either way, the paylines go from left to right.
Landing at least three Scatters in the base game triggers the Stampeding Spins. Landing three or more Scatters during the Stampeding Spins or Beest Mode wins Beest Mode Spins. Wilds substitute all other symbols except Scatter.
High-paying symbols:
5 x Win-A-Beests pay 5x your bet
5 x elephants pay 2.5x your bet
5 x lions pay 2.5x your bet
5 x rhinos pay 2x your bet
5 x cheetahs pay 2x your bet
Low-paying symbols:
5 x A pay 1.5x your bet
5 x K pay 1.5 x your bet
5 x Q pay 1x your bet
5 x J pay 1x your bet
Features
Beest Mode: A random feature that can trigger on any spin.
When the Beest Mode is triggered, a herd of wildebeest (called a confusion, by the way!) runs across the screen and raising a thick sand cloud.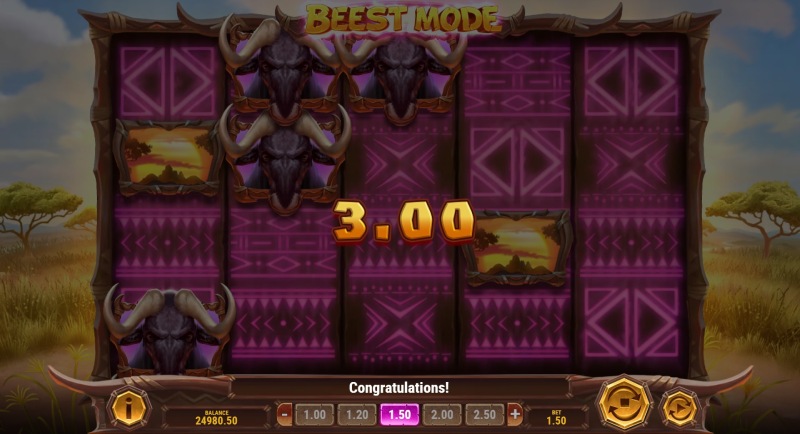 During the Beest Mode, the paylines increase to 1,024 and the reels only hold symbols for Win-A-Beest, Wilds, Multiplier Wilds and Scatters.
Landing three Scatters during Beest Mode activates Beest Mode Spins.
Beest Mode Spins: Can only be triggered with Scatters during Beest Mode or Beest Mode Spins.
3, 4 or 5 Scatters in Beest Mode produces 4, 6 or 8 Beest Mode Spins (in that order). The Beest Mode is active on every single spin in Beest Mode Spins. Beest Mode Spins have 1,024 ways to win.
It's possible to activate more Beest Mode Spins by landing more Scatters. There's no limit on how many times the feature can be re-triggered.
Stampeding Spins: Stampeding Spins get triggered by three or more Scatters during a normal spin in the base game.
3, 4 or 5 Scatters activate 8, 12 or 20 Stampeding Spins. Stampeding Spins have 1,024 ways to win.
Stampeding Spins only differ from the regular spins by the number of paylines. However, it's more likely to trigger Beest Mode and Beest Mode Spins.
Multiplier Wilds: Wilds may have x2 multiplier at any spin.
Final Thoughts
I really think Win-A-Beest is one of the best slots Play 'n GO published in 2020. While I've felt that most of the games from Play 'n GO have been either three or five-reeled "basic" slots or grid games, Win-A-Beest is definitely among the more interesting ones.
The basic game sometimes makes it hard to trigger any normal wins, as the first reel only holds two symbols. But, Play 'n GO has kept the balance by offering the randomly activating Beest Mode – which can then lead to Beest Mode Spins and bigger wins.
I also like that all of the game features can be re-triggered without any caps. And, when more features are more likely to activate through one, it's very possible to gain some delicious combos via just one single spin. Of course, the Beest Mode Spins are the most wanted ones, as they offer only the highest paying symbol next to Wilds, Multiplier Wilds and more Scatters.
With medium volatility and the RTP of 96.12%, Win-A-Beest is a game full of possibilities.