Cast the runes and see if you are the gods' favourite, or have your actions brought forth the end of times, Ragnarök.
Viking Runecraft is a heavily thematic slot from Play'n GO, which dives deep into the Norse lore. You read the runes and see what the celestial beings are planning. Are the gods interested in your actions and aid you on the way, or will the destructive forces be awakened and shatter the entire world? Learn about Norse mythology as you play.
Play'n GO released Viking Runecraft in the Spring of 2017. It follows the footsteps of Gemix and Energoonz, which have paved the way for unconventional slots. There are no reels and no paylines in Viking Runecraft, only a grid of 49 runes. You win if there are at least five of the same symbols touching in any direction.
The game has become a casino staple, and it's no surprise when you look at the game. This is a highly polished slot with a deep theme and great mechanics.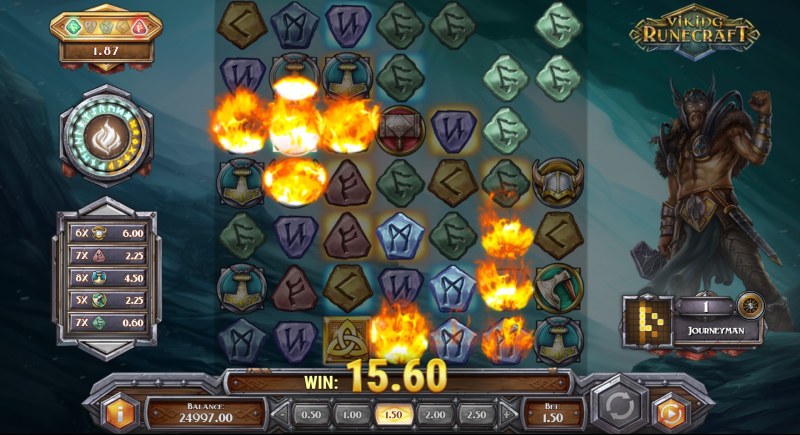 Graphics and sound
Viking Runecraft is based upon Norse mythology. Here the theme is not just something that is slapped on at the last moment. No, this theme is deeply woven in the game's mechanics and the entire gameplay.
The visuals are done with care. Sure, the gods may be a bit more modern-looking, but luckily Play'n GO didn't go with the Marvel designs. One thing I personally liked, was the way the game guides you with its visual design. There are a ton of features, but everything has its own place, own tracker and you learn it all as you play.
The sounds are also well done and they bolster the atmosphere. The background music may not be very memorable, but it sounds great. It doesn't draw the attention, but rather heightens the mood. Play'n GO did a wonderful job with the soundscape as a whole.
As a side note, the runes of the game are based on futhark, the old Scandinavian runic alphabet. The magic behind them though is a bit mixed here. Casting lots is a tradition from Central and Western Europe and it was not done with runes until very recently. Norse runic magic was based on the power of names. For example, Poetic Edda advised you to carve a victory rune on your sword.
Symbols and wins
The symbols are divided into two categories, the low-paying runes and the high-paying divine artefacts. There are wilds as well, but those can only be accessed by the Gifts of Gods feature.
The pay structure is very top-heavy. You need a good amount of runes to even get your wager back. The artefacts are really valuable, but in my experience, those are rare.
The paytable is also a tad misleading. You need five symbols to get a win and you see the prizes for getting up to fifteen of the same symbol. That, unfortunately, is a thing that basically never happens. I had a hard time even getting ten symbols, let alone fifteen.
Viking Runecraft has a high volatility and it shows. I found it very hard to get good traction, but when I did get a good combo going, it wouldn't stop. This is an all-or-nothing type of a game. Luckily, there are a ton of special features and the game rewards you for playing longer.
Features
Levels: Gain experience and earn gifts
You can gain levels and earn more prizes. On the right-hand side of the play area, there is a formation that you need to complete. Have a winning symbol on each of the required squares and you will gain a level. After you level up, a new god will start watching over you and you get to spin the bonus wheel.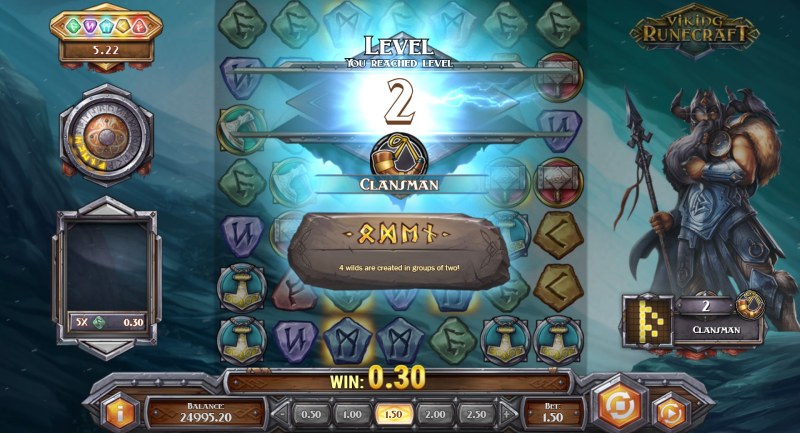 Runes of Valhalla: Gather the runes for the wheel
When you get a winning combination from any of the runes, that rune will start to glow in Runes of Valhalla tracker. When you level up and spin the bonus wheel, all the Runes of Valhalla that you have gathered light up a segment of the wheel. The more you have them, the better chance there is to win and the higher the prize is.
Charge of Destruction: Charge up for a mighty calamity
Every time you win, you start to charge up the runic shield. If you get a chain of at least 20 symbols, a random destructive force is awakened. At the end of the round, either Fenrir, Jörmungandr, Surtr or Loki will destroy and transmute some of the symbols.
Ragnarök: Bring forth the destruction
If you are lucky enough to charge the runic shield up to 40 symbols, you start the Ragnarök. Now the world is on fire and beasts roam the land. You get a new free spin, and each of the four calamities will rain down upon you. Every time you don't get a winning combination, another one will wreak havoc and clear away some space for new combinations. All this time you are also charging up a multiplier that can go as high as 15x. After all four are done, Ragnarök will end.
Gift of the Gods: Save your spins with a divine intervention
Gods watch over you and guide you. Every once in a while, a god may bestow their gifts upon you. After any regular round that has no wins, a Gift of the Gods can activate. You get a gift from that particular god, that is currently watching you at the side of the screen.
Thor: A lightning will strike and create between 5 and 9 wilds.
Odin: Huginn and Muninn each will carry a pair of wilds to the field.
Freya: Freya's light will create wild clusters until you win
Heimdall: Every row will get a single wild symbol
Final Thoughts
There are a ton of great things that I like about this game. The theme, the attention to detail, the slew of different features, the unconventional reels, the combo-mechanics and so on. It is easy to fall in love with a slot like this.
Now, there are things that could be better. I would like the volatility to be a bit lower. I found it so easy to just blow your bankroll without ever getting a single decent win. That is one of the biggest problems of this game and a deal-breaker for some players.
For me, I will occasionally go back and give it another whack, but not often. This is one of those games that you just love to play, but hate that you just lose.