Named after the elusive inventor(s) of Bitcoin, Satoshi's Secret is cryptocurrency, moulded into video slot format. Complete with Matrix-style monochrome graphics and internet subculture visual nods, here's a slot that comes with true originality as standard.
Dark Mode
Pitched as the first-ever Bitcoin-themed slot, Satoshi's Secret plunders the world of cryptocurrencies for a slot theme quite unlike any other. The visuals are similar to what you might see in a spy movie from the early 90s – all glowing greenscreen displays with a techno-thriller sheen.
The soundtrack to Satoshi's Secret is superb and wouldn't sound out of place in a minimal house tent at a music festival. If electronic music isn't your thing then Satoshi's Secret manages to seamlessly blend crunching guitar power chords into its audio offering. Still not getting with the tunes? Well, there's always the mute button.
The animated background feels like you might have unwittingly fallen into the online ether. Comparisons to The Matrix are an accurate and obvious parallel to Satoshi's Secret. You can leave your technological existentialist theories at the loading screen though – Satoshi's Secret is more concerned with showing players a good time.
Symbols
For 6 on any given payline, Satoshi's Secret symbols pay as follows:
Hacker – 50,000x
$ – 30,000x
€ – 10,000x
$ – 10,000x
Q,W,E – 3,000x
R,T,Y – 2,000x
Features Hack
Satoshi's Secret has 1 to 20 variable paylines set against a 6×3 grid that pays both ways.
Enter the features matrix and you'll enjoy three bonus rounds from Satoshi's Secret:
To enter into the trading bonus game, land 4 or more bonus symbols. To kick off your career as a forex trader, Satoshi's Secret generously awards you with a starting balance. Now you've got a few pennies in the bank, you can choose to trade either USD, USD or EUR. Overpriced suit- wearing and yelling at subordinates are optional.
Firstly, choose your currency and then predict whether the value will increase or decrease and hit the corresponding button. The grid transforms to 3×3 and you continue 'trading' until you decide to stop or you become bankrupt. Such is life.
Land Q, W, E, R, T or Y from left to right simultaneously in Satoshi's Secret and you're granted limited access to a secured banking system. Once you've entered the banking mainframe you have the chance to access an account and hopefully empty the funds. Ethical hacking this most definitely is not. During the QWERTY bonus round, the security levels of each account look like this:
Green: The easiest account to hack, although with a lower balance.
Yellow: An average account with an average balance and therefore average awards.
Red: The highest level of security with the largest account balance.
If access is denied at any point, the QWERTY bonus round ends and you win the total from the bonus round.
With the potential of doubling your winnings up to 10 times, the risk game is a tidy little feature that adds an interesting dynamic to Satoshi's Secret. A playing card icon will highlight as red in the bottom left-hand corner of the frame, indicating that the Risk Game Feature is ready to be initiated.
In a classic higher or lower set up, players are given the chance to beat the dealer by turning over a higher card. If you turn a card with a lower value than that of the dealer, you lose. If the value is equal to that of the dealer, you get to pick another card.
Don't fancy your chances against the dealer's card? Simply hit TAKE WIN to collect your current winnings and exit the Risk Game feature.
Binary Bets
Low volatility Satoshi's Secret comes loaded with a 96% RTP and a maximum potential win of 5,000x. Minimum and maximum bets are set at $0.10 and $200 respectively.
Satoshi's Summary
The visual offering of a suped-up LED display is a bold move from Endorphina. Postmodernism is rarely mentioned when discussing video slots but Satoshi's Secret manages to pull it off without appearing pretentious in the slightest.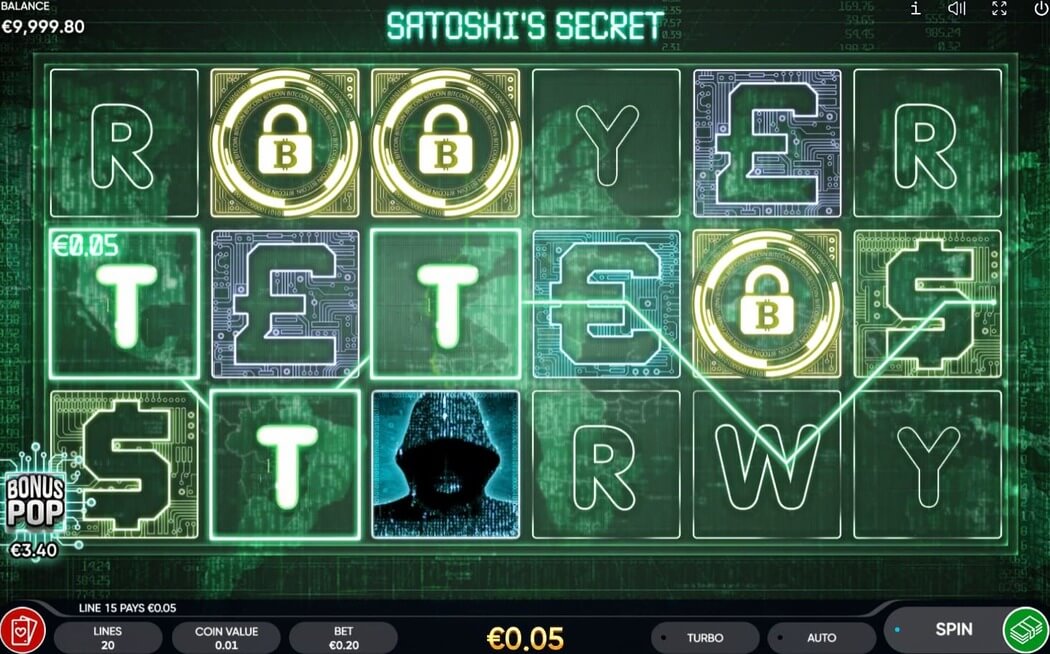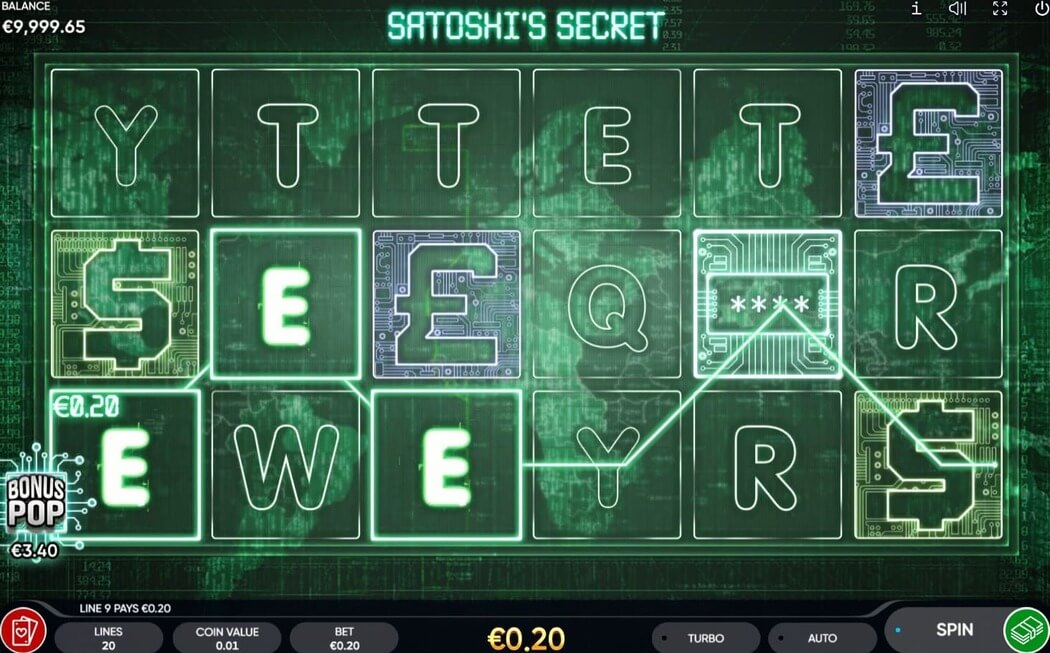 The QWERTY bonus game is a bit of an odd one. Blue-collar crime as a bonus round sits quite uncomfortably within the overall theme of the game, purveying the concept that cryptocurrencies are synonymous with illicit online activity. As a 2015 release, perhaps this represents an old-fashioned attitude towards cryptocurrencies. We were a bit more of a sceptical breed regarding currencies that challenge traditional banking models back then and this seems like a hangover from that time. Kinda cute if you think about it.
Endorphina should be applauded for creating a slot that is genre-defying. Satoshi's Secret is a game that is daring on a conceptual level but feels pretty standard when it comes to bonus offerings. In particular, the Risk feature could have been more thematically compatible, rather than offering up the usual higher or lower card-based option available.
While the retro visuals are going to be a turnoff for players that are hot for involved graphics, if you're a fan of cryptocurrencies or dabble in foreign exchange, here's a slot with real gaming currency.