Platooners follows a motley crew of brave soldiers as they step onto a sound stage and pretend they're fighting in a jungle. They are accosted by coin win snakes and using fake weapons as they are surrounded by respins, random wilds and a great bonus game.
The game was developed by ELK Studios and released in 2018, giving players a standard 5-reel, 4-row playing field to look at. The designers did feel inspired as they made this game as the slot is filled will all sorts of fun details as well as a series of unique characters that all come fully animated. When it comes to the gameplay Platooners isn't particularly special, playing on 178 paylines and offering the usual base game experience.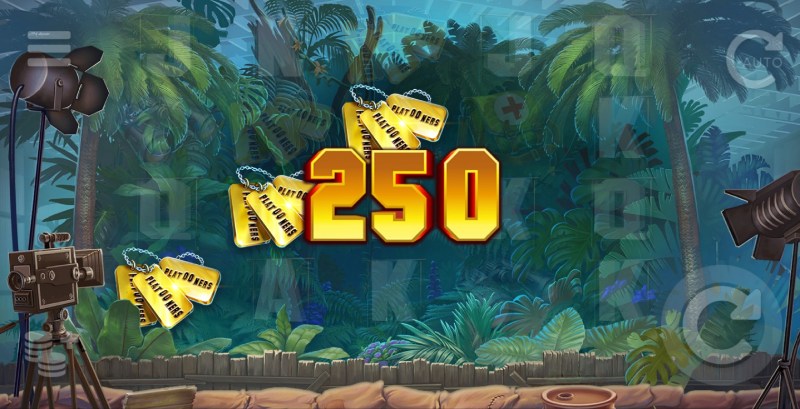 The slot is set on a sound stage where we see lights and cameras flank the playing field with a fake jungle in the background. The different symbols include various weapons and items a real-life platoon might take with them into combat, while the low-paying symbols are card letters that are propped up like the Hollywood sign. It's not terribly related to the setting but at least they made an effort to look like its part of a movie.
When it comes to sound design, the game has also put in a good effort to make it feel authentic. There are jungle sounds playing in the game as well as a military drum playing while the reels spin. The music itself feels rather whimsical which feels appropriate with the cartoony style of the characters.
Symbols
All of the symbols in Platooners look great, with a lot of attention to detail even if they aren't animated. The bonus game features a lot of different animations so I think it evens out in the end. The high-paying symbols all relate to the setting but the low-paying symbols are all unfortunately just card letters.
The symbols in the game include:
Bonus: Get 3 or more bonus symbols to activate the bonus game.
Wilds: Wilds substitute all regular symbols in the game, except for the Bonus symbol.
Dogtags: Max. 1,000x your bet with five-of-a-kind on a winning bet line.
Knife: Max. 500x your bet with five-of-a-kind on a winning bet line.
Binoculars: Max. 200x your bet with five-of-a-kind on a winning bet line.
Medikit: Max. 150x your bet with five-of-a-kind on a winning bet line.
Ace: Max. 120x your bet with five-of-a-kind on a winning bet line.
King: Max. 120x your bet with five-of-a-kind on a winning bet line.
Queen: Max. 120x your bet with five-of-a-kind on a winning bet line.
Jack: Max. 120x your bet with five-of-a-kind on a winning bet line.
The game only has a limited number of symbols, coupled with a rather large number of paylines. This causes the slot to settle on Medium Volatility. Players can except the occasional win that will be big enough to win back a number of spins, without actually getting any big wins for quite a while. To mitigate their risk they can pick a bet between $0.20 and $100 per spin.
Features
Platooners has a number of different features, including some that are randomly added to the base game and are a part of the bonus game. The features are:
Wilds: Wilds substitute all other symbols in the game, helping to create a win.
178 Ways To Win: Wins are awarded whenever the same symbol appears on consecutive reels from left to right.
Bonus Game: The bonus game is activated when 3 or more bonus symbols appear on the screen.
Mirrored Reels: Reels 1 and 3 are exactly the same for 1 spin.
Random Wilds: Wilds are randomly added to reels 3, 4 and 5 for 1 spin.
Guaranteed Win: A five-of-a-kind win is triggered for one of the symbols on reel 1.
The special features can appear randomly during the base game but they are triggered every spin during the free spins mode. I found the special features to be pretty rare during the base game, with them only appearing maybe once in dozens of spins.
Each of these special features was pretty fun but there was no way to tell which one was the best. The random Wilds helped in getting me a few big wins, while the mirrored Reels are either very good or completely useless, depending on the symbols on reel 2. Finally, there was the guaranteed win which in my experience always picked a card letter, and never one of the high-paying symbols.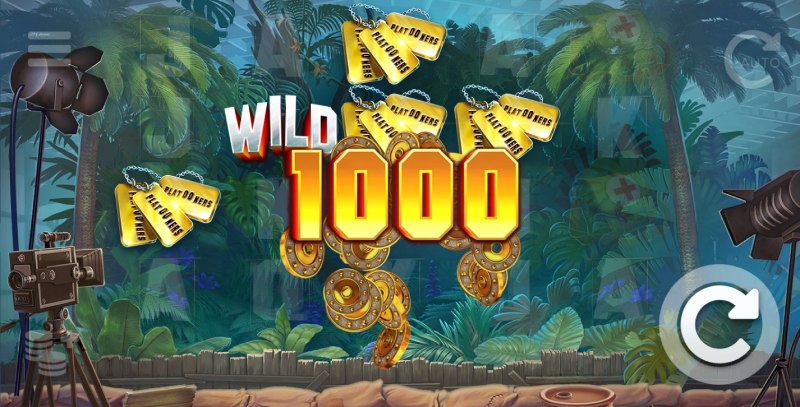 The bonus game is not only good for the player's funds, but it's also very fun to look at. We see all three Platooners at the same time, fighting a flying snake made out of coins. They all fire at the snake which causes the coins to drop down. Getting enough coins will upgrade the bonus game, making it harder to drop coins while increasing the awards. The game can go up to level 3, making the jackpot of max. 2,500x your bet possible.
I thought the features do a good job at making the gameplay interesting and they fit the rather whimsical style of the slot. Players can expect any of the bonus features to appear during the base game, but they don't really come into play until the bonus game is triggered.
Conclusion
Platooners is a great representation of what ELK Studios can create, with a selection of interesting characters with all their own identity and features. The graphics are sharp and detailed, with attention to details. The sound design is also done in a way that adds to the theme of the game.
The features were an interesting element of the slot, even though I would have liked to have seen them a bit more often. Then again, by keeping them a bit more rare I suppose they feel like they make a bigger impact when they do appear.
If players are looking for a fun, colourful slot with a lot of action but something that stays pretty close to the usual slot gameplay, Platooners might be exactly up their alley. People that are more interested in an experimental game that takes some actual risks won't exactly find that here.