Any day of the year can be Oktoberfest – to those who savour the delicious fermented potion of the Egyptian pharaohs.
The game at hand aims to grasp the mood of the biggest beer festival in the world and arrange for cash payouts of up to 500x your bet. I find the three-row, five-reel layout suitable for the theme and I think 20 paylines are just enough to have some fun with it.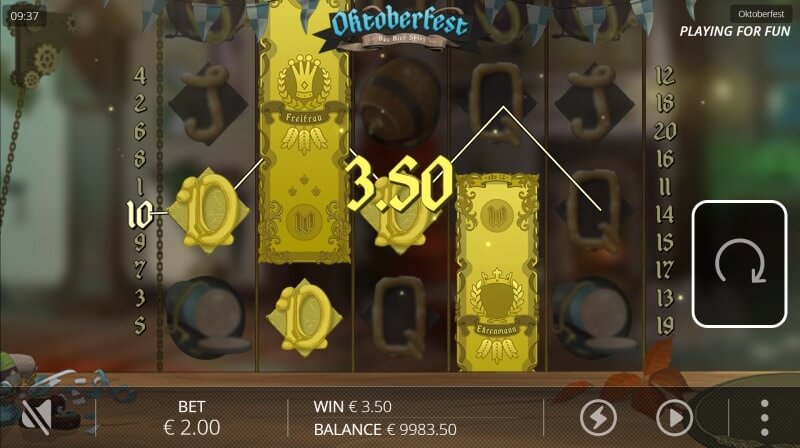 It is pretzels galore in this small-town tavern, that's for sure. The baked goodies standing for the royal cards' symbols tend to dominate the winning outcomes. This doesn't bear down on the gameplay, however, because Oktoberfest comes with several extra features that fit perfectly within the setting.
If you decide to play, you'd be in the company of expanding Wild symbols, symbol stacks, respins, a free spins bonus and win multipliers. Yes, there is a bit of yodelling too, but you'd be surprised at how much fun it is to play this rendition of the seasonal Oktoberfest theme.
Theme and Design
Oktoberfest by Nolimit City has this perfect simplicity but doesn't lack any detail. The background is blurred out to an extent but you can feel a cosy, relaxing environment coming from it. Makes me wonder if this is indeed a tavern or somebody's home with its fireplace and the grandfather clock and all of that.
In the main view is a reel set consisting of many things that you'd find at events across Bavaria in October. I like how the symbols light up and assume a golden finish when they become part of a winning combination. This is but one of many delightful details about the game.
This is the area that makes Oktoberfest a hidden gem in my view. Aside from the toned-down but effective design, the gameplay can get quite engaging. This is no small part due to the frequency of all of the extra features that may pop up into your winning combinations.
The first order of business is the Wilds. To make things more festive, Nolimit City has included not one but four different substitute symbols.
The standard Wild does its usual, the Prost Wild skips reels and the green and purple banners can expand across the entire reel.
The banner-wilds are not named that, but the characters that can emerge from behind are. This feature can take place when both banners post across their respective reel (two & four).
Granted there is a winning outcome (in my experience there always has been), Oktoberfest treats you to some fresh pints of Prost Wilds which move across the table and always finds the right place to form a win.
This is a cute little feature that can give you a notable boost in funds. The Prost Wild can move to multiple locations and deliver a round of winning outcomes on a whole.
Simply said – free spins! You need three pints of Scatter beers to trigger the feature. In return, Oktoberfest grants you ten free spins and win multipliers of up to 5x.
Part of the gameplay is a meter on your right, which counts the number of beers you've downed through the Scatter pints. The more of these symbols land on the reels, the greater the win multiplier becomes.
The game makes it an exciting point to announce the arrival of stacked symbols.
When the spinning of the reels becomes blurry, Oktoberfest will deliver one or more full stacks of matching, high-paying symbols.
Stacks of the keg symbol will be announced as "Cool Kegs" and then laid out across the reel set for the potential win, and so on.
Pretzel Party is the name of the Party Spins feature but in regards to the low-paying pretzel symbols. When the feature comes to bear, all pretzel-shaped card symbols in view become Wilds.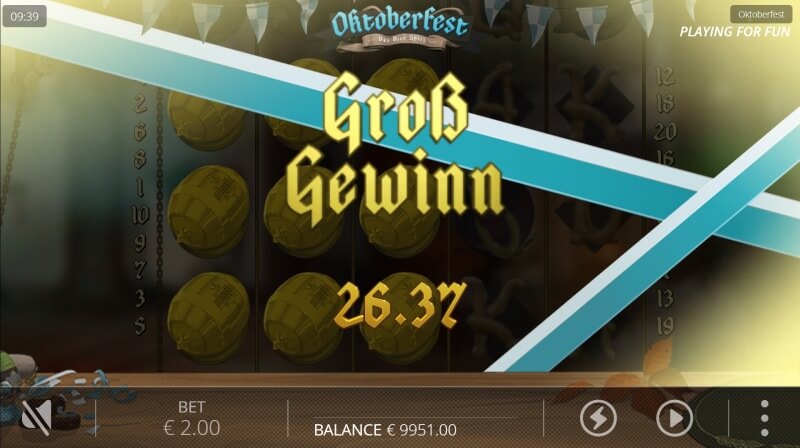 Bets and Payouts
Players can spin the reels of Oktoberfest with as little as 20p per spin.
As per the usual for games of the 3×5 format, you need three, four or five matching symbols to form a win, starting on the leftmost reel.
I can recognize a pattern in terms of the symbol values. It is one that can be seen in older Nolimit City games that have the same payout system across 20 paylines. One example is the Kitchen Drama Sushi Mania slot, which has more or less, a similar paytable structure.
Winning outcomes can range between 5x your payline bet and 80x for the pretzel symbols. I find it quite acceptable that you can win back your full bet starting with the K symbol in four positions.
Although winning outcomes for five of a kind are rare, Oktoberfest offers potential that is notably improved for the low-paying symbol category.
Thanks to the extra features, even the smaller symbols can amount to bigger wins, such as in the event of getting Party Spins or Pretzel Spins.
The full payouts schedule is as follows:
10 card: 5x, 15x, 40x
Jack: 5x, 15x, 50x
Queen: 5x, 15x, 60x
King: 5x, 20x, 70x
Ace: 5x, 20x, 80x
Sausage: 10x, 30x, 100x
Hat: 15x, 30x, 150x
Harmonica: 15x, 40x, 250x
Keg: 15x, 50x, 400x
Trumpet: 20x, 60x, 500x
Wild: 20x, 60x, 500x
Conclusion
Oktoberfest is inconspicuous for what it truly is in terms of gameplay – a simple but engaging game that can trigger four different features in the base game, from any spin.
I've come to find its 500x bet max payout to be modest but realistic. Add to this a positive return to player percentage of 96.75% and you've got a well-rounded game.
True, Oktoberfest has a seasonal twang to it, but really, you can give it a chance any time of the year.