Joker Gems is a sleek cluster payouts game that takes you to outer space for a chance to win one of three large jackpots.
I was impressed by the graphics from the first minute of playing. Joker Gems has an ethereal look and feel that I haven't seen in most of the video slots that are based on the Joker theme.
In terms of gameplay, its main selling point is the three jackpots, which are fixed in size between $10,000, $20,000 and $50,000. Either one can be won from the respins feature.
Every winning combination consisting of three matching and adjacent symbols is followed by a respin. The symbols' values are then collected on aggregate.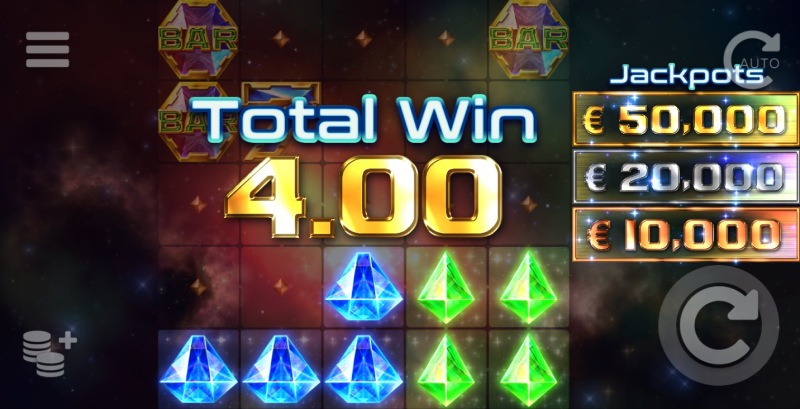 In addition to the payout mechanic, Joker Gems comes with a single extra feature called Light Chaser, which is basically a way to say "Guaranteed Wins" each time it triggers.
ELK Studios has equipped the game with a very lucrative paytable structure which is balanced out by medium volatility and a slim maximum win potential of 700x your bet – not considering the jackpots.
Although I've enjoyed playing it, Joker Gems is one fun but finicky cat and you'll know why by the end of the review.
Theme and Design
By all means, ELK Studios has nailed the design. The game has a pulsating star cloud formation for background and dynamic visual effects unfolding on the reel set. The entire gameplay is teeming with responses on the visual end of things.
Every spin is followed by a raining array of radiant gems, BAR symbols, sevens and the eponymous Joker. I loved the soundtrack. It is a mellowed out smothering of spaced-out sounds that put easily me in laid back mood
The game comes with only one extra feature and the possibility of landing a jackpot prize. You'd normally ascribe the Joker the role of a Wild, but the game doesn't come with any extra symbols.
The only extra feature that's part of the action is
This feature comes on completely at random. What it does is rather simple – creates a cluster of four to five matching symbols for a guaranteed win.
In my experience with Joker Gems, these symbols tend to be on the low end of the paytable – green or orange. This doesn't mean you can't get treated to a bigger payout because 4 to 5 symbol wins range between 1.5x and 30x your bet.
Jackpots
Winning a jackpot is always a statistical possibility but Joker Gems was designed to tease out close calls from the random number generator thanks to the response.
The "light", $10,000 jackpot can trigger if all positions in the inner core are filled with a set of 9 matching symbols.
The medium, $20,000 jackpot is awarded if all positions on the outer perimeter of the reel set are covered by the same symbol.
And the power jackpot, which is valued at an amazing $50,000, is awarded if the entire 20-position grid is filled by the same symbol.
Bets and Payouts
Joker Gems is rather straightforward when it comes to features. Most grid-based video slots come with a cascading or symbol drop payout system but the game at hand uses respins.
This creates room for multiple payouts from a single spin and across different areas of the reel set. You can land a winning outcome consisting of two different symbol kinds, as long as they form a cluster.
Furthermore, the coming respin or respins can add one or more matching symbols to the existing clusters.
In terms of symbol values, Joker Gems has a surprisingly unique payouts structure. The least valuable symbol – the green gem – returns your full bet with only three matching symbols.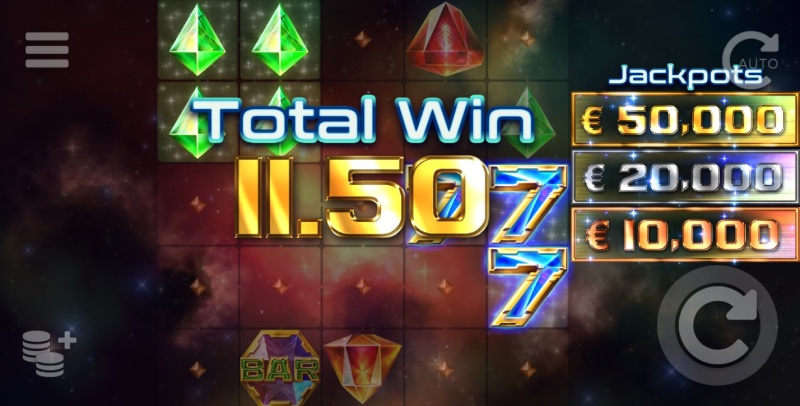 The most valuable symbol – the Joker – pays a whole 15x your bet for three of the same kind. The biggest payouts are made out of 16 symbols on the 20-symbol grid.
In terms of the bet values, the game offers only 12 options, ranging between 20p to 100 dollars per spin.
The symbol values are as follows:
Green gem: 1x – 50x your bet
Orange gem: 1x – 60x
Blue gem: 1.5x – 70x
Red gem: 2x – 100x
BAR: 6x – 300x
Seven: 10x – 500x
Joker: 15x – 700x
Conclusion
I enjoyed playing Joker Gems. The visual mechanic has a good flow to it but what is missing is a greater payout frequency. 16.5% of all spins seems reasonable, but in my opinion, the cluster-based respin system should be able to generate more bangs.
Other than that, the volatility level is medium and the single spin exposure is 700x your bet if you land 16 Joker symbols in a cluster.
On a more positive note, even 20p, 40p and 80p spins can result in decent payouts – that is, when Joker Gems decides to go on a respin frenzy. I can recommend the game to any casino player. There is indeed something unique about it.