Imperial Opera combines everything we love about Asian traditions. Play 'n Go's slot game celebrates the beautiful and artistic side of Asian culture.
Aesthetics, paired with imperial arts, royal characters such as princesses, emperors, and scholars are all part of this graphics intense 3D Slot.
This game is set in a colourful Asian-themed opera house, which will surely catch your attention. Playing it provides you with some kind of mysterious atmosphere, something like a royal drama that is performing right before your eyes.
Each character of this 5-reel and 20-payline slot game, provides you with different payouts, which I will discuss in detail below.
Another reason why I liked it, is the background music, as too many slots just have this hectic and hammering sounds, which can make you feel pretty uncomfortable at times. This game is different. The music is calm and relaxed.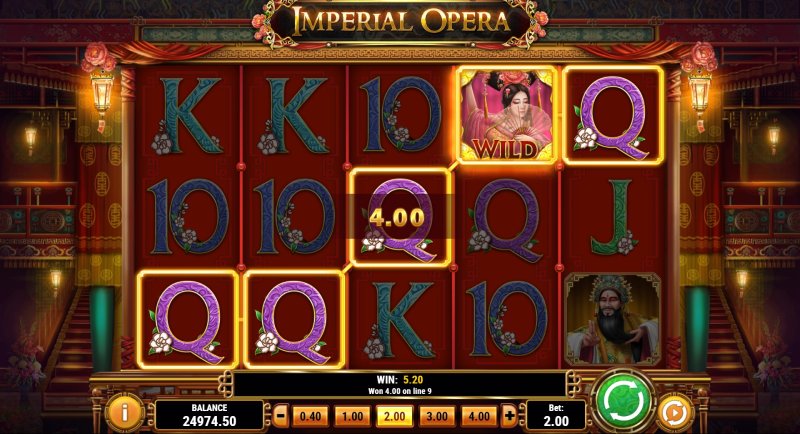 Symbols and Features
There is more to the impressive graphics and sound effects, and that's the paytable providing cash even for a 2-of-a-kind win. Here you will get more than just a few bonus features. I especially enjoyed free spins, 3×3 symbols, stacks of wilds, and synchronising reels.
But here comes the downside. You won't get any bonus game, random bonus or progressive bonus. Multipliers are lacking as well. Let's focus on the good things. The minimum stake of the game is 0.2 credits, meaning a 0.01 line bet per 20 pay lines.
The highest line bet I could do was 5 credits, which cost me 100 credits for each round. Want a big prize? Go and collect at least 2 of the princess wild symbols, as this symbol will pay you at 5x your line bet for 2-of-a-kind wins and ends at 500x the line bet for 5 of her symbols in one line.
There are, of course, other picture symbols, which give you payouts for 2-symbol combinations, but I got much smaller wins from them. If you want to go big, hit that princess!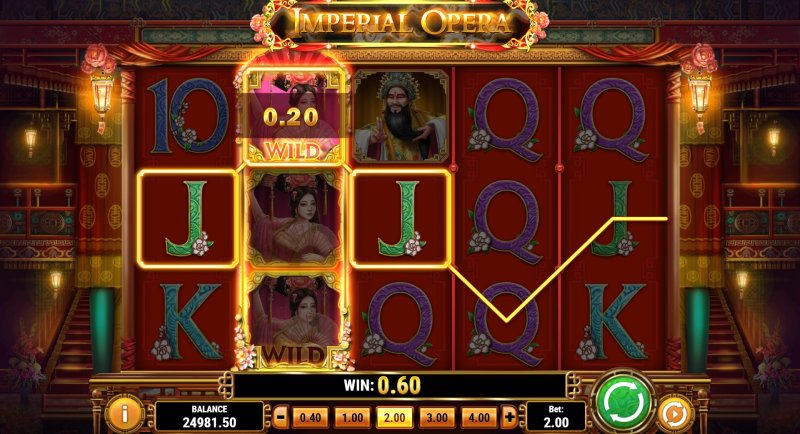 But the real strength of this slot lies in the randomly activated bonus features. You can get 4 in total:
The Crescendo: This bonus feature randomly chooses either 1 or 2 reels to turn them into stacks of wild symbols.
The Showcase: It will randomly choose 1 symbol from your screen to turn into a stacked reel.
Mega symbols: This will transform any character symbol into a large 3×3 symbol.
The Harmony: The final feature chooses 2 or 3 adjacent reels and synchronises them in order to display the same symbols.
There is also a free spins bonus round which is triggered by the harmony feature. Once triggered, you can enjoy 10 free spins.
During the free spins round, you will also notice that reels 2, 3, and 4 are always synchronised to show the same symbol.
I also want to mention that the above showcase feature is also active during the free spins, in order to bring you stacks of randomly chosen symbols, notably at reels 1 and 5. But the best thing about these free spins round is, that if you collect another 3×3 scatter symbol, it will trigger another free spin round!
What's the biggest win you can cash from this Asian-themed Slot? That will be 2500x your bet. And if you decide to play with the max bet, that means a whopping $250.000 into your pocket!
My conclusion
Is the market for Asian-themed games already saturated? Well, that depends on your slot-preferences, but if you are looking for a visually pleasing slot with matching background music, Play´n GO's Imperial Opera might just be what you are looking for.
Certainly, there are plenty of average Asian-style slots on the market, some good some bad, but I'd definitely rank it as a rather exciting one, as with each spin you can enjoy big payouts.
Let's summarise the pros and cons. On the positive side, we have a good number of different features, plenty of well-paying symbols, and a neat free spins round. I could also find plenty of scatters, stacked wilds, and colossal symbols that will positively jump right into your face once they appear. The freebies of this game are almost infinite and the auto- and quickplay function comes in handy.
On the downside, you get no re-spins, no multipliers, no bonus game, and since it´s a high volatility slot, you might need a larger bankroll, and play it for longer.
Are you looking for an alternative? Try Cats and Cash or Cops´n Robbers if you are looking for a medium volatility slot.