Take a trip down memory lane and try out a traditional British fruit machine. Hit it Hard is just like the pub classics.
ELK Studios took a big jump backwards in time to the golden 90s. Hit it Hard was released in January of 2020 and it is a perfect representation of a classic fruit machine. Oh, and not one of those Vegas-styled simple things, but a proper British machine.
The game is made to look exactly like a real mechanical machine down to the last detail. You know it's a good game when the bonus game takes up more than half of the entire screen and looks confusing as hell. If you haven't played one of these machines before, then you might be in for a little shock.
Just like a game like this should, Hit it Hard has high volatility and big swings. The bonus game can be over in a second or last for a good five minutes.
Graphics and sound
ELK Studios succeeded in making a realistic fruit machine. Even the smallest details are done correctly, like the light reflecting from the plastic that covers the reels. Sure, you can say what you will about the theme of the slot, but at least it looks like an actual mechanical machine.
If you aren't familiar with these types of machines, then the game might look a bit confusing at first. The easy way to think about these games is that there are two separate parts in it. You start by playing the bottom half and when you activate the bonus feature, you start looking at the top half.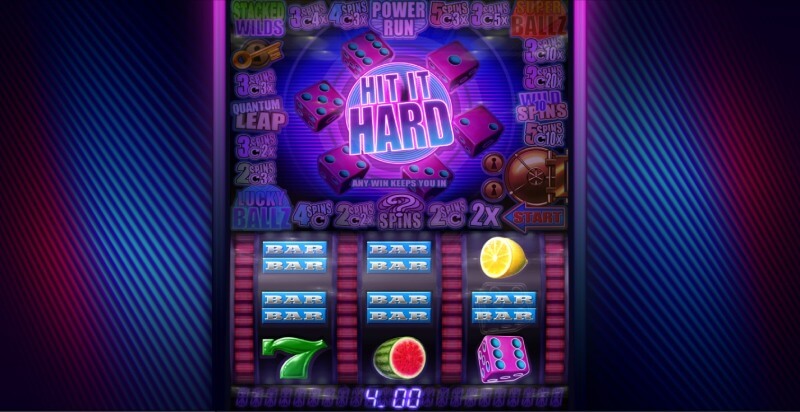 The theme of Hit it Hard is simply the 90s and neon lights. I'm not joking here, that's the game's actual theme. This isn't anything like Neon Staxx, but it does remind of some quiz shows that were on during the 90s.
The machine sounds just like the fruit machines of old. It's loud, it beeps a lot and the reels make that delightful clank when they stop. The music sounds like some 90s TV theme song, which is fine. It's nothing spectacular and it's not really the kind of a song that you associate with the whole pub environment you usually play these games in.
Symbols and wins
Hit it Hard is a classic slot with all the classic symbols. The game has three different coloured sevens, three BARs, a watermelon, a lemon, cherries and a whole bunch of wilds.
The game has three reels and three rows, and only five paylines. You always need to get three of the same symbol on a payline to win. The game is just that easy to play, even if it might look difficult.
It gets a bit more complicated when the Bonus Game feature activates. Then you just need to look up and start to play on the top half of the screen. You roll a die, move that many spaces and get the feature you land on. If you win anything, you get to do it again and again.
What does surprise me, is how balanced the base game is. Hit it Hard has high volatility, but you can win decent sums with the multiplier wilds. Even the paytable looks good and it's not just compensating for the multipliers.
That being said, the best thing you can do is try to activate the Bonus Game feature. It is a high-risk mode, but it has the biggest potential.
Features
Wild Respins: Wilds can give you a second try
The third reel is packed with wilds and they even have multipliers on them. If you get one of these on a reel but it's not part of a winning combination, then you get to try again. The last reel will lock into place and the rest will spin for free.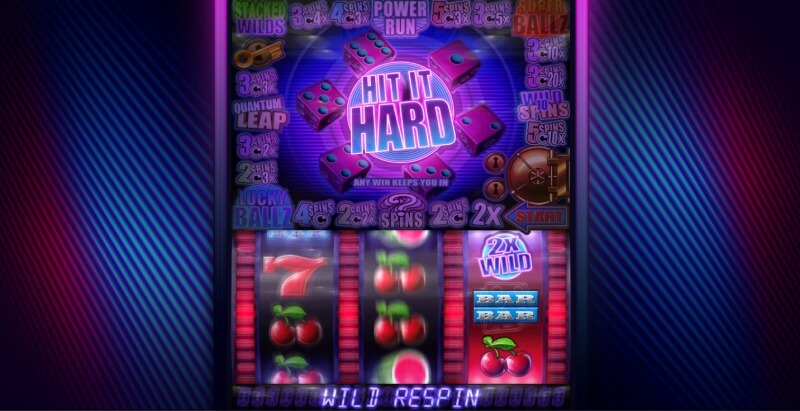 Bonus Game: Travel onwards and win more and more prizes
When the bonus dice lands in the middle of the last reel, the bonus game begins. During the bonus game, the dice symbol changes to a 10x wild as the game can't be reactivated.
First, you get to roll the dice to see how far you'll go. You move along the path clockwise and activate the feature you land on. The game will continue if you win anything from that feature. Then you just roll again and move to where the dice tells you to go.
Hit it Hard has the following features in the bonus game:
Spins & Multipliers: You get that amount of spins, a single spin with a multiplier or spins with a multiplier.
10 Wild Spins: You get 10 free spins with a guaranteed wild on the last reel.
Stacked Wilds: You get to spin with stacked wilds. First, the stack is on reel 2, then on reel 3 and finally on both of them.
Lucky Ballz & Super Ballz: Play a quick minigame of Pachinko. Both of them have a guaranteed win.
Power Run: You get every feature that you walked over with your last roll of the dice.
Quantum Leap: Jump to a different location on the board.
Break the Bank: Collect 2 keys and then land on the Vault to collect the MAXIMUM WIN.
Final Thoughts
Hit it Hard is a bit divisive game, just like most of the classic fruit machines. If you don't have a nostalgic connection to them, then you are less likely to give them a shot. I would advise keeping an open mind, as they can be surprisingly interesting.
ELK did a great job in making a game that actually looks like a real machine. It doesn't feel like a digital representation, but rather a proper machine. I like all the little extra detail work they put in to make it feel just right. Like the little nudge that a locked reel makes when the other reels start to spin is unnecessary, but it's just what a real machine would do.
The game itself is fun, but it all boils down to how often you get to activate the bonus game. Even that isn't yet a guarantee, but a good start. The multipliers can make the base game a bit more interesting, but a long walk round in the bonus game is your ticket to big wins.
If I had access to games like this back in the day when I still played with real machines, I would have absolutely loved this.