Just when you are thinking, oh great, another generic fruit slot called Fruit Bonanza, the game loads and lets you know that it comes with four instant jackpot prizes. That's not a bad start at all, especially for a game that comes from Play'n GO who rarely fail to make a lively game, regardless of the theme.
Fruit Bonanza is about five reels and three rows that serve the type of symbols that have 'Classic' written all across. Players will find a set of delicious delights and few other symbols that comprise the game's classical element.
I spun the reels more than just a few dozen times and little did I know, the game mechanic is just as classical as the fruits on the paytable. Spinning the reels reminds of a machine with actual reels, so I think it's somewhat impressive that Play'n GO has managed to grasp the look and feel of those casino games.
Few quick things I've discovered that had me onboard Fruit Bonanza right at the start are: few symbols can make payouts for two of a kind and so can the scatter; the most valuable symbol can trigger either one of the four jackpot prizes, and symbol payouts are rather juicy. The above makes for the kind of circumstances that has me interested in what may unfold.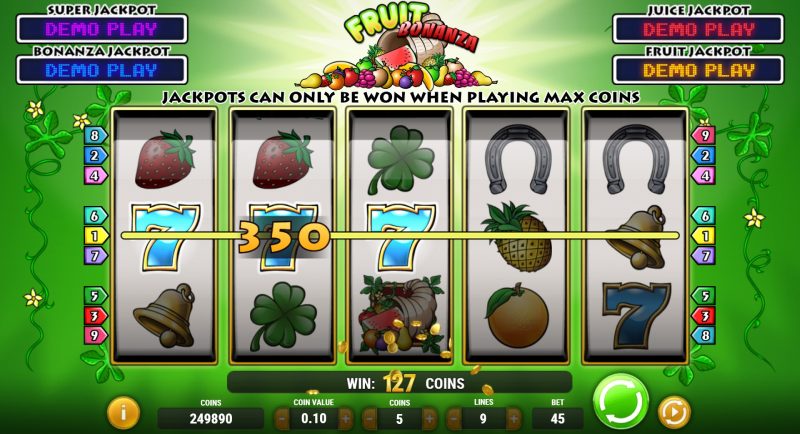 Theme and Graphics
Even though half of the game's symbols are clover, horseshoe, bell and a blue number, you kind of recognize these games as 'pokies' or fruit slots. In that regard, Fruit Bonanza doesn't have any features that can substantially distinguish from the scores of similar slots.
The only moving parts are the reels and the blinking lights that surround a reel when it is close to bringing about a potential payout. Since not much describing is necessary to explain how simple the game is, I can just suggest that players may turn to it precisely because of that.
But when it comes to the potential payouts, the verdict is as decisive as the last penalty kick of a high-stakes football game: Fruit Bonanza packs a good payout potential in addition to offering the possibility of winning a jackpot prize.
Features
Play'n GO have made this a base game-only reel adventure. Even though there is a scatter symbol, it doesn't trigger a bonus feature. On the other hand, landing two, three, four or five symbols anywhere on the reels, results in payouts of 2x, 5x, 20x and 400x your bet.Maybe two and three scatter symbols won't do much for the balance, but four and five can most definitely extend the play or enable a brief ante-up for a number of spins.
The other 'special' symbol is special indeed as it can trigger either one of the instant jackpots. The ram's horn filled with fruits is the bonus symbol, called Horn of Plenty. Players can land the Fruit, Juice and Bonanza jackpots for three, four or five matching symbols on a payline.
The only caveat about the bonus/jackpot symbol is can only pay jackpot prizes if the player has the maximum number of coins or levels per bet, which is five. That means, the bets are more expensive, or precisely, the coin value extrapolated across the number of paylines, times the number of coin levels.
Players don't have to have the Coins setting on max and still play for a chance to land a big win. Fruit Bonanza doesn't diminish the chances for that as the prizes for the bonus symbol are still decent to big: three, four and five symbols trigger a prize of 50x, 500x and 5000x your bet staked per line.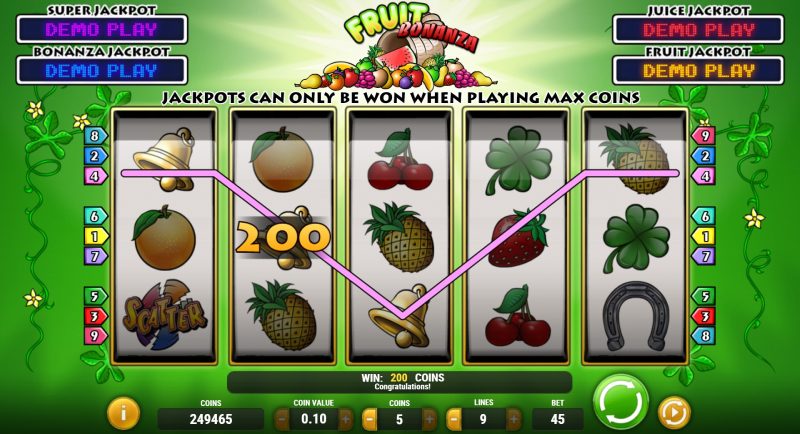 Bets and Payouts
Those who are interested in embarking on a jackpot safari can take the Fruit Bonanza way. The game has a set of lucrative seed amounts, but playing for the Super, progressive jackpot doesn't come cheap.
To enable any of the jackpot prizes to trigger you have to have the Coins level at 5, which puts the amount of the bet at 50p if you are fine playing on one payline, or 2.50 if you play on five active paylines, and so on.
The jackpots occur as follows: three, four or five jackpot symbols can land on any of the paylines, from left to right, to trigger the Fruit, Juice and Bonanza jackpots. The Super Jackpot, however, is paid for five symbols on the ninth payline, which puts the bet at $4.50 per spin.
Jackpot seed prizes are as follows:
Fruit Jackpot – 25.00 EUR Juice Jackpot – 250.00 EUR Bonanza Jackpot – 2500.00 EUR Super Jackpot – 25000.00 EUR
Even if you've resigned to the fact that the odds of landing the top jackpot are very thin, Fruit Bonanza can still be fun to play and potentially rewarding because the paytable is decorated by a number of hefty prizes.
For example, wins of three matching symbols range between 10x and 70x your payline bet amount; wins of four can pay between 50x and 350x and the optimal payouts of five of a kind can pay from as little as 500x to as much 5000x your payline bet.
Conclusion
There is one striking fact about Fruit Bonanza that may either draw you to the game or have you turn to the next game: the cost of the bet. If you are to play for a chance to win either one of the jackpot prizes, it is most likely that you wouldn't be playing on just a single payline, so the bet will be at a cost that is heavier than usual.
I played five paylines at the fifth level, which enables three of the jackpots to trigger, in order to feel the thrill of hitting the Bonanza pot. But that lasted about a dozen spins as I realized how expensive it can get if I carry on.
My conclusion is, Fruit Bonanza is fun to play and is worth its coin, but considering it was released in 2012 I find it likely that there are fewer players on it. This can only mean that the progressive jackpot can't possibly soar to a staggering amount such as in any of the popular progressive slots like Mega Moolah, Arabian Riches, Major Millions and so on.
Is the game worth it to play for the regular paytable prizes? I don't know, you may as well try another game with a theoretical RTP greater than 95.68%.