Coins of Fortune gives the "Imperial China" theme a twist it needs – by taking it to Hong Kong for a game with a max win potential of 6,015x bet.
The game puts you in charge of dragons and circular symbols which strive to make ideal alignments on a reel set of 3×5 and 20 paylines.
For starters, I like the theme. It is a bit unusual coming from Nolimit City, which tends to go for edgy premises (Punk Rocker, Fire in the Hole, etc.), but it feels exciting nevertheless.
I've had the chance to witness its three features at work. They can click together for a simple but fulfilling reel adventure whose big-win outcomes depend a lot on the Wild symbols.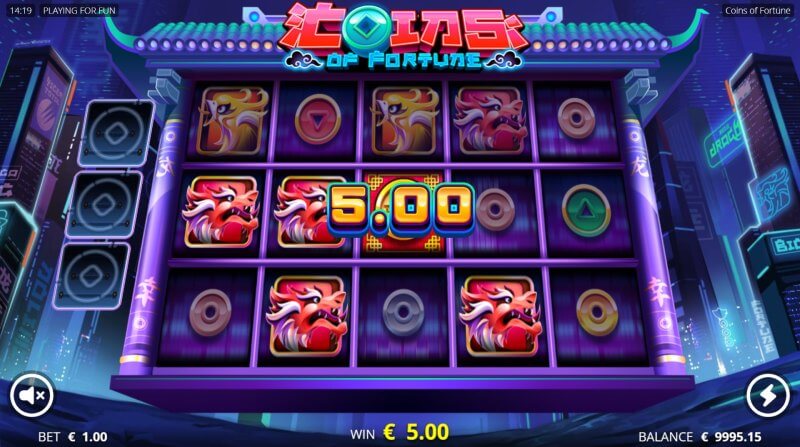 There are two different Wilds. One is a stacked dragon symbol that comes into play during the Dragon Nudge feature. An additional Respin feature stands in place for a classical free spins bonus and involves "walking Wilds".
In my experience with Coins of Fortune, these features were enough to get good fun out of the game and some decent winnings. I also consider it positive that Nolimit City gave the game moderate volatility. This lets you get a test of fairly frequent winning combinations, with a chance for the occasional big win.
Theme and Design
The reel set of Coins of Fortune has been enshrined in a traditional Chinese pagoda, but the setting is a sprawling, futuristic metropolis which I take to be Hong Kong.
In this regard, Coins of Fortune reminds me of Shogun of Time by Just For The Win. Both games have a Far East look and feel and are set in a technologically advanced era.
All of the elements that are part of the reel set and the background have a neon-purple finish. The game is visually pleasing as-is, but add to the package some cool visual and audio effects and you have a near-perfect online slot.
I said at the start that there are two Wilds and they can both stand in as substitute symbols.
The red Wild symbol acts as scatter and tends to appear on the reel set at a greater frequency.
The Dragon Wild always comes expanded on the reels and acts as a nudging Wild when the right conditions are met i.e. the Dragon Nudge feature.
Getting three matching symbols on the same reel awards you the Nudging Wild symbol. The concerned symbols get a Dragon Wild overlay and start to nudge down until the Dragon exits the screen.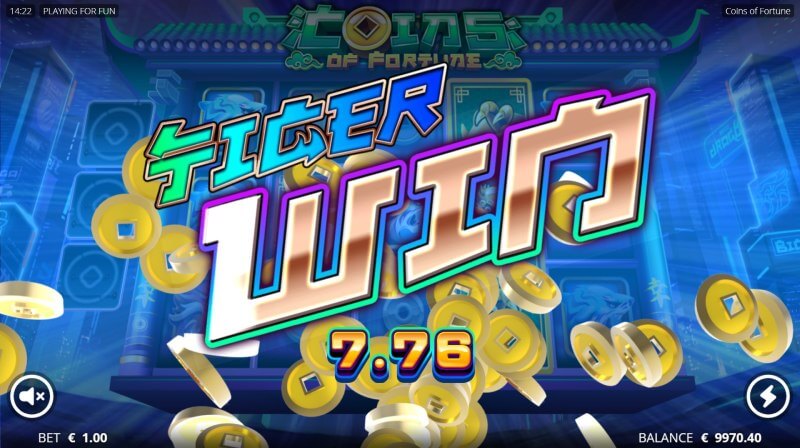 Essentially, this gives you the benefit of having a Wild symbol on the reel set for more than one turn. The kicker arrives with additional symbol stacks resulting in a Dragon Wild conversion. This means more nudges and better odds to clock those wins.
Three Scatter/Wild symbols can trigger a respin bonus with "Walking Wilds" and win multipliers.
Essentially, this is the feature that can generate big payouts, but getting good outcomes depends on where the Wilds land.
Ideally, you will get one or more Wilds on reel five and four because this enables the substitute symbol to 'walk' towards the left, improving the odds of impacting incoming winning outcomes.
The other feature that can make the main bonus exciting is the presence of the Scatter/Wild symbol. This is the key to giving your potential wins a boost as every third scatter on the meter adds 1+ to the value of the win multiplier.
Bets and Payouts
Coins of Fortune has a paytable that I can recognize as unique thanks to its payouts structure.
It strikes me as amazing that any symbol kind landing on the reel set in fours can pay 1.25x your bet or more. This is quite rare, as the value of low symbols tends to reach under the amount of your bet.
All of this is super-positive, but I have to reflect on a detail that becomes obvious as you get into the game: there are too many low-paying symbols. To be fair, the circles are both low and medium on the value scale, but there are six of these, versus four high-paying dragons.
The positive thing is that Coins of Fortune can make the payouts jump from 0.25x to 6x your bet, which again, is something you don't see too often.
The full paytable structure:
Copper coin: 0.25x, 1.25x, 5x
Silver coin: 0.25x, 1.25x, 5x
Gold coin: 0.25x, 1.25x, 5x
Green coin: 0.4x, 1.5x, 6.25
Blue coin: 0.4x, 1.5x, 6.25
Red coin: 0.4x, 1.5x, 6.25
Green dragon: 0.5x, 2.5, 10x
Blue dragon: 0.6x, 3x, 15x
Yellow dragon: 0.75x, 3.5x, 20x
Red dragon: 1x, 4x, 25x
Conclusion
I like Coins of Fortune for being an a-typical slot game. Despite the familiarity of the theme and the conventional reel set, there is something about the gameplay that sets it apart from your average online slot.
I think part of this is due to the mathematical model which is carefully situated off the middle. This can translate into a hit rate of one in four – quite decent in my opinion. Overall, it's a game that you'd be curious to try. Not so much for the graphics but for the sheer excitement of getting multiple Walking Wilds and stacked dragons.
Pros
Unique and exciting theme that combines traditional Chinese elements with a futuristic Hong Kong setting.
Multiple features including Dragon Nudge and Lucky Respin that can lead to big wins.
Moderately volatile gameplay that offers a balance of frequent wins and occasional big payouts.
Paytable structure that allows for decent payouts even with low-value symbols.
Cons
Too many low-paying symbols on the reels, which can make it difficult to hit big wins.
The game does not offer a progressive jackpot feature.