Chibeasties 2 explores the mythical life of the Chibeasties, using special crystals to switch between worlds and bonuses. As a big fan of the original Chibeasties, I was excited to revisit that world!
The name Chibeasties applies to the special race of creatures that fill this Yggdrasil slot. They are ridiculously cute with big eyes and chubby limbs. Chibeasties 2 came out in 2018 and is obviously the second game that incorporates these sweet little animals. With 5 reels and 20-paylines it promises a satisfying classic experience.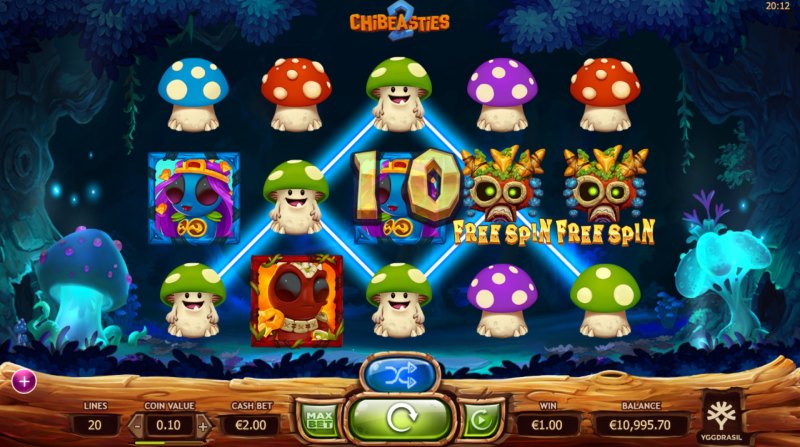 In many ways, this slot is simply an improved version of the first game. The graphics are better, the soundtrack sounds nicer and there are more features. It also means that if you are a fan of the original slot like me, you'll more than likely enjoy the sequel!
Starting up the game I was treated with a beautiful intro, showing off the core idea of the game. Both the Chibeasties and I can freely switch between different worlds. Depending on the world the Wild mechanics changed, from Expanding Wilds to Random Wilds and more.
Putting Chibeasties and Chibeasties 2 next to each other it's easy to tell the massive graphical improvements that were made. While the original game looks pretty flat and simple, Chibeasties 2 has beautifully detailed graphics. From the subtly animated background to the different symbols, everything looks lush and crisp.
Chibeasties 2 also has a new soundtrack, a suiting mythical ambience that plays in the background while wins evoke a short ramping up victory tune. If one of the Chibeasties is on the winning payline they let out a quick satisfying hum or cheer. I found myself regularly smiling at the cute sounds these animals make.
Symbols
Yggdrasil pulled out all the stops when it designed Chibeasties 2 and it shows in the symbols they use. Each of them is easily distinguishable and comes with little animations.
From highest to lowest they are:
Freespins: Max. 30 free spins with five-of-a-kind on the playing field.
Red Chibeasty: Max. 250 coins with five-of-a-kind on a payline.
Purple Chibeasty: Max. 225 coins with five-of-a-kind on a payline.
Blue Chibeasty: Max. 200 coins with five-of-a-kind on a payline.
Green Chibeasty: Max. 175 coins with five-of-a-kind on a payline.
Red Mushroom: Max. 75 coins with five-of-a-kind on a payline.
Purple Mushroom: Max. 70 coins with five-of-a-kind on a payline.
Blue Mushroom: Max. 65 coins with five-of-a-kind on a payline.
Green Mushroom: Max. 60 coins with five-of-a-kind on a payline.
Wild: Wilds substitute all other symbols in the game except Free Spins but have no value on their own.
One fun thing that I noticed is that when any mushrooms are on a payline they come to life. Apparently, in the Chibeasties world, the Mushrooms are animals too! It's this kind of detail that always draws me into a game the most.
Features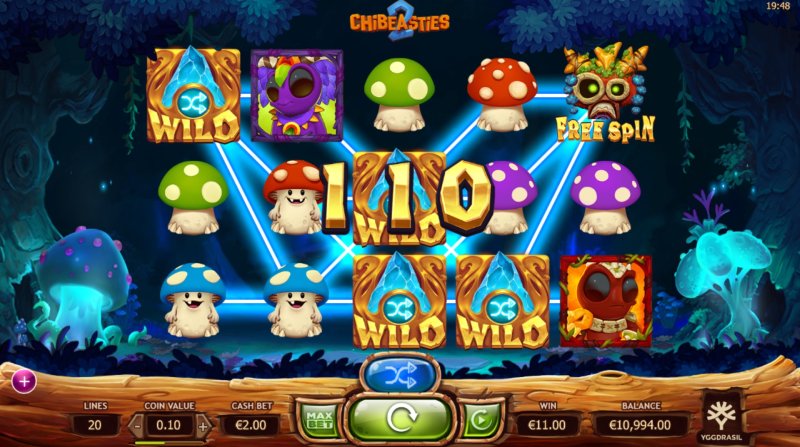 Free Spins: Occasionally a Free Spin symbol will appear on the screen. If there are 3 or more anywhere on the screen this triggers the Free Spins mode. It's possible to retrigger Free Spins, meaning it can happen more Free Spins are added during the Free Spins mode.
Wilds: Often Wilds will appear on the screen. These substitute all other symbols except Free Spins. How they act depends on which world you are playing in.
Combo Wilds: Regardless of which world the Chibeasties are in, the Wilds have a chance to mutate into Combo Wilds. When this happens all Wilds are expanded to fill the reel they are on after the initial payout, and any new wins are added to the payout.
So far so good, but as I mentioned before the player can freely switch between 4 different worlds in Chibeasties 2. Each world massively affects the way the Wilds work:
Expanding Wilds (Red): In this world the Wilds expand when they appear, filling the reel they are on.
Teleporting Wilds (Green): In the green world, the Wilds will teleport themselves to maximize a win. They each only teleport once!
Spreading Wilds (Blue): Wilds in this world will spawn between 1 and 4 extra Wilds randomly on the screen.
Mirroring Wilds (Purple): When a Wild appears on the screen in the purple world, the screen gets divided into quarters and another Wild will appear opposite the original Wild.
It became a challenge for me to try and find which world helped the most in getting big wins. Honestly, they all seemed to even out pretty closely, each having their advantages. I liked this concept because it lets players experiment with what works best without making things too complicated. After trying each world and its Wilds I understood how they worked.
Conclusion
Chibeasties 2 is a worthy sequel to the original, improving the game in substantial ways without making it a completely new experience. They kept the animal design similar and made them even cuter!
The game let me set my bets between $0.20 and $100 per spin. Coupled with its Medium Volatility and a maximum win of 900x the bet it is a slot that offers a steady stream of reasonable wins with the occasional outlier.
The Wilds show up regularly and the ability to choose what type of Wilds they are was really fun. I would switch between worlds and Wilds every couple of spins to make sure that I was maximizing my wins.
I found Chibeasties 2 to be an excellent example of a sequel done right. It kept the original theme and setting that I liked so much intact while adding some welcome changes and additions. The graphics especially are amazing. Here's hoping for a Chibeasties 3!