Atlantis Megaways is a brand-new Yggdrasil slot that dives deep into the ocean where Poseidon rules the sunken city of Atlantis with an iron fist. Cascading Reels, Re-Spins, and a lot of sea animals are going to either keep us from or help us find its hidden treasures.
Developed by the veteran studio and released in 2020, Atlantis Megaways seems to be a sign of the new direction that Yggdrasil has taken with their slots. While their older games feature a lot of animations, an intricate intro, and a number of original characters, Atlantis Megaways feels like a simpler, more direct slot. The game instantly drops you into the 6-reel playing field with a varying number of rows per slot and immediately lets you get started.
Because the number of rows per slot can change a lot, the game potentially has between 64 and 117,649 win lines that players can win on. Players don't require the same symbol to appear on a literal win line; it just has to appear on consecutive reels from left to right to count as a win. The symbols that are put in this game relate to the Atlantis theme, from different fishes and Poseidon himself to card letters that are wrapped in seaweed and coral.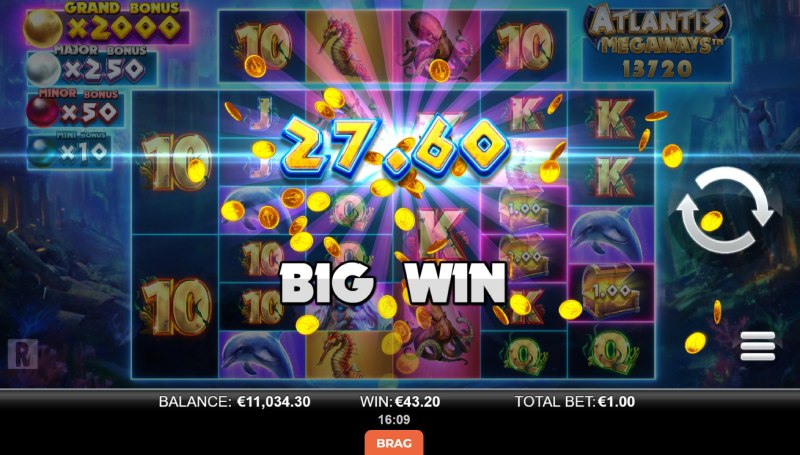 Atlantis Megaways Highlights
Max. win: The maximum win of Atlantis Megaways is 8641 x your bet.
Max. lines: The 117,649 paylines result in more possible winning combinations.
Re-spins: Re-spins make the reels spin again without having to place an additional bet.
Cascading reels: Cascading reels explode the winning symbols and drop down more to fill the gaps.
Wilds: Wilds substitute any standard symbol and help create more winning combinations.
Symbols
The symbols in Atlantis Megaways look good and are easily distinguishable. There are quite a few of them, which is part of the reason the game ends up with high volatility. The game doesn't allow as much flexibility when picking a bet as other slots, with players being able to pick between $0.20 and $25 per spin. Meanwhile, players have a shot at a max. win of 8,641x their bet, which is pretty big compared to other slots.
The symbols include:
Scatter: Get 6 or more Scatter symbols on the screen to activate the Jackpot Respins.
Wild: Wilds substitute all other symbols in the game except the Scatter.
Poseidon: Max. 100x your bet with six-of-a-kind on a winning payline.
Dolphin: Max. 5x your bet with six-of-a-kind on a winning payline.
Octopus: Max. 2.5x your bet with six-of-a-kind on a winning payline.
Seahorse: Max. 2x your bet with six-of-a-kind on a winning payline.
Fish: Max. 1.2x your bet with six-of-a-kind on a winning payline.
Ace: Max. 1x your bet with six-of-a-kind on a winning payline.
King: Max. 0.9x your bet with six-of-a-kind on a winning payline.
Queen: Max. 0.7x your bet with six-of-a-kind on a winning payline.
Jack: Max. 0.6x your bet with six-of-a-kind on a winning payline.
10: Max. 0.5x your bet with six-of-a-kind on a winning payline.
Features
Atlantis Megaways has a few different features, but the varying size of the playing field is the biggest draw and also the biggest factor while playing. The total features include:
Non-Standard Reels: The game has 6 reels every spin, but every reel can have between 2 and 7 rows. This changes with every spin.
Cascading Reels: Whenever there is a win, the tiles involved disappear and make room for new symbols.
Wilds: Wilds substitute all other symbols except the Bonus symbol.
Re-Spins: Get 6 or more Bonus Symbols to activate the Re-Spins feature, replacing the symbols with jackpot chests.
Jackpots: Get chests with coin wins. Different jackpots have different multipliers that apply to the final count.
Almost the entire game takes place in the base game since the re-spin mode is extremely difficult to reach. Although it requires 6 Scatter symbols, given the maximum number of reels and rows that the game might have, the playing field will usually be smaller, making it a lot more unlikely that the game will have any more than 1 or 2 Scatter Symbols on the screen at a time.
The idea that every reel has a varying size is a pretty fun concept, but I found it rather confusing to see and it took my brain a while to catch up. It's possible for reel 1 to have 2 rows while the next reel has 7, then back to 2, then 3, etc. It means that some reels only have a few symbols while the next might have all of them.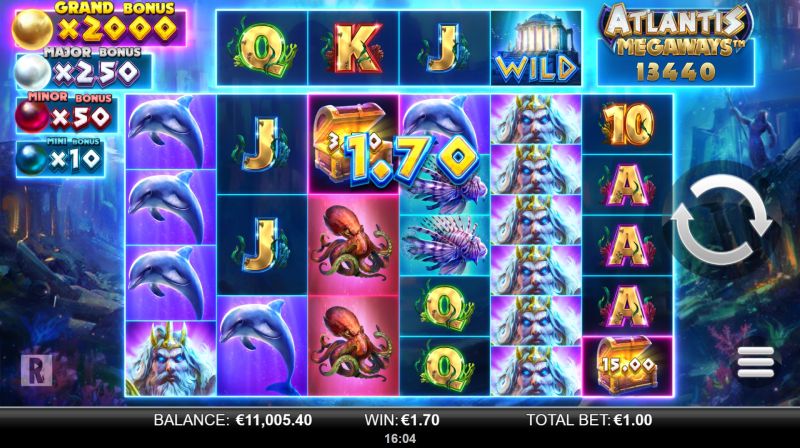 It's theoretically possible to get easier wins that way: if the first reel only has 1 or 2 symbols but the next has all of them, that will help in creating a winning payline. The problem is that it almost never worked out this way, and even when it did, the payouts were meager. I found myself steadily losing coins as I played without even betting very high.
The Wilds only appear on the top row, but they did help with creating wins now and then. Something to mention is the separate row at the top of the screen, which is showing you which symbols will be added to the screen with the cascading reels feature. It's pretty pointless, but I suppose it might come in handy occasionally.
All in all, I found the features to be rather messy and only add a limited amount of gameplay to the actual slot. The game feels like it's overly complicated without actually offering a benefit to the player. I never felt like any of the features were really helping me get a big win, and with the high volatility and low payouts, this feeling was further amplified.
Conclusion
Atlantis Megaways feels like a slot developed by someone other than Yggdrasil. While their older slots often seeped in style and details, this game feels rather bland and simple. The only thing to set it apart were the features, but these were difficult to understand and come across as feeling unnecessary.
The jackpots aren't really jackpots by themselves but different sized multipliers that can be applied to the coins you gathered during the re-spins mode. This means even the largest, 2,000x your bet jackpot might only be applied to a tiny coin win. I doubt that would feel good for the person winning it.