7 Sins slot introduces the famous sisters of the seven deadly sins. Or maybe you already know one or two of them? These lovely ladies are here to make you forget all that's pure and innocent and invite you to play. In 2016, Play 'n GO released a slot that definitely made some eyebrows go high up. 7 Sins is a game filled with sexy women and suggestive music, so it might be worth checking out – even if just for the theme. After all, this is one of the very few slot games where you can enable "Sinful mode" for a bit more fun.
The slot has 243 paylines, and collecting golden boxes can trigger either a second chance or free spins. For a high volatile game, 7 Sins has a bit low maximum win, but the RTP is pretty good. The game is also available for mobile so that you can enjoy some sinful pleasures on the go.
Graphics and sound
Nice players should avoid 7 Sins. It oozes sexiness and erotic vibes – and it spares no one. The background glows in a lustful red and surrounds the beautiful sins. The low-value symbols are suits and a bit dull. However, the high-value symbols present the seven sisters, each as charming as the others.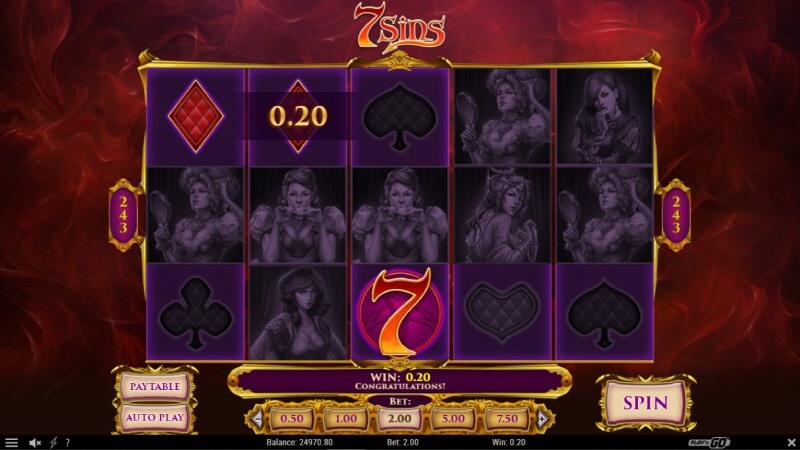 The background music is something that one could picture playing inside a medieval bedroom with red and heavy drapes, candles, and silk sheets. The music is accompanied by echoing sounds of reels and buttons, and with a big win, you can hear a woman moaning. For me, this moan got tiring after hearing it a few dozen times. Too bad the game doesn't let you mute only the effect sounds.
7 Sins Highlights
Multiplier: In 7 Sins, the winnings can be multiplied by different multiplier mechanisms.
Stacked symbols: In 7 Sins, the symbols come in tall stacks.
Freespins: You can get in-game free spins in 7 Sins.
Wilds: Wilds substitute any standard symbol and help create more winning combinations.
Volatility: This high volatility slot has big, less frequent wins.
Symbols and wins
7 Sins has five reels, three rows, and 243 paylines going from left to right. This means that the symbol's location on the reel doesn't matter. As long as the chain of identical symbols starts from the leftmost reel and continues at least to the third reel without gaps, it pays wins.
High-paying symbols:
7 x Greed pay 250x your bet
7 x Lust pay 225x your bet
7 x Wrath pay 200x your bet
7 x Gluttony pay 175x your bet
7 x Envy pay 150x your bet
7 x Sloth pay 125x your bet
7 x Pride pay 100x your bet
Low-paying symbols:
7 x spades pay 35x your bet
7 x hearts pay 30x your bet
7 x clubs pay 25x your bet
7 x diamonds pay 20x your bet
Special symbols:
Wild and Double Wild: Substitute all other symbols except Scatter. The Double Wild is seen as a pair of Wilds on a row.
Golden box / Scatter: Triggers either Second chance or free spins.
Features
Sinful mode: Activate the Sinful mode from the options for a tad sexier game.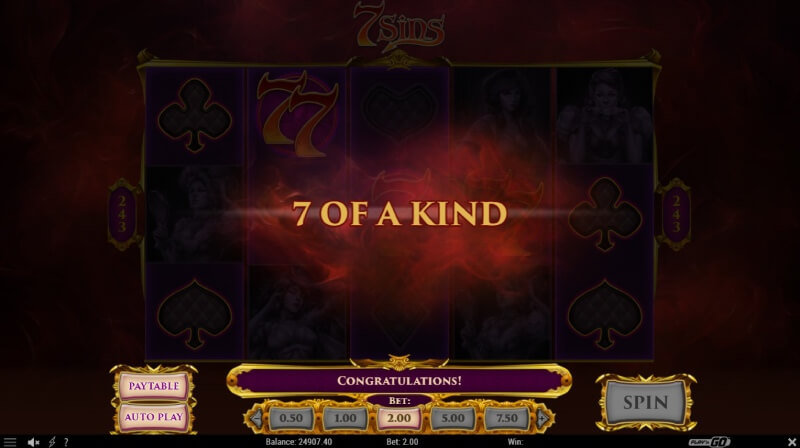 Free spins: Win 7 free spins with three golden boxes.
The Scatters can only be seen on reels 1, 3, and 5. With three of them landing on the reels, you win 7 free spins and an instant prize of 2x your bet. During the free spins, one of the seven sins is present at a time. The stacked sin covers the third reel, and all low-paying symbols are erased. The win multiplier is increased by one after each spin, so with the final free spin, your wins are multiplied by 7. It's not possible to re-trigger the free spins.
Second chance: If you only manage to land two Scatters, you get a second chance.
The second chance makes you choose one of the seven sins. Based on your selection, you may win the third Scatter or up to 15x your bet as an instant win.
Final Thoughts
I remember when 7 Sins came out, and it instantly caught my attention with the bold and daring theme. However, it still has the same effect – there's not enough to keep me interested for more than a few minutes. It heavily relies on the sexy theme, and I admit, the Sinful mode is a pretty fun feature. But, as a slot game, it's way too basic.
For a high-variance slot, 7 Sins doesn't have that big of a maximum win you could assume. Even the second chance and the free spins haven't surprised me once with an actually big win. Of course, it could be just that I haven't been lucky enough.
Usually, I like playing games with 243 or more bet lines. Maybe that's also why I was so confused how quickly I got bored while playing this one. Maybe the sinful theme affected what I was waiting to get from the slot. Like, when you see flames illustrated somewhere, it creates the mental image of something being hot or fast. And, when it doesn't deliver, well… You're disappointed for a good reason.
This is why I probably will not be playing 7 Sins in the future. The theme is nice, and if you want to have a chuckle, go ahead and try the Sinful mode. Otherwise, I wouldn't bother.
Pros
Interesting theme: The game's theme is based on the seven deadly sins, which is a unique and intriguing concept that adds to the overall enjoyment of the game.
Multiplier feature: The game has a multiplier feature that can increase your winnings up to 7x, providing players with the opportunity to win big.
Free spins feature: The game also has a free spins feature that can be triggered by landing three or more scatter symbols. During the free spins, one of the seven sins is selected at random, and all instances of that sin on the reels will turn into wild symbols.
Cons
High volatility: The game has high volatility, which means that while it has the potential for big payouts, there may be long periods where players don't win anything.
Limited bonus features: While the multiplier and free spins features are exciting, there aren't many other bonus features in the game.
Mature content: The game's theme and symbols may not be suitable for all players, as it deals with mature themes and imagery.