Prepare to be amazed by the Street Magician. A stunning performance culminates in a flurry of wilds across the reels.
Play'n GO released a magical slot in the fall of 2018. Street Magic came out with a loud bang, but then fizzled to mediocrity. A solid game, but not what players apparently craved for. It can still be found on every casino that has Play'n GO's slots, but not on the list of most played games.
Street Magic was designed with a clear inspiration in mind. The magician in this game bears a striking resemblance to Criss Angel, the Vegas street magician, whose show, Mindfreak, is still running in Hard Rock Cafe Las Vegas.
You get a taste of a live magic show in the comfort of your own home in Street Magic. This slot is full of high-risk tricks and massive rewards.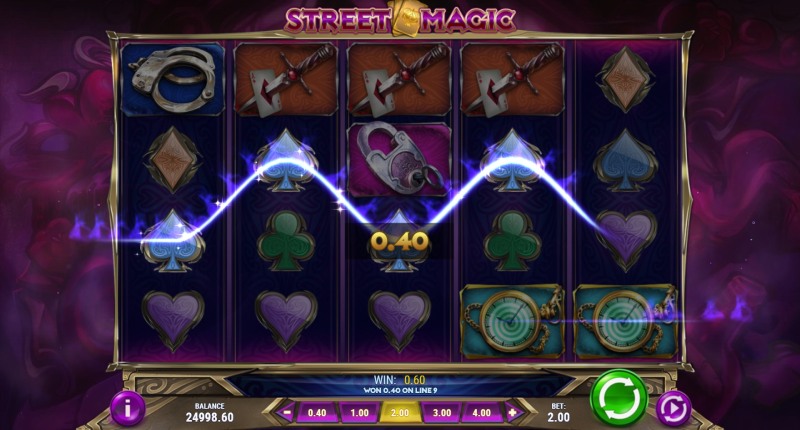 Graphics and sound
The first thought that I had, when I saw this slot, was about Criss Angel. Was this supposed to be a licensed game but the deal fell through, or was his image just copied? I mean, just add his name to the title and change the magician a tiny bit and presto, you have 'Mindfreak, the video slot'.
This slot is a good embodiment of a modern magician. It has style, it is cool and you get a few nice performances. The game looks good, but a lot hinges on one question, do you think the magician looks cool or not? If the answer is no, then you aren't going to like this game. It is all about that one character.
The sounds fit the bill. You start off with a slow and mysterious song, which then picks up when you start winning. The show has just begun and you are going for a ride. The designers really knew how to push the players' buttons and get them hyped.
Symbols and wins
The reels are full of all the things that you could find in a magic show. What is great, is that now the card suits actually fit the theme.
The high-paying symbols are the tools of the trade. There are gold rings, padlocks, handcuffs, pocket watches and a dagger through a card. The low-paying symbols are the four card suits, spades, hearts, clubs and diamonds.
There are two special symbols, a regular wild and the magician. The magician is pulling a double-duty here, for it is a wild and a scatter at the same time. If you get two of them, you get a magic trick and three will activate the free spins.
Street Magic is all about the wilds and getting multiple hits with one spin. A single win will barely even pay your wager back, but five at once sure will.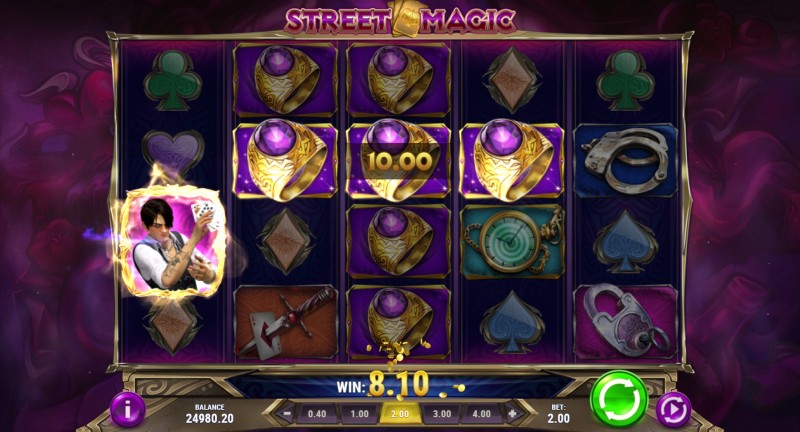 Payout for five of the same symbol at $1 bet:
The ring: $25
The watch: $15
The lock: $6
The dagger: $5
The handcuffs: $4
Spade: $1
Heart: $1
Club: $1
Diamond: $1
It is obvious that this game has a very high volatility. To get anywhere in this slot, you need to hit it big and hope that you don't need to wait a long time for the next big win. The risk here is remarkably high, but so is the reward.
Features
Magician Performances: See an amazing trick that transforms the field
If you get two magician scatters on the reels, he performs a random trick. You get one of the following performances.
The Expanding Man: Both of the magicians expand to cover the entire reel.
The Transporting Man: One extra magician is teleported into play and you activate the free spins.
The Wild Shuffle: Magician shuffles four wild symbols and puts them in play in random spots.
These tricks can be really helpful. They are accompanied by a nice animation as well.
Free Spins: Magicians greatest trick is to make the game play itself
Three magician symbols will activate the Free Spin feature. But first, pick a card and see how many spins you will get. The cards have 8, 10 and 12 free spins. During those free spins, you get a little extra help.
Sticky Wilds: All wild symbols are sticky for the duration of the free spins.
Extra Free Spins: Getting a wild symbol on each reel will award you with more free spins.
Final Thoughts
I found Street Magic to be an interesting slot, but maybe not because of the game itself. I found it fascinating how much you could imitate a real-life magician without it being plagiarism. Like I mentioned before, it would be so easy to change this into a licensed Criss Angel slot.
As for the slot itself, it's just fine. The game is full of flash, but in the end, that's not what I'm after. I want a game that hands out wins or is an interesting experience. Street Magic was neither of these. I can see that the game has good aspects, but the whole is not worth it for me.
Perhaps the biggest issue I had with the game was with the wins. The game is constantly handing out tiny wins. They might make you feel like you won something, but really you just lost most of your wager. If you don't pay attention to your money, they might just disappear with a wave of a hand.