Train well to become the greatest ninja, for only you can stand in the way of the deadly fruit. You read it right, fruit.
Ninja Fruits is a game from the height of the ninja boom when half of all the new games were about ninjas. Though, this one goes a bit further and makes fruit the enemy.
Most of you probably already remembered what this slot is copying. Fruit Ninja was a major hit from 2010 and Play'n GO released Ninja Fruits in 2013. This game is about as close as you can get without a copyright suit and I'm not sure if that is such a great thing.
Many slot developers have copied famous themes, games, films and whatever is popular at the moment. Some of these have turned out to be ageless, but some are locked in time with the original source material. This is also the case with Ninja Fruits.
So, get ready for a five-reel, 15 payline, high-volatility slot full of plagiarism and references to a bygone era.
Graphics and sound
Ninja Fruits has a Saturday-morning cartoon vibe. The visuals are decent for what it is, but nothing really memorable. The slot is Japanese-themed that and has a simplistic look. This could be from a cheap anime show, with four very distinct ninja characters.
This is where the slot had potential. The characters are well-defined and have some easy-to-read, if not obvious characteristics. Personally, I would have just taken that and ran with it. Make a ninja slot with actual interesting ninjas. Then you could remove the fruit thing and the game just became timeless.
The sound, unfortunately, doesn't have much potential. Everything is mediocre and has that stereotypical stock sound feel to them.
One noise is something that I have to point out. At the start of every single spin, you hear a whoosh of a wood flute. This sound becomes annoying real fast. I muted the game after only a couple of spins, as I just didn't want to hear that flute ever again. The faster you play, the more annoying it gets.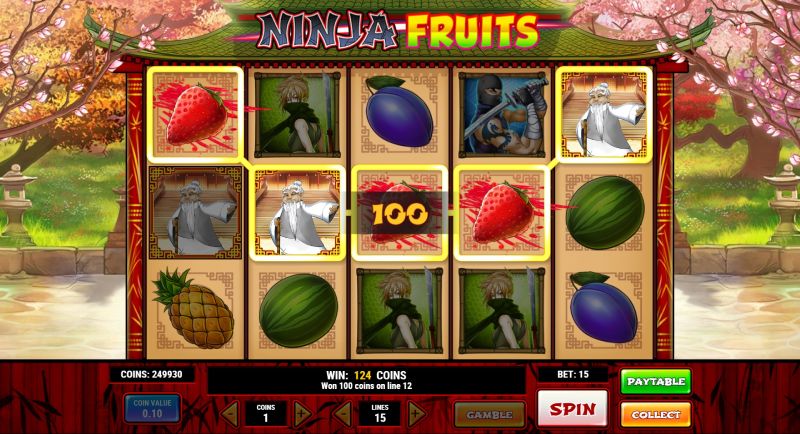 Symbols and wins
The game has three types of symbols, special symbols, high-paying ninjas and low-paying fruits. You need three fruit symbols on a payline to get a win, but only two ninjas.
There are three special symbols, a wild, a free spin scatter and a bonus game scatter. The ninja master is the wild and will replace other regular symbols on any paylines, Geisha is the free spins scatter and a shuriken is the bonus game scatter. Three scatters will activate that specific special feature.
The pay structure is decently balanced and on paper, everything looks good. The high volatility does rear its ugly head and you will soon notice that winning here isn't so easy. During the regular game, you experience dry-spells and low wins all the time.
The only way to get a huge win is to hit those free spins. That is easier said than done. Bonus features are a rare treat in Ninja Fruits and you will spend most of your timing managing your bankroll in the base game.
In my opinion, the special features are too few and far between to be good. Sure, they hit big, but if you can't activate them, then what's the point?
Features
Bonus Game: Test your throwing accuracy
Three shuriken symbols activate the bonus game feature. You are presented with five plates full of fruits, and you need to hit them with your shurikens. Unfortunately, this is not a game of skill. One of those fruits is an automatic miss and the other four will give you a cash prize. If you miss, your master is upset and will stop the bonus game instantly.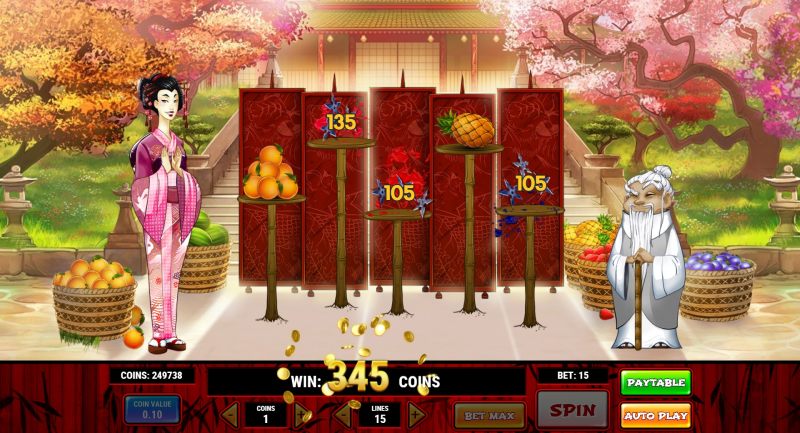 Free Spins: Enjoy the geisha's entertainment
Geishas activate the free spin feature, which is the best thing that this slot has to offer. Get three geishas and you get a 5x win, followed by a random amount of free spins, but no more than 15.
At the start of the free spins, one symbol is chosen at random to be the extra scatter. When you get enough of those scatters to win, they multiply and can easily fill the entire screen. Whether it is better to get a low-paying symbol that appears often or a high-paying symbol that will break the bank is up to you. I can see the good in both of these options.
Gamble: Multiply your wins
After every regular win, you have the option to gamble it. If you can guess the colour of the card, you double your win, and if you can guess the suit, you quadruple your win. You can continue up to 5x win or 2,500 coins, whichever comes first.
Final Thoughts
Ninja Fruits is a slot that rode in on the back of another game. Back in 2013, I might have given this game a bit higher score, but now, it just feels dated. Fruit Ninja is a thing of the past, even though it is still being released on all the new systems, and with it, is our desire to slice through the fruit.
I do love one feature of this game. The multiplying scatter symbols in the free spin feature are amazing. If you get a good symbol and it starts to copy itself, you are going to get a big hit. Unfortunately, this is not a common thing and takes a good while to happen.
If I had to sum up this slot to a single word, it would be mediocre. Everything about this game is just okay. If you were to re-create this game today, you could improve virtually every aspect of the game. Mediocre does not mean the game is bad, but it does mean that there are a ton of slots that are better.