Play'n GO's Mahjong 88 is something completely different. Are you ready for the most calm and relaxing slot ever made?
Play'n GO released Mahjong 88 in late 2019 and it is another member in the grid slot family. These games are not played on reels, but on a grid of tiles, where clusters of tiles determine whether you win or not.
At first glance, Mahjong 88 looks unique and like no other. That is because Play'n GO went all out on the theme and made this game stand out. When you start playing, you find that the mechanics are pretty close to their previous tile-based game, Viking Runecraft.
What is new here, is that the game is played on an 8×8 grid, which means more tiles and more possible combinations. Mahjong 88 also rewards the player for playing even longer. You want to have a decent bankroll when you sit down and play.
The crux of the game is that it's calm and relaxing. The music doesn't ramp up and raise your heart rate, the mechanics won't keep you in suspense. Just sit down and take in the experience.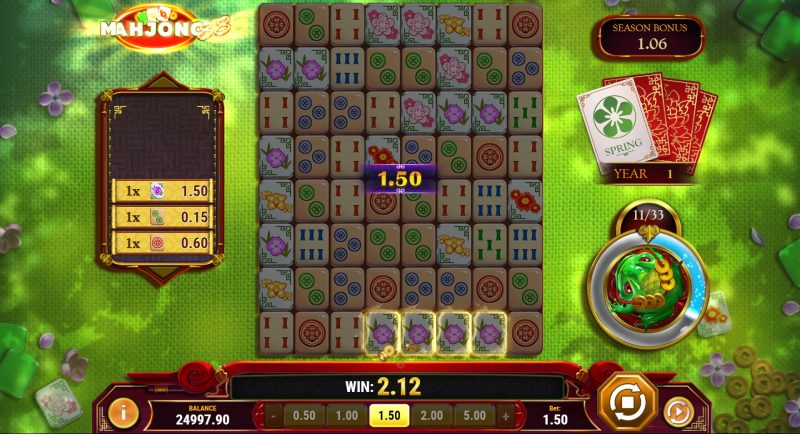 Graphics and sound
This game is something else. I don't remember if I have ever seen a soothing and more comforting atmosphere than what this slot provides. This game is so good, that you can easily just open the game up, play it to the season you want and leave the music running.
The thing I love most about it is that the sound effects are quiet enough that they don't overpower the music. In many games, the music just fades away when the game is playing, but not here. The sounds are balanced and the mood doesn't drop because of it.
Visuals change with the seasons. The game starts with spring, which has a light green shade, sunlight peeking through the leaves and nature is slowly waking up with the cherry blossoms. Summer comes in next with a warm glow, and flowers floating in the wind. You can hear distant people enjoying the warmth and children playing. Autumn is up and the leaves are falling. The sun has an amber glow and nature is getting ready to sleep. The year ends with winter, which covers everything in a silent white coat. What once was bright and energetic, is now dormant and slow.
I could go on about how beautiful the game is. I mean, this is something worth checking out simply for the exquisite craftsmanship.
Symbols and wins
Mahjong 88 doesn't have reels, but an 8×8 grid for tiles. These tiles are real Mahjong tiles, but they have taken a few liberties with them. The low-paying tiles are numbers, three are dots and three are bamboo. The high-paying tiles are a mix of seasons and flowers. If you don't pay too much attention to their origin, they fit this slot just fine.
You win by getting a cluster of at least four of the same symbol. It doesn't matter how they are formed, just as long as they touch each other. The winning symbols are then taken to the Fortune Frog and new tiles open up in their place. Old tiles will not fall down, the new tiles just appear in the empty spaces.
Even though the game has a relaxing atmosphere, it has a high volatility. The game also favours longer play sessions, so don't bother starting this slot up with just a dollar or two. Some of the features require a bit of time to properly activate.
To get a decent win, you need to chain multiple wins together. The weaker tiles have a hard time even giving your wager back, let alone a positive round. Getting multiple wins in one round is the key.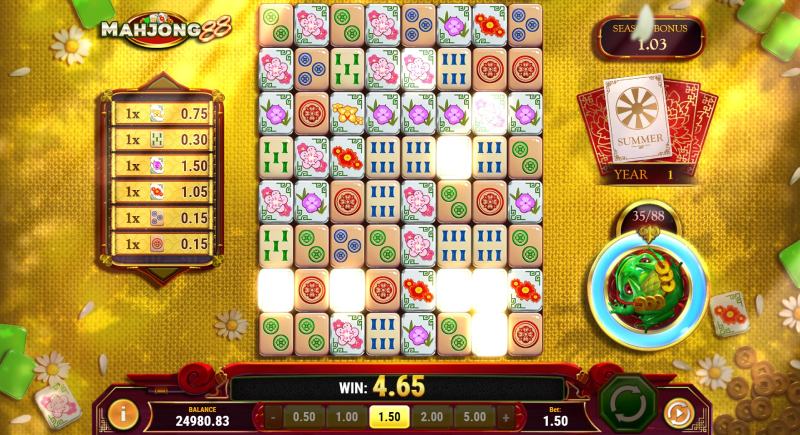 Features
Fortune Frog: Feed tiles to the frog and get a bonus
Fortune Frog sits next to the board and eats up all of you winning tiles. Feed the frog enough and you get a bonus. If you get at least 33 winning tiles on one round, on the following bonus features will activate:
Croak: One symbol is paid as scatter.
Spawn: One symbol is changed to another.
Tongue: Two edges are chosen and tiles between change to one other symbol.
Hop: One symbol is chosen, destroying and changing adjacent symbols.
If you can get up to 88 tiles, you activate the Super Charge. This will add a 5x multiplier to the round.
Seasons: Watch the seasons and the game change
The game will change the season at random. When this happens, everything about the game changes. The background and the music are changed to more appropriate style and a new Season Wild takes hold.
Every time you win anything, 10% of that is copied to the Season Bonus. When the seasons change, you are given the entire Season Bonus as a prize. This is a bonus that I like. It rewards the player for enjoying the game longer and makes sure that you have something to look forward to.
Season Wilds: Random wilds depending the time of the year
At the end of any non-winning round, the game can activate the wild feature. Depending on the season, you get a bunch of wilds on the grid to create new combinations. You can get just random wild tiles, wilds that destroy adjacent tiles or even wilds that freeze.
Final Thoughts
I just can't get over the fact that this game is so calm and relaxing. Normally slots do everything in their power to pump you up, but not Mahjong 88. Here, you just lean back and watch the tiles turn.
Usually, I'm not too keen on tile-based slots. They can be good, but usually, I opt for the regular slot over a grid. This slot though, this one I played more than I had planned for. Maybe it's the atmosphere, maybe it's the seasonal changes. Something about it just makes me want to just sit here and soak it all in.
Play'n GO really outdid themselves here. This game just doesn't feel like a normal slot. This is something completely different.